While I was walking my 7 year old son Jeremy to school, he popped the question: He asked me if I prefer Jackson Pollock to Matisse. That day he came home and asked me to find him an image of Burj Al-Khalifa. I may be one of 500 North American-born non-Arab non-architect Dads who know that it is a skyscraper in Dubai. I'm quite satisfied that he is getting an education in the school to which we send him. He is so much a wise-ass that he told me that he gave an answer wrong on purpose today just to test his nanny to see if she realized it while helping him do his homework. Fortunately she did. Lest you think they are not dealing with real world issues, tonight we were crossing the street and Jeremy starts wondering aloud why the Seattle Seahawks called a passing play from the one yard line at the end of the Super Bowl, which probably will go down as one of the worst decisions in Super Bowl history. We didn't watch the game at home, but they watched and analyzed the game at school.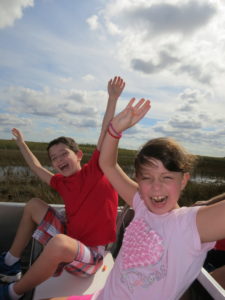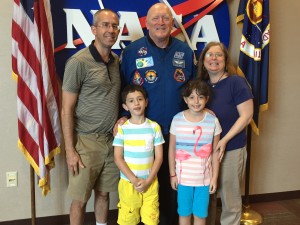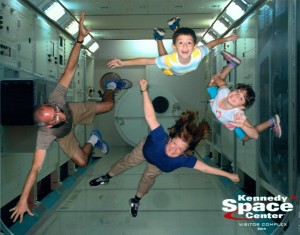 Travel Notes on Various Places in Florida: Over the holidays we went to Florida for 2 weeks of sun and fun. The west coast of Florida has its simple pleasures such as sea shell collecting along Sanibel Island and the simple life of Fort Myers Beach. We saw the holiday lights at the estates of Thomas Edison and Henry Ford in Fort Myers and went on an airboat ride in the Everglades about 20 minutes away from Miami's airport. We visited Kennedy Space Center and the minute our kids got there what did they run to see? The Angry Birds Pavillion – a bunch of games with a space theme. I can just see those NASA scientists scratching their head over the billions of dollars spent on the space program and the millions they spent on these pavilions and the kids want to slingshot balls toward a bunch of angry birds on a wall. We had lunch with an astronaut who of course answered the most important questions – how do they bathe, eat and go to the bathroom in space? We spent a few nights in Orlando but my wife made me promise this year not to go to Disney after 2 years in a row of subjecting ourselves to the torture of Disney theme parks at New Years. So instead we went to Universal which has two theme parks – Islands of Adventure and Universal Studios. Both of which were good but very few compelling rides that made us really want to go there again. Some of the stuff there was just utterly boring and a waste of time, but if you stay in a hotel on property you get express-passed into almost all the rides and it works well. Disney's parks are more fun and there is more cuteness there – most of Universal's rides are scary and linked to movies my kids haven't seen except for the stuff aimed at really small kids. We all agreed that our favorite ride was the Minions from Despicable Me. Two days was enough to do the parks; for an extra $10 a person you get a third day and we spent half a third day in the park just doing whatever we liked. What we did like here was that the atmosphere is a lot less stressful and overall we had a much better time.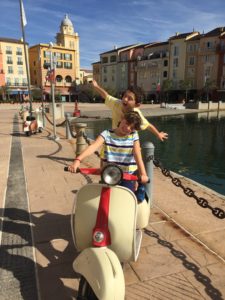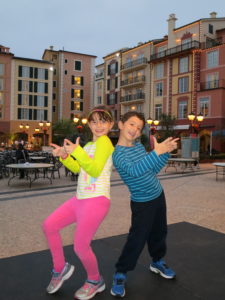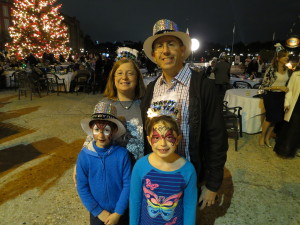 The Loews Portofino Bay Hotel is very good with a good kids pool, spa, gym, very good food, a club lounge floor, and is on scenic grounds and the venues are all done in very good taste – nothing cheesy. This hotel works even if you don't go to the theme park. It is a 15 minute walk or a 7 minute boat ride to the night-time entertainment area and the theme parks. It is all very compact and more value for money than being in Disney where if you go to the Grand Floridian, which is the best of their hotels on property, you feel like a cog in a big machine and you really don't get anything extra for your money except a few fast passes and, at Disney parks during peak times, if you don't get there by 8am, all the fast passes are gone for the rest of the day. So you stand around listening to a bunch of Type-A people sharing their war stories about how they got up at 5am to get a fast pass to go on Space Mountain. We went to Downtown Disney one evening and it was so horrendous walking around and getting in and out of their in a taxi (forget about driving a car!) that an hour there was enough to remind us why we avoided Disney for the holidays. As you can see from the photo on the right, the hotel staged a New Years Eve party which was family friendly at the hotel outside by the lagoon with buffet, DJ and arts and crafts; we all had a great evening. I checked out the Four Seasons Orlando which is on Disney property but does not have any real inside track for visiting the Disney parks or Downtown Disney. It has a great pool area and gym with water slides and a lazy river but the rooms do not allow rollaway beds and you would do a lot better for your money at the Waldorf Astoria where you'd get the same quality rooms, food (their breakfast buffet is best in town), spa, gym and shuttle bus access to Disney and Downtown Disney. So basically the Four Seasons beats out the Waldorf with its pool area but that's about it.
I read that the average family saves 8 years to afford a trip to Disney World. I figure that the average family gets on 6-8 rides a day there – each ride lasts about 2 minutes. So they are saving 8 years to spend $1,000 a day to have about 15 minutes of actual fun and many will look upon this as the greatest experience of their life. Is this value?
What I find amazing about the Sony / North Korea business is this: The movie would have been in total obscurity but for this hacking. We don't even really know that the North Koreans did it but it appears that they did and the FBI is saying they are sure about it. Sony was so incompetent that almost anyone could have hacked into their system. You'd think they would have either known better or that their PR department engineered all this to create a hit. You could make a movie out of this occurrence.
Most amazing factoid I read in the Economist's Year End Issue in an article about the Flower District in Manhattan: The really wealthy spend $10,000 a week on flowers in their apartments and a wedding budget will be $5 million, of that amount 10-15% will be on flowers and set design.
Meanwhile, on the other side of the tracks, people vote with their pocket books. Ukrainian Airlines is giving away tickets to various destinations at rock-bottom prices and people are snapping up tickets. For all the talk of tensions between Turkey and Israel, Turkish Airlines is for the second year in a row the largest foreign carrier into Tel Aviv.
There has been a run of articles about anti-semitism in Europe, particularly in France and England. I recently had a houseguest from London who mentioned that the article about the survey saying that 25% of Jews in England felt they had no future there was actually something that a reporter heard from one person to whom they asked this question and then created a story out of it. Not to diminish the issue but a good amount of these stories are being planted by Israeli newspapers who want to convince people that they should move to Israel. I get phone calls from Israelis who want to get away from Israel because they are sick of living across the border from a bunch of countries with ISIS, Hamas and Hizbullah militias, Egypt with its revolutions and Jordan with its king who might be here one day and gone the next. When the people died in the grocery store in France, Israel invited them to be buried in Israel and then tried to stick them with inflated burial bills for lousy burial sites. The families wound up changing the burial site 3 times in 24 hours until it became such a scandal that the government wound up just paying the bill. I think people ought to stop trying to convince people where they should live and just worry about tidying up their own situations.
Gaza update: About 2% of the foreign donor funds pledged to reconstruct Gaza have arrived. Like I said, a big waste all around with absolutely nothing on the ground changing. Picking a fight with Israel last summer yielded nothing for Gazans. Contrast this with a special section in today's Wall Street Journal about the Israeli real estate market in which they wrote that some of the biggest American real estate deals in Manhattan and Boston are getting funded in Israel because the companies are having trouble raising capital in the U.S. Real estate values in Israel are going way up and it's not just European Jews and Russian oligarchs buying in; Arabs and Indians are also buying properties in what they view as a safe haven. Look at my previous paragraph and you see Israel one way; look at this paragraph and you see a lot of money from the most unlikely players betting on its future.
Just read an Economist survey on energy and it looks like over the past few years great strides have been made in all kinds of energy such as batteries, solar and wind power and even coal. Just a few years ago the magazine was panning all the alternatives as leeching subsidies and now they seem to be doing better than paying for themselves. The world is moving toward a different place in this regard. But here's a statistic that I found amazing – 600,000 people a year just in Africa die due to fumes in their homes from kerosene-fueled appliances.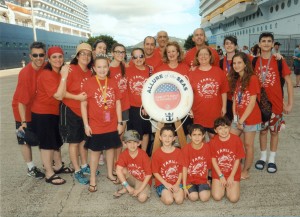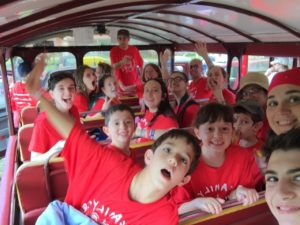 I just came back from a 7 day cruise in the Caribbean on Royal Caribbean's Allure of the Seas. I had a better time than I expected. We went to celebrate with my extended family on the occasion of my parents' 50th anniversary. These ocean liners are truly one of the 7 wonders of the world. The logistics of organizing a 7 day cruise for over 6,000 passengers plus another 2,500 crew members is just beyond me. For a few hundred dollars a night per person, you get access to a whole hotel, food and all sorts of entertainment in really nice venues. It's an amazing deal for people. You wonder what your grandparents would have thought when they sat for months in steerage crossing the ocean and you are in your stateroom with satellite TV and minibar taking a hot shower. The showers in the cabins were amazing and you just wonder where they put all that hot water on the ship. The ships themselves are quite grand with beautiful venues and a whole lot of things going on at the same time with some really good entertainment and all sorts of facilities you don't expect to see such as a zip line, a re-creation of Central Park in NY, ice skating rink, rock climbing walls and an area to go surfing. The gym was magnificent and the entertainment featured diving, ice skating and acrobatics shows and a ton of musicians. I'm wondering how you dive from a high diving board and reach the pool when you are on a ship moving at 30 miles per hour. You don't even really feel that you are on a ship when you look around at the indoor facilities and, after an acupuncture treatment, I felt a lot better at sea. I hardly felt anything at night in my room and the rooms were fine (we had two connecting standard rooms with a balcony overlooking the sea). Make sure you reserve connecting rooms in advance if you want them; don't expect to just walk on and get them. Of course, we were lucky that the weather was good the whole week.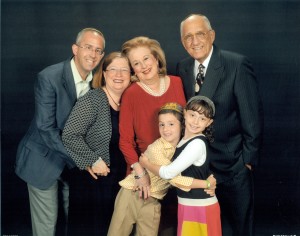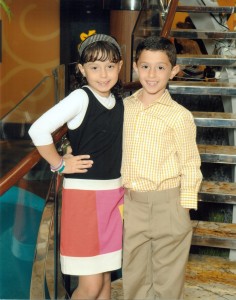 The kids got a bundle of laughs out of the Sexiest Man and the Bellyflopping Contests and enjoyed the day camp a lot. The food was pretty ordinary but they have premium restaurants on board for which you pay extra where the food is probably better. We were on a kosher program called Kosherica where we ate all our meals with the 350 other guests that were part of the program and the food was better than good but less than excellent, although some of the items were excellent. We visited Atlantis in Nassau which is a 10 minute ride from the port (they sell day passes on property and 3-4 hours there is plenty), took a 2 hour tour around St. Thomas on a small minibus with our extended family of 19 people  (a photo of that was above) and then visited a beach and the local synagogue, and spent the day at La Samanna resort in St. Maarten, the latter being a very nice property to visit for a few hours but probably boring if you stayed there overnight and not too interesting for kids. Breakfast and lunch were good; it is a good day trip but beware – it is a 45 minute ride in traffic on two lane roads virtually across the island from the port to the hotel. One bad accident and you could miss your ship!
There was a NY Times article in early December about virused mosquitoes in the Caribbean and we were really scared about going to St. Maarten. Turned out it was a bunch of hype and we didn't see any mozzies around when we visited, and our taxi driver said that no tourists were getting hit from it. I wound up returning my insect repellant unused after I returned. The islands got a real bum rap from the press exaggerating the issue.
Exhibit A why Government Doesn't Work: When the ship docked in Florida, there were 4 customs officers for 8,000 passengers and crew getting off the ship and people probably waited 2 hours in the line to get out of customs. Your tax dollars at work. At Delta Airlines, there were 3 people doing bag dropoff for a flight of 200 people to New York. Now I hear that the IRS doesn't even plan to try and answer phone calls from taxpayers who care enough to be asking questions so that they can file their forms.
US Presidential Election in 2016: I'm so glad that Mitt Romney took the hint and decided not to run in 2016. Now we are left to choose for the time being between 2 self-presumed heirs to the throne – Jeb Bush and Hillary Clinton. As if our country of 300 million people can't come up with any others. As for myself, I figured that since I was able this past weekend to successfully mediate a huge "flick-R sticker" dispute between my two warring kids, I thought I should be the next secretary of state charged with bringing peace to the middle east – but of course, I am smart enough not to get involved in public life, and that's why we only have a select few that are so full of themselves who offer themselves as potential presidents.
Our kids are off soon for mid-winter break so we're off to Virginia for skiing at the Homestead and some more sun down south. It looks like I am going to visit Cuba next month so stay tuned for the next edition of Global Thoughts where your host reports from Havana in advance of the thundering hordes who are soon to storm the island. Get going while the 1950's Chevrolet models are still on the roads!