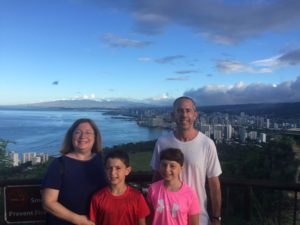 This was our third visit to Hawaii; the island is a stopover from Australia and this time we decided to use it as a stopover on the way to Japan. Hawaii is a lovely island with lots of vegetation we don't see on the mainland. The terrain looks like Puerto Rico, but the territory is without as much poverty and Spanish and feels safer when you go outside your resort. After 2 visits to Oahu, the main island, we feel we've seen as much as we want to see on that island. We'd like to come back to Maui where we keep hearing positive feedback from other tourists, and we enjoyed our previous visit to Kona on the Big Island (although we didn't get to see the volcano there).
Hawaiian Airlines nonstop from JFK to Honolulu is about a 10 hour flight. First row of premium economy is the only good seat on the plane that is not in business class and it is worth the extra $125 for the 10 hour flight. Business class there is not worth the premium even if you can buy it at auction a few days before the flight (they have a minimum bid for an upgrade of about $500 per person). Their flight leaves conveniently at 10am and arrives 3pm. Surprising amount of traffic in Hawaii at rush hour on the main highways. Kids went straight to the beach and stayed up till nightfall even though we picked up 6 hours going west. Even so, Jeremy got up at 4am and enjoyed some walks on the beach before dawn. If you want to go to Pearl Harbor by yourself, it's good to get up early that first day so that you can be on line by 7am to get same day tickets at whatever hour they give you. The only thing that is hard to see is the USS Arizona memorial which is offshore and only reachable by boat that can only take so many people at one time. The other memorials such as the USS Missouri and the museums are easier to get into. By 4pm, the whole attraction is closed. We contacted a tour company to arrange for them to get us timed tickets in advance so that we could see the attraction at our convenience. It cost a pretty penny for the car and driver who brought us there at 10:30am and took us back to our hotel with a 20-minute city-center tour in between, the person who gave us the tickets and a 5-minute orientation, and it was rather expensive for what we got (and the driver who did the city tour was clueless but funny). But had we gone on a bus tour it would still have cost us about $500 and we would have had to leave around 7am for the full day and make stops all over the hotels. So if you are hearty enough to go out there and stand on line by 7am and come back later, you can save money this way, but not as much as you'd think (the taxi ride to the site and back just to get the tickets would be over $100).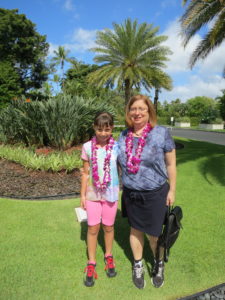 We spent 5 hours seeing the USS Arizona and Missouri, the museum and the films, and we found the day to be very meaningful and educational. I used the opportunity to explain to our kids that as much as America would like to avoid the rest of the world's problems, if neglected they have a way of coming back to bite our butts.  I also wanted to give them some context about Japan before visiting the country. Our hotel is the Kahala Resort, formerly known as the Kahala Hilton, about 15 minutes from Waikiki, in a more secluded area of Honolulu, with beautiful beach and surf, and in a very nice residential neighborhood. Food was good and mostly reasonable. Dinner at the hotel's fine restaurant had beautiful tuna. A nearby farmer's market featured some of the nicest mangoes and avocados I've ever seen but they were not to be found at the hotel. We also saw Japanese bakeries at the market and Jeremy decided he liked melon-flavored bread rolls. At 11am it is mostly Japanese tourists; the locals come early and the prices supposedly go up after 9am. The kids had surfing lessons way out in the ocean which was surprisingly shallow. The hotel's buffet had no cooked vegetables on it, which we were to find was rather common in Japan. Our flight to Tokyo was cancelled due to a typhoon; the Japanese carriers flew out that day but the US carriers cancelled. So instead we got up at 6am to hike up Diamond Head mountain and reached the top by 7:10 or so, after a 20-30 minute climb of about ¾ of a mile. Stunning views from the top and not really hard to climb, with a well-marked trail. The foreigners come out early at 6:30am or so, and the Americans climb after the sun is already beating down.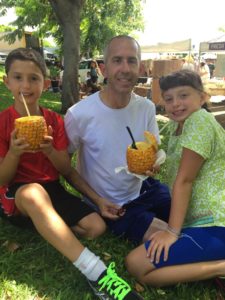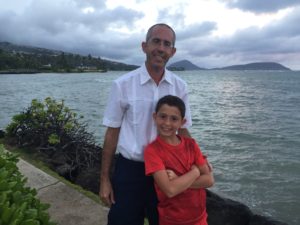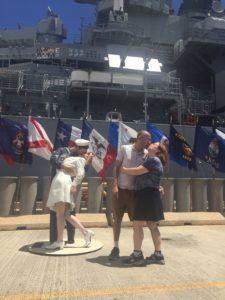 In the afternoon, we passed by the homes of the King and Queen of Hawaii – the Burger King and the Dairy Queen. Actually, Hawaii had a king and queen before the US essentially tossed them out in the 1850's; something nobody ever tells us. We visited the Royal Hawaiian and Halekulani hotels. The Hawaiian is on a very crowded beach and the Halekulani is a busy city hotel at the end of the block. We had stayed there on a previous visit voting for convenience to Waikiki with small kids and wanted to try out the other recommended resort on the island which was the Kahala. The Kahala was much more relaxing and a nice self-contained property that we felt safe in with our kids running around. The Kahala had entertainment in the lobby each evening. Nice bathroom amenities, connecting corner rooms facing the golf course (perfectly fine not to be facing the ocean), and a nice feeling of privacy. Spa treatments were better than average (they have a treatment to alleviate sunburn which was very helpful), a great gym and sauna area, and we liked the breakfast buffet and all the food except for the pool area eatery which could use a better menu. The sun is very strong here; even with me putting on lots of sunscreen throughout the day, I got all red. The pool is a bit small for such a resort but it is OK. The pool manager Peter gives the surfing lessons and he was really nice with our kids and took them out for 2 hours and only charged for one and they said he was a really good instructor. They have a platform which you can swim to and jump off, and a little island you can swim to but it has lots of rocks and you need special shoes and there is a strong current. But Peter outfitted them and took them there. The kids swung from trees in Thomas Square near the center of town and walked around Waikiki. The kids club at the hotel had a very good evening program which included interesting arts and crafts and crabbing; Jeremy brought the crab back to spend the night in our hotel room (I put the jar with the crab on the terrace), and the next morning "accidentally" set it loose in the restaurant and nearly started a riot but for an alert waiter who quickly got rid of it.  Stay tuned for more Jeremy-inspired riots. We then went to the airport to board an ANA flight to Japan, which was a mixed blessing. We had to spend an extra day in Hawaii, but you could do a lot worse. And ANA (codeshares with United) is a much better airline to fly to Tokyo than United. Even though ANA's business class lacks the full like-backs that United has, its 2:1:2 cabin feels much more spacious in a 767 than United's 2:2:2. It is a 7 ½ hour flight. Jeremy spilled something in his seat and went to tell the flight attendants; they had no idea what he was talking about and he couldn't remember a moment later who he had spoken to as "they all looked the same." They took souvenir pictures of us wearing Hawaiian flowers; the vegetarian food was awful as far as the kids were concerned, but the food offerings at the Hawaii airport are very sparse so think ahead for flights going out.
Upon arrival in Tokyo airport, there were long lines at passport control and lots of Chinese on those lines, about half an hour till someone pulled us out of the line. We bought discounted tickets for the Narita Express (round trip $40 for adults; $20 for kids) that you can purchase with a foreign passport at the JR Ticket office in the basement level at the airport (but you might stand in a 10-15 minute line to get them). Presently they don't sell these tickets pre-arrival.  The Narita Express is 1 hour to Tokyo station and then another 20 minutes to other stations in the city such as Shinjuku. The Four Seasons Hotel meets you at the train upon arrival (if you call ahead) in Tokyo station and from there it is about a 10-15 minute walk from the train track to the hotel lobby. The main train stations in Tokyo are huge and intimidating to the tourist but signage is excellent and you really can get around after someone shows you what to do the first time around. The Tokyo station features a Dean & Deluca and one of the subway lines intersects with the station.  We had arrived a day late and I had forgotten to cancel the evening babysitter (we booked before we left online with "babysitters.jp" at about half what the hotel's concierge wanted to charge which was like $250), so Karen and I had a free pass to go out on arrival though we were rather tired. But out we went with a local friend of mine to Kyubey which is said to have the best sushi in Tokyo. President Obama had been there. My wife likes sushi and said it was on a different level than anything else she's had; the restaurant has no English sign in the front so unless someone tells you this is the place you'd never know. It is 5 different rooms on 5 levels of a building where you sit on the floor in front of this sushi bar and the people behind the counter banter and make delicious food in front of you. Our sushi maker had been doing this for 20 years and looked like he'd been working at it since he was 12. The restaurant is in the Ginza district which is all lit up at night and is fun to walk through.
We wanted to make up for lost time so we kicked butt and started out with a guide, first to Hama-rikyu Gardens and then a half hour waterbus river cruise on an air conditioned boat to Asakusa district (via the Tokyo Mizube Cruising Line); visited the Sensuji temple and nearby alley of souvenir stalls; had lunch at a place where you sit in front of a griddle and make the pancake with the add-ins of your choice; walked down a street that sold kitchenware and things used by restaurants; Ueno park with a huge pond filled with endless lotus flowers and a small city museum in the park. We then took in a baseball game in a stadium featuring fireworks at the end of the 5th inning; our kids ate popcorn and endamame beans. The subways here are great, with digital displays on the trains telling you in English the names of the upcoming stations, the transfers, the amount of time needed to reach the station and the location of elevators and escalators at the upcoming station. Fare is $1.75 for adults and 90 cents for kids. It's easy to transfer around once you get the hang of it. Subway trains have luggage racks and sofas to sit on; Elizabeth put her feet on one and someone screamed at her. All the streets, roads, sidewalks and bathrooms are immaculate. Might as well have been in Zurich. Tried to go for the western style buffet at the Imperial Hotel, an 800 room grand hotel in the city center, but despite their dozen restaurants, there was nothing with food we would want to eat, so we got in a taxi and returned to the hotel at 9pm where they fed us (and mainly the kids) with stuff they wanted, which is why I chose this hotel in the first place. It was a very long day for Jeremy who had gotten up at 4am after picking up another 5 time zones.  Nothing we saw today or any other day of our trip looked like the US or Europe. The hotel had arranged an excellent local guide and I strongly recommend it for the first day in Tokyo to get your bearings for things such as the subway and for figuring out how to use the rest of your time.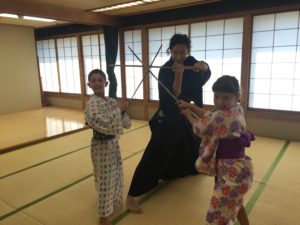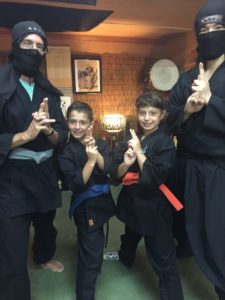 Our second full day in Tokyo and onward in Tokyo we did not have a guide. We started with an early morning trip to the local fish market. At 7am we thought we would see something but we found out that you really have to join a tour that starts at about 3am and stand in line for tickets that allow a certain number of people to enter at 5am to watch the daily fish auction. You basically have to be nuts to do this. The city just decided to delay the anticipated relocation of this market so for the time being it will remain where it is. The actual indoor market is a hazardous place with lots of fast-moving vehicles but the area outside it has some places to walk around; you could totally skip this, despite all the hype around it. We used Viator (you can find it online) to book some activities in advance that our pre-arrival concierge did not think to recommend, such as Samurai school (fencing). The kids had a great instructor (an aspiring actor who enjoys doing stunts) and got all dressed up in outfits and for an hour learned some basic moves and practiced killing each other and dying by the sword in a Japanese Samurai studio. They absolutely loved it.  We then went to the Edo Museum, an excellent museum about the history of Tokyo, and which took us an hour to see. There is an Italian café there but the wait was too long at lunch time. The building's architecture went unnoticed until we saw it from the top of the Skytree tower, which was our next stop. With your foreign passport you can buy fast track tickets to get to the main observation level which was good enough for us. The view is better in the morning because you are looking west toward the city. Then a walk through the Imperial Gardens back to our hotel, which took almost an hour. You can use your GPS but I chose to just follow my senses which is a challenge here since most streets lack signs in English. They say they will improve this in time for the next Olympics which are being hosted by Tokyo.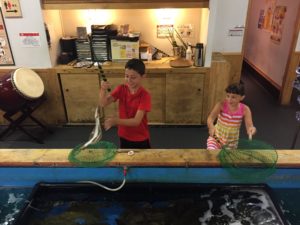 Dinner at Zhau in the Washington Hotel in Shinjuku area – there are express trains from Tokyo station that will get you there in 15 minutes but we didn't know that yet and went for an hour in a slow-moving taxi that really creeped in the tunnel by Shinjuku station. The ride back to Tokyo station area at 9pm took 15 minutes. This restaurant was a real hit; you catch the fish of your choice (they have different stations for each kind of fish) and then they prepare the fish the way you like it. If you want them to catch the fish for you, pay extra. Catching flounder was easy with a net and then they just fry it up. They made good steak fries and rice, but no cooked veges. Very few people here spoke English and it wasn't easy explaining what we wanted; we had a list of kosher and nonkosher fish in English and Japanese that is offered by Chabad which was very helpful throughout our stay, some of the information on the document was simply wrong according to Japanese we spoke to that could understand English.  At this restaurant, go before it gets busy around 6:30 (while they have enough time and space to deal with you) and sit in the big boat that is in the center of the restaurant.  Afterward, we went to the Robot Restaurant, which is not a restaurant but a nightclub that has the Robot Show. It is in the red-light district of Tokyo but it is a family-friendly show. It was a real hoot; it lasts a bit over an hour and only foreigners in Japan could go for this. A bunch of robots with bright lights, smoke, lasers and very loud music go charging around on a stage and fight each other, dance around and along the way human beings do things such as dance and the MC screams a lot and goes "WOO WOO". They give out headphones to help block out the sound if you want it. Every 20 minutes they stop the show and have a bathroom and snack break. Before the show, there is a bar area with tons of bright lights and the oddest array of bathrooms. It's all rather silly and utterly eccentric but it's a fun night out that belongs in Vegas. There are several shows each day and you can buy ahead on Viator and save roughly 10% or just purchase it once you arrive in town.
On the third day, we went to Ninja school, also arranged by Viator. This 2 hour experience involves going to an apartment in town where first the person puts on a short ninja show in the dark, then you spend time learning some techniques and use of ninja weapons, put on costumes and take pictures, and simulate ninja activities such as shooting darts at a balloon, throwing stars and trying to hit a moving target and sneaking in and out of a room. The instructor was highly qualified and spoke some English with an interpreter present as well. It was fun but not as hilarious as the Samurai school for the kids where they enjoyed stabbing each other and pretending to die.  This was a private lesson so it was really cool.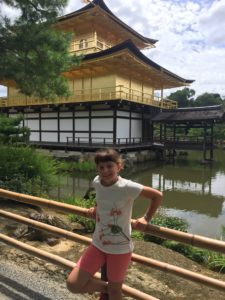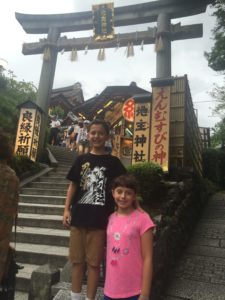 Afterward, we loaded up on treats and got on the bullet train to Kyoto which is a 2:20 ride. These trains leave every 10-15 minutes on the dot and you can generally get a seat on a train when you go to the station but you might have to wait half an hour before getting something like 4 seats together because these trains travel full.  It is expensive at $140 each way for an adult / $70 for a kid, but it is a 350 mile ride on a beautiful and spacious train and you pay much more for that (with no child discount either) on the slow-moving and unreliable Acela train that goes 220 miles from NY to DC in around 3 hours. The bullet train feels like you are hardly moving and it is pretty scenery. The toilets are clean and they have nice sinks on board.  From Kyoto station it is a 20 minute taxi ride to the Ritz Carlton hotel. It is along a river and the kids enjoyed playing on the river front in the water on the rocks. Kyoto folk enjoy this area and come out at all hours eating, lying around and walking – even in the dark it is safe. Dinner at the hotel's Italian restaurant came out after a very long wait and the hotel just comped us. They offer kids dinners for $10 and that is a real bargain. The Italian maître d was very nice to us. The hotel is quite new and architecturally stunning and riverside rooms have large picture windows overlooking the river. It has a pool and all these hotels have saunas and hot water tubs without bubbles (the Japanese like them) but the gym was very small, which was surprising. The lobby bar closes at 9pm and the other bar has a limited food menu. Breakfast is a disaster here; it is a la carte and you wait for every single person to bring you every single thing. The bagel, the lox, the cream cheese that comes in tiny increments – it is painful if you have to get up and go somewhere. They just started doing this instead of the buffet and I think the feedback is bad enough that they will switch back. The food is good though and if you like being served then you will enjoy their breakfast plenty. The Four Seasons is building a hotel in Kyoto near the Gion section of town which is basically a shopping and nightlife district; there is a lot of traffic in that area and I think that the part of town where we stayed was a more relaxing area to be with the river and its own shopping areas.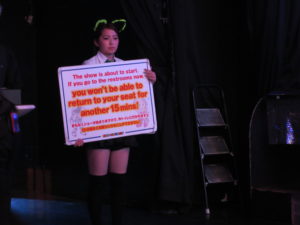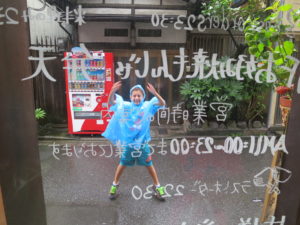 We had one day of full sightseeing with a guide in the hope of covering most of whatever one expects to see in Kyoto in about 7 hours. The city is spread out and the sites are all over the place; you can't walk from place to place and there is no good public transport option for this. You can use taxis instead of a car and driver because most sites have taxi stands right in front. A car and driver here is very expensive and we didn't need it either in Tokyo or here in Kyoto. Taxis are actually fairly reasonable here; the initial charge is high at roughly $6-7 but you can go a full mile or so before the meter begins to run. Taxis are great here – doors open and close automatically and they are air conditioned, there are English automated messages, the taxis have nice decorations in them and tipping is not expected either in taxis or in restaurants or anywhere for that matter. Drivers all wear ties, they are generally somewhat elderly men and they all look exactly the same when you look at their photo ID's in the cabs. They all use GPS to figure out how to get where they are going, even it is only a few blocks away. It was late summer and we expected really hot weather; it wasn't so bad the whole time we were in Japan compared to what I've seen in Hong Kong, Bangkok or Singapore. Things we saw that day: the Shogun's (imperial general who basically was ruler) house with a nice garden in the city;  the gold pavilion (a pagoda with gold leaf); the silver pavilion (a pagoda with nice hilltop views above toward the city); rock garden "Ryoanji" amid a nice lilly pad (contains an optical illusion as to how many rocks are in the garden; you can't see all of the rocks at once – the things most hidden are within you is the message); the philosophers walk (do it for 5 minutes along the path that all looks the same) and some lunch in an alley of restaurants and souvenir stalls coming out of the silver pavilion; the hall of 1,000 buddha statues; Heian Shinto shrine with covered bridge and very nice gardens. You expect to think that you've seen 3 shrines and you've seen them all, but each of these were unique and worth the visit. We left one of them for an early morning visit because we were told it gets crowded. After 7 hours of this, we showered up and went out on an evening cultural tour including a 50 minute theater performance showing old Japanese culture (very painful to sit through) that nobody does anymore and that you can hardly understand; a walk through the Gion historical district and dinner at a vegetarian restaurant with a tea ceremony in a Japanese-style tea room afterward where you enter by crawling through a sliding door after stepping through a rock pond.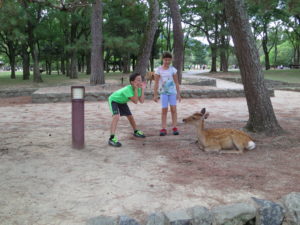 The next day we made a day trip from Kyoto with a short train ride (either half hour or close to an hour depending on the train you take) to Nara, once the capital of Japan before either Kyoto or Tokyo was the capital. Nara has this big wooden structure which is a Buddhist shrine with one of the world's largest Buddha statues. The hundreds of deer all around the historical area are friendly and come right up to people; you buy a package of wafers to feed them and they eat them right up. Inside the temple is a little hole for kids to climb through so that they can be as smart as Buddha. It is a half mile walk to the train station. You can do this town in 2 hours. Upon return to Kyoto, near the central station we visited this shrine of 10,000 orange gates; it is a 2 hour walk up a mountain to see them all; 10 minutes suffices. Entry to this shrine is free which is probably why Trip Advisor rates it the #1 site in Japan. A $50 taxi ride (about 45 minutes) to a monkey park where you spend 20 minutes climbing a mountain to the top (lots of stairs at the beginning of the climb) where the monkeys run wild around you and Kyoto is in the background. You feed them from inside a caged house; if you walk outside with the bananas, they will riot and come after you. Jeremy did this of course and within 5 seconds they were all coming at him and he ran back inside the house. There are a good number of baby monkeys and they give each other cuddles and massages and sometimes fight. There is a little zip line and an air conditioned room to sit in. The walk down is faster. Definitely beats the Monkey Jungle in Florida.  After all this sightseeing and a quick shower at our hotel, we went back to the train station and boarded a commuter train for a short ride to the suburbs to visit a local Japanese family for dinner at their home. They had 2 kids and made us a beautiful dinner we could eat. This was arranged for a rather high price through Japan Home Stay which I arranged from the US because the local concierges hadn't heard of the program. The highlight of dinner was taking a piece of raw fish and putting it inside a boiling pot where in about 30 seconds your fish cooks and then you eat it. People here laugh when you ask them what they do besides work for fun; it seems like a question coming from an alien. Their 12-year old son had spent a month in the US at a camp and had been learning English since kindergarten but couldn't appear to say or understand a word of it. This seems to be true throughout the country, although people are very polite and want to be helpful. We don't see any obesity; there are no homeless people in the train stations or on the streets; no begging, and the train stations are also immaculate. People sweep up leaves on the sides of mountains in the parks. Sometimes we get the feeling that they try to find jobs for everyone because we also see lots more people than are necessary; for instance, 5 people waving traffic through an intersection or 5 people waving cars through the entrance to a garage. The 7-11's and Family Mart convenience stores here are important because they offer a reliable selection of snacks for a quick lunch or bite and have a network of ATM's; people don't really go to banks to get their cash. The ATM's hand out $100 bills which is a real pain. Kit Kat produces lots of unusual flavors in Japan such as melon, green tea, strawberry shortcake, and various fruit flavors.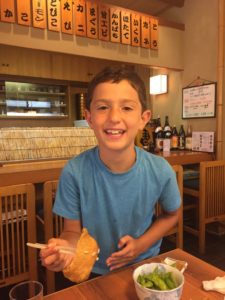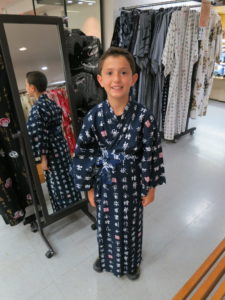 For our final Kyoto shrine, we got up this morning to try and beat the tourist traffic at this shrine by a mountain that is all wood with not a single hinge and offers a good view of the city (Kyomizudera Temple). By 10 we were outta there and went to Kyoto Handicraft Center craft shop to buy nice souvenirs; it was the best shopping place for crafts for the whole trip. Despite scaring us with 3 typhoons in Japan in one week, it hardly rained on us but right now I needed my umbrella while we walked near the hotel to view City Hall and visit one of the city's older coffee houses for a magnificent toasted cheese sandwich and an average latte for Karen. I had heard about the city's historical coffee houses and we wanted to visit at least one of them; there are plenty of Starbucks all over the place if you want them too. We took some Pierre Herme pastries from the hotel to the bullet train and headed back to Tokyo. This time we took our luggage and ourselves and managed to transfer from the bullet train to a subway straight to Shinjuku station (the bullet train runs from Tokyo station) to our second half of our Tokyo visit at the Park Hyatt hotel, which is on the Shinjuku side of the city. Because the bullet train and the subway are both on the JR Line, you can buy one ticket all the way from Kyoto to Shinjuku instead of two separate tickets. It is a 5-7 minute taxi ride from the station to the hotel and the taxi rank is very organized in a garage above the station although it is very disorienting the first time you have to figure it out. The hotel runs a shuttle to the station but we never found it, and we understand it is first come first served and we had no time to play games. This hotel is famous for its cameo role in the movie "Lost in Translation." Unlike the  you are on the top of a skyscraper with views of Tokyo and beyond (I never saw Mt Fuji even though they say you can see it). Actually, it was raining all that evening and cloudy the next morning so we saw very little from the windows. This hotel has an excellent gym and a large pool; it has a sauna and hot water pool but you have to pay an extra $40 a day if you want to use the sauna and hot pool. Unlike the Four Seasons, it is a very public place and Japanese saunas are all completely in the nude. At the Four Seasons it is exclusive to hotel guests in a 55 room hotel and you never see a soul and you don't have to pay extra to use it.  The Hyatt has more dining options than the Four Seasons but the Four Seasons is more accommodating; just tell them what you want. Here if it is not on the menu it is harder to get. And the sorbet at the end was probably haagen daaz. The rooms are fine but not as spacious and interestingly decorated as the Four Seasons.  The biggest problem for us at the Hyatt was that there were few people on staff who spoke English well or who knew how to get things done in a top business hotel, such as make a collect call to the US or reach an airline at night. I asked several people what was across the street from the entrance to the hotel and none of them at the front door could tell me (it looked like a water park but turned out to be a municipal water station). Distances they gave were often wrong; people tend to underestimate walking times here. The staff were more polite than helpful; standing around with not much to do and pretty much useless to us. They were big on enforcing rules, such as get out of the breakfast area if you are not dressed nicely. At the Four Seasons, people spoke English well and if you came down at 4am they gave you something to eat. Felt much more like a guest in a residence there. If I were returning, I'd tell you to go to the Four Seasons and you can use the express trains to get to Shinjuku area of town. Besides, you can't walk anywhere from the Park Hyatt anyway, so once you are in a taxi from that hotel, you are always 10 minutes away from anything. The Four Seasons is within walking distance of Tokyo station and the Ginza subway line and in a much less confusing area of town that is easier to get around. You are less nickeled and dimed and here's a clincher –we wanted tickets for the Romance Train (to be discussed soon) and the Park Hyatt concierge couldn't get the special tickets we wanted. Not only did the Four Seasons concierge get the tickets, they didn't charge us for having their guy go across town to the Shinjuku station to buy the tickets. They were going to charge for the errand but then were honest with us and told us that the guy had to go there anyway so he just did it. My ideal hotel would be over a subway station with lots of lines; for this trip, I was more interested in having a hotel with strong facilities and service that was small and safe that would accommodate my wife and kids' first trip to Asia and help us get things done and provide a soft landing with things like meeting us at the train station on arrival and getting us set up with guides and giving us a lot of pre-arrival advice — I got that table at the sushi restaurant Kyubey on 20 minutes notice with the concierge where normally you'd book it way in advance. The Four Seasons was perfect in that regard and their prices were reasonable without nickel and diming us for things like $40 a day to get into a spa or charging us $5 to reach an international operator; they had a 4th night free promotion as well. They also did not charge us to meet us at our train on arrival and help us and our bags get to the hotel from Tokyo station. They also took us back to the train upon departure and patiently helped us get food for the train and our tickets. The Four Seasons is also on low floors of a building that is easy to get in and out of; you don't get great views but it's good enough. The Park Hyatt has great views, a good breakfast buffet, a bigger gym and a pool, but you have to keep going up and down and around in this tall building and it's a pain in the butt. The Four Seasons has everything in somewhat smaller but perfectly adequate amounts except the pool and otherwise it's no contest. Of course, you can get cheap hotels in Tokyo — I once stayed at a Crowne Plaza for $79 a night, but if you do that with wife and kids on their first trip, you really need to know your way around by yourself and I do not know my way around Japan. The investment in a western-oriented hotel with a high level of service makes a big difference here.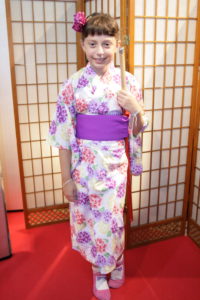 A word about the Japanese economy – Japan is trying to attract more tourists, especially Americans who spend more money than Chinese. People work and save for retirement but the social security pension is low at $650 a month so they have to save instead of spend their extra money. Everywhere you go there are these robot toilets in Japan (even on trains and planes, and in Hawaii too), but I think they are overrated, even if the seat lifts up automatically as you enter the bathroom. Karen could never find the "flush button" and you still need to wipe up afterward. To my mind, having tried water hoses in Moslem-oriented bathrooms and the Japanese toilets, nothing beats 2 kleenex with warm water and some toilet paper plus a bit of toilet paper afterward. Bring your own pillow – all the pillows in the hotels were hard. Electrical appliances don't need adapters; the electricity is same as in the US. One takeaway thought – Japan was bombed to smithereens in the last world war but it looks great now with everything clean and new and shiny. Germany also enjoys the infrastructure of a rebuilt country. America could use some of this too. After 9/11 destroyed the World Trade Center, a whole new southern tip of manhattan grew up with beautiful buildings and parks. Perhaps America could figure out how to renew more of its infrastructure without waiting for a bunch of terrorists to provide the catalyst. When it is hard to communicate, everyone on the other side appears dumb. The Japanese are very smart, but they are a bit inflexible and non-innovative, just like many Germans. The country works, but if you go one meter off the main road, it becomes utterly confusing, even to the natives. Over the past 15 years since my last visit, two changes I've noticed are that there are no more elevator ladies in the department stores pushing buttons and grandly announcing each floor, and there are no subway pushers at rush hour stuffing people into the trains. There are plenty of security officers along the tracks telling people what to do and people tend to want to stand on lines and be orderly in the stations when entering and exiting a train.
Lots of things are sold via vending machines – even haircuts. I entered a hair salon and was told to go to this kiosk at the entrance and buy a ticket. This is a foolproof way to eliminate cash in the store since there is no tipping. The haircut was about $11 and it was really hard explaining to the stylist which razor he should use to cut my hair, but it came out OK.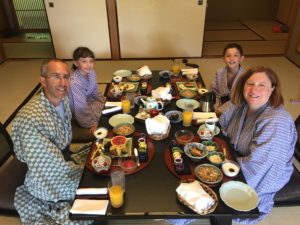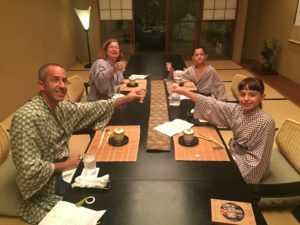 From Shinjuku station you can take what is known as the Romance Train to Hakone, about an hour and a half away. This train is a good way to get there and if you go it is worth asking for a front observation car seat on a train that offers them.  You will probably need to ask a concierge to get it for you 30 days in advance (which is when the seats go up for sale) because they go away immediately online. The ride itself is not that scenic, except for a few moments, but it is fun to sit in front of a train and have a clear view to the front (the driver sits above).  From the station it is a 20 minute drive to the town of Gora and our Japanese style hotel (ryokan) called Gora Kadan, which is a beautiful property that was once home to the imperial family. In this town we found a great sushi place as well as the Open Air Museum of Art with really cool art including stuff that kids could climb. It is a vast outdoor space and worth a visit, and has a really cool gift shop too. We then went to use the spa facilities at Gora Kadan. There is a family spa where you can bathe in the hot springs as a family in privacy; otherwise, you have to go to the male or female spa with other hotel guests who are all in the nude. Jeremy loved it; I could see why there are hardly any Moslem tourists visiting here. At this inn, you have a lady attendant who helps you dress in your robe and makes sure your knots are tied correctly and that you follow the etiquette of the place. Our room was very nice with tatami mats on the floor that were like mattresses and a balcony and sitting area. We had a 9 course tasting dinner in a private dining room designed for foreigners where we could sit on cushions and put our legs out (instead of having to sit on our knees, which is the Japanese style and which you need to get used to at an early age). Everything was painstakingly served exactly by our attendant and all the dishes were something you'd want to photograph for posterity. Everything was prepared according to our dietary restrictions and the kids actually enjoyed a good part of the meal. There was a mix of vegetables, fruits, fish – all Japanese style. Breakfast the next morning was also exquisitely laid out on a table in our suite and contained Western-friendly things such as corn soup, rolls and spreads, granola, fruit and vegetables.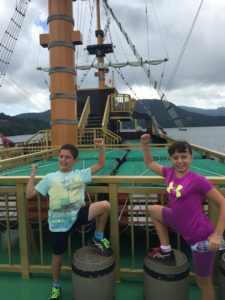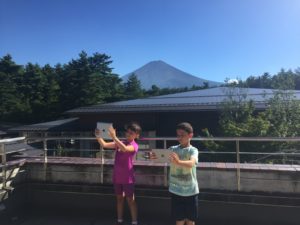 We had a full day of sightseeing ahead. This time we had a car and driver because we were going to go around the area and then head straight back to Tokyo. It would have been smart to take the cable car directly from the Open Air museum (10 minutes walk from the hotel) to Lake Ashi for a half hour ride to another cable car which goes up to a volcano with gases coming out of the ground. For the lake cruise, first class is a waste unless it is very crowded. We had not been told that the walking nature trail through the volcano had been closed for over a year and got back on the cable car to see more of the gasses from the air. We had been told you could see Mount Fuji from the carpark of this area but it was cloudy. So we drove rather far to the other side of Mount Fuji to the visitors center where it was clear. This was good food for thought – if a mountain is not clear, don't assume the clouds are on top of the mountain. It might be sunny from the other side. They have live webcams that can show you what the mountain looks like from various angles. We wound up doing the lake cruise and the cable car second and wound up right back at the hotel, realizing we had wasted a good amount of time in the car. But we did have our luggage in it. We went to an attraction that appeared in a brochure we read on the romance train – a new site in Mishima which was the Mishima Suspension Bridge, one of the longest in the world. It was fun to walk across it; we still couldn't see Mt Fuji from there even though they say you should be able to see it. The best views are probably at the end of the day when the sky is most likely to be clear and the sun is behind you facing the mountain. There is a great food court above the Mishima attraction reached by long escalators. After seeing Mount Fuji from the visitors center we drove back to Tokyo in about 90 minutes having been lucky about the traffic and with very good highways. The whole day's sightseeing took about 7 hours. After dinner at the Park Hyatt's New York grill (OK, but long wait for food), we went to the Maidreamin Café in Akihabara district (you can get there in 15 minutes with subway or 45 minutes with taxi) which turned out to be rather stupid. There are many locations in Tokyo and this pretty dinky place was supposedly their flagship location. People dress up in costumes and make funny faces with you as you get served the food. It's funny for Japanese perhaps but was utterly lost on our kids who maybe would have liked it when they were younger. At first we were afraid we had stumbled on a sex shop but it was in the guide book and supposedly there are long lines to get in there during the day. We got some ice cream and cake and got out without buying any of their packages which cost a lot. Utterly skippable. The Akhihabara district is known for electronics such as cameras but right now people are buying things like ipads and iphones.  Sometimes my Canon Powershot camera took better pictures than my wife's iPhone 6, and sometimes vice versa.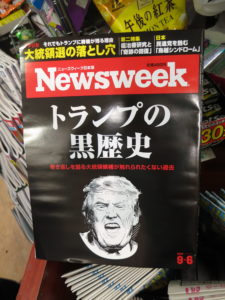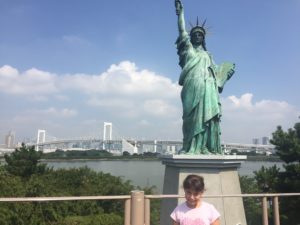 Heading into our last full day of Tokyo, we decided to hit the department stores. The funniest thing I saw the whole trip: Everyone is lining up before 10am to get into the store. It is warm outside. Someone from the store comes out with some water and face towels but only enough for a few people in the line. Finally it is 10am and they open. All the people in line (99% of them Japanese women) start running like mad into the store. It's not like it was there was a sale going on and the store is huge. Meanwhile, the staff is standing there bowing as they all run past them. We went to two stores in the Shinjuku section – Takashemaya and Isetan are a few blocks away from each other and both of them are enough to get a good idea of what you can buy here. There are a lot of American brands, some other brands from China, Japan and Europe, but not a whole lot of choice and the prices are high (which is why Japanese go to other countries to shop). In the food court of Takashemaya there is a gourmet Kit Kat outlet selling premium chocolate wafers. Below the immense wrapping were very small candybars that did not taste that great. Skip the gourmet counter at the store and buy some at the airport at a much more reasonable price where they also have lots of strange flavors such as green tea, strawberry short cake, melon. At Isetan there is a rooftop garden where you can take your food from the basement food court and sit and eat it because there is no place to sit in the food court. There are a lot of patisseries in the food court and they pack your cake in ice and very nicely in a package – it is a whole demonstration for which you pay $6-9 a slice. In the same building as Takashemaya is Tokyo Hands, a creative living store that sells lots of great kitchen gadgets and small toys for kids. That afternoon we went to Aoyama Square next to the Canadian embassy to a recommended craft shop which was underwhelming. We then went to the 21/21 Design Museum in the Roppongi area in the museum district to see a stylish and small museum exhibit dedicated to the subject of civil engineering. About 15 minutes walk away is the Mori Tower with a big art museum and an observatory in its lobby, but you have to buy tickets and we just didn't feel like spending another $60 for another view of the city, although our guide said this was the best view. The art museum looked good but we didn't have the time to do it now and if you pay for the art museum you get the view. Our final dinner in Japan was the best one – Ninja Asakusa restaurant offering great food and concept. Everyone is dressed up like ninjas; a drawbridge goes up and down as you enter; you sit in a cell that is like a jail cell; a magician does card tricks at your table; the platters are decorated so that your dish is hidden underneath something. We ran back to the Isetan department store to look at a nice Japanese plate which we thought was $270 and were hesitating to buy. When we got there, we realized that we had mistakenly calculated the price which was actually $2,700.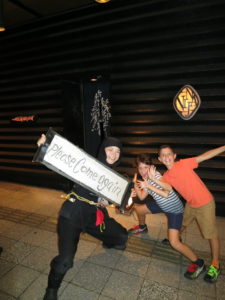 The next morning we got out early to see a famous shrine in Harajuku area  (Meiji Jingu) and get it out of the way. It is not much to see but you have to see it if you are there and there is a nice park. Afterward, you could walk down Otomesando street which is a nice boulevard with good shopping. Oriental Bazaar is HQ for chatchkes and gifts to bring home to give away (closed on Thursdays); two doors away is Kiddie Land, a toy store mainly for younger kids.  On that street was a nice craft shop with a nice plate for about $500 – we should have bought it at the time because we later found out it was another $150 to ship it.  A few minutes away is Takeshita Street which is an alley where teenagers hang out. We saw a 3 hour long line of male teenagers (wonder how they got out there in the middle of a day) for some kind of store selling metal accessories you wear around your neck. I think it was called Triple Ace.  We took a taxi to see the Shibuya Street Scramble (huge intersection near a big metro station where one million people cross during a weekday) and across town using the highway to see a small model of the statue of liberty and the Rainbow Bridge that looked like the Verrazano bridge in NY.
Headed back onto the Narita Express to the airport where check-in and lounge were fine. Some of the duty free shops had long lines and this deterred last minute shopping. You can buy lots of flavors of Kit Kats at the airport. They also sell something called Tokyo Banana (a banana cream cake) which was worth a try. The ANA airplane had a Japanese robot toilet. Its business class on a 777 is 1:2:1 and the cabin is very spacious. The airline runs on time; the uniforms are pretty and the vege food was adequate; they had some grilled halibut from the Japanese menu and I managed to get one after asking several times if they had an extra.  It is a 9:15 flight to LA which is 8 hours ahead in summer, and there is hardly anyone using the Global Entry kiosks there; people sign up for the program and then don't actually fly. LAX airport was very crowded; it took half an hour just to drive to the Avis rental car facility.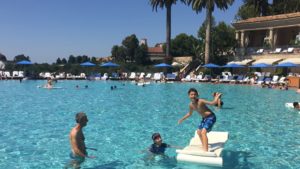 An hour's drive to Newport Beach and a resort called Pelican Hill which has been advertising heavily the past year.  We were somewhat disappointed at this place which had more glitz than substance. All that was missing was the word Trump and some more gold leaf from atop the building entrances. The resort has beautiful villas that are huge and have nice porches with ocean views (and you can open the patio doors wide and let in the breeze all day long without any bugs and see the stars at night), but they are far from the rest of the resort and it can take half an hour before a shuttle picks you up when it is busy, despite the fact that the hotel says you have a personal butler. You do not, and you are not on any kind of priority list for a shuttle when you ask for one in this place of 400 bungalows and villas spread out over 500 acres. The fine dining restaurant Adrian has a great menu and the food is not bad, but not great. We had better items at the Coliseum Grill which was near their grand circular pool which measures 135 feet in diameter.  They have a good amount of music going on in the various outlets on weekend evenings. Gym is OK but not great; spa is OK but the saunas were not working well any of the 3 days I was there. Lots of Arabs come here; the toilets have water spray hoses they like; the only foreign channel on the TV is Al-Jazeera and Saudi and Emirates airlines have nonstop to LA. A group of families from the Gulf come here for 3 months and know each other. Also a good number of locals have memberships here which gives them cabanas, spa and pool privileges. I saw a lot of good looking Arabs with beards and girls wearing gowns riding scooters, one of whom told me he was from Palestine; for all I know, it may have been a convention of Hamas commanders.
One of the shuttle drivers said this place was meant to evoke memories of Tuscany. I asked our kids if they thought this place looked anything like Florence or the area around it. They said no way. The butler was not amused.
I would skip this hotel; we stayed here because I got a very good deal when the prices dropped because they were obviously not selling rooms well at the rack rates and because kids all go back to school here before Labor Day. The hotel is overpriced at its rack rates. They don't even give you a newspaper; you can get a digital copy for free but have to pay for a hard copy. They try to grab you on the other stuff once you're here:  breakfast buffets were really expensive ($57 on a Sunday per adult and $27.50 per kid and that was pre-brunch, or $40/20 on other days – and Amex Platinum only gives you a $60 credit) and tasted a lot like prefab, as did the pool drinks and the chocolates at bedside. Spa services are very expensive and they charge you 22% service fee on top of the price. I just don't see why I need to pay extra tips for the guy who hands me my towel. Just what is the spa offering anyway for its money? There is a shuttle to the beach which is dirty, cold water and very crowded. The bungalows are spread out unless you are near the hotel. There is a bocce court near the pool but that's about the only non-pool activity available on the resort, and one of the bocce balls was missing. I noticed many things out of place which indicates a lack of management walking around and fixing things, such as a spoon that fell into the Jacuzzi and stayed there for several days, the missing bocce ball, dishes on buffets that took forever to be replaced and the candle which was inside a scoop of gelato. The kids camp was OK; they get first run movies and decent food for kids night out. They didn't have camp on Friday night during a holiday weekend, which I thought was odd. The front desk didn't know the price of a breakfast buffet; they told me it was $60 per person, including the kids.  To be fair, it was a holiday weekend and the pool staff said the resort as a whole was understaffed on this, the busiest weekend of their summer. This might be a better place when it is not busy. We couldn't even get a lounge by the main pool until after 4pm; we could have hung out at the clubhouse for villa guests or sit by the children's day camp pool (which is what we did). The kids had lots of fun at the main pool playing with other kids and with the various floaties they have.
We preferred the Carmel Valley Ranch to this resort. We had visited that place a year ago; it is further north along the California coast and it totally beat out this place in terms of fun and value for money.
We returned to NY via JetBlue on the one airline where I can accumulate and use points. It's definitely our favourite airline with all the free snacks you want, TV and nonstop American Ninja Warrior for the kids.
An important consumer alert — on this trip, more than anyone I've ever taken — rates for hotels and airfares went down substantially in the weeks before we left over the price I paid initially 8 months in advance. It was worth it to pay the airline reissue fee since the price of the ticket went down about 25%. This was also true in California, not only in Asia. Always good to check a few weeks in advance on the rates you've booked to see if they went down. I've just checked on our Thanksgiving plans in Puerto Rico and the hotel rate has dropped 25% (they're throwing in the fourth night for free), probably because of those mosquitoes.
Our kids learned a lot on this trip; that there are 1,600 shrines in Kyoto, that Tokyo, Kyoto and Nara were at various times the nation's capital; that Shinto and Buddhism are the main religions here, and that there are other restaurants in the world besides Italian ones. (Good gelato can be found in Japan, though, for instance at an Italian restaurant in Gora next to the sushi place we went to on the main drag of this small village.) They got to see a place where the trains leave 30 seconds early, where people get angry if you put your feet up on public transport or litter, and they got to do all sorts of activities that you can't do in the US or in Europe. Japan was more fun and not as intimidating as we expected; we would like to return to see things such as the Museums of Emerging Science and Modern Art in Tokyo, the Owl Family restaurant in Osaka (where you pick out a live owl to sit at your table), and just more time to walk around and not rush around trying to pack it all in. Ten full days here were just not enough. Interestingly, there is no family travel guide to Japan on the market and people don't think of this as a family tourist destination. There is a good amount of literature on the internet and hotels have pre-arrival suggestions for kids. Kyoto especially is not considered a place for kids. Rubbish – we had a great time throughout and even the night at the ryokan worked out. The kids behaved and thoroughly enjoyed it and we see a month later as the kids write their journals and put together a scrap book that they got out of the trip what I hoped they would.  Other Asia choices were Singapore and Hong Kong.  These 2 places plus Japan are considered first world and, other than Hong Kong, are essentially crime free. But Singapore is really a stopover of 1 or 2 days and Hong Kong is not a lot of fun if you are not shopping. China is not a great place to be if something bad happens. Japan is a place where even kids ride the subways and where everything is crazy clean. I did not find the prices to be that high, especially compared to New York City, and — as mentioned previously — as we got closer to our trip the prices of everything from hotels to airfare dropped significantly and I got things rebooked at lower rates. I totally recommend it as a great place to introduce kids to the architecture, technology and wackiness of Asia.