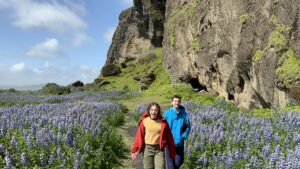 Iceland is a country of 350,000 people that punches above its weight. It's got some beautiful architecture, a diverse population because it is a Schengen country within the EU (and which helps it avoid staffing shortages in the tourist industry that is plaguing other countries with less liberal immigration policies), runs efficiently and is a nice, clean and beautiful country. Gas is $12 a gallon but many people have geothermal heating due to all these volcanoes that erupt across the country a hundred times a day at very small seismic levels, and some of the housing units we saw were beautiful. I'm told it is easy to start a tech company there. On the down side, the sun doesn't come out 50 days a year in the winter although in the summer it doesn't get all that dark. We visited it as a family for 5 days this June. We had a great action-packed adventure; if you asked us what was our favorite activity, we don't know because we had so many of them, such as being dropped 400 feet down a volcano, snowmobiling across a glacier, going on 4×4's across lava fields and putting on potions and bathing in the Blue Lagoon. Karen and I will probably visit again at some point, if for no other reason than on the day of our Golden Circle tour, we were so rain-soaked that we all had to change our clothes twice in one afternoon (but in fairness, the rest of our trip had pretty good weather although colder than we expected for June with highs in the 50's). Because nearly everything is imported, Iceland is an expensive country although after you go there the first time, you are likely to spend less money on subsequent trips after you go through your learning curve.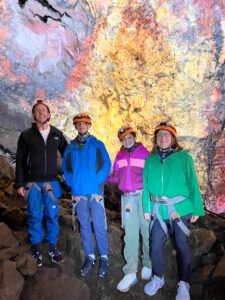 Once the kids went off to 7 weeks of summer camp, Karen and I went on our first week-long trip to Europe in the past 17 years. Dublin was not fascinating but it is a relatively inexpensive European capitol. The more interesting portion of the trip was several days in Western Ireland enjoying the countryside and the grounds of Ashford Castle, one of the country's finest. If you're a Downton Abbey fan (which my wife is), a visit here is meant to amuse you greatly.
ICELAND: We traveled from Saturday night to Thursday. For this trip, it was the right amount of time. Icelandair has a midnight flight out of JFK which is helpful if you want to travel during the summer on a Saturday night after the sabbath. The problem with Icelandair is that the planes do not have lie-flats or even foot rests so you are unlikely to sleep on the plane during the 5 hour flight. We didn't want to arrive dead tired at 9am and have to sit around our hotel waiting for an afternoon check-in, and the airport hotel was rather pricey. So we took a a taxi 10 minutes to the Keflavik Hotel which was $200 a night per room and crashed over there. If you arrive before 10am they give you a very good buffet breakfast. There is a great gym downstairs that allows the hotel to use its facilities. We did not find great gyms in any other hotels that week. The airport is about 45 minutes drive from downtown Reykjavik.  Although Iceland was colder than we expected with temperatures during the day mostly in the 50's, it's warm inside a hotel room at night and we were all sweating and sleeping in underwear, even in the best of hotels.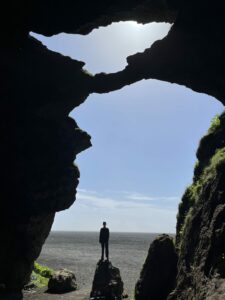 Wanting to start off by chilling out and getting over our jetlag, we started our schedule on Sunday afternoon at the Blue Lagoon Retreat, another 15 minute taxi ride away from either the airport or the Keflavik Hotel. The Retreat is a hotel and spa that operates at Swiss-levels. There is a nearby 4 star hotel but this is not that one. The hotel is at the Blue Lagoon and you can pretty much walk out of the hotel and into the spa and lagoon. You bathe in it; it's not for swimming due to all the chemicals. It's like the largest jacuzzi in the world. At the spa, there is this Ritual with all these potions you put on and wash off. It was a fun family activity and everyone felt their skin felt very soft afterward.  The spa has private swimming areas in the lagoon that are nicely landscaped. The hotel offered complimentary afternoon tea and snacks and all of it was great. Every piece of fruit seemed hand-picked and the pastries were all unusual and tasty. Their buffet breakfast was also great. They had a good shop selling stuff like backpacks from 66 Degrees (an Icelandic brand that makes cool stuff) and we bought several types of local chocolates (although they were mostly disappointing). There is no place off property to walk around so this is a 1-2 night stay at most but you definitely feel you are on another planet here with lava and moss landscapes outside your windows. If I came back, I'd want to try the water massages where you lie on a mat in the lagoon. The area around the hotel is the Peninsula area around Reykjavik. You can take a helicopter tour that leaves directly from the hotel but ours was cancelled due to the weather. On the way back to the airport, we took a 4×4 buggy tour around the local area where you drive along lava fields and along the coast. It was lots of fun.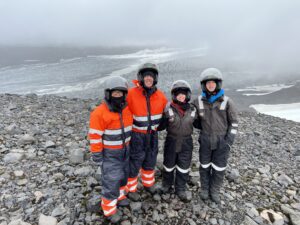 On Monday, we took a late start (and the kids got up early to go in the lagoon again), and rode a half hour to this volcano Thrihnukagigur. Take snacks because for 4-5 hours there will be nothing to eat except maybe some watery soup with a vegetable in it or hot cocoa. You walk mostly on a fairly flat surface about 45 minutes to this base camp and then go in a type of elevator they use at construction sites and it lowers you 400 feet into a volcano. Then you walk around for about 20 minutes and explore all the rocks and colors inside. Then you walk back. They split the tourists into two groups; make sure you are in Group 1 so you go in and out first and can head back to the starting point without having to wait for Group 2 to finish. Along the 45 minute walk are a few lava tunnels to explore. As far as anyone knows, this is the only attraction of its type in the world. This was a great adventure! Then we drove another half hour or so to Reykjavik and drove around town to see some of the sites. In an hour you can see it all; check out the City Hall coming out of the water and see the place where Gorbachev and Reagan had their summit. We checked into our hotel, the Edition, which is a Marriott branded property in a very central location right on the waterfront next to the opera house. We found this hotel to be rather overpriced and quite shishi; I didn't care much for it and particularly minded sleeping in my underwear in a very expensive hotel and having a shower that didn't work well and looked like it belonged in a locker room. The gym was so dark you could hardly see the equipment stored against the wall. Breakfast was good though and it had a very good café in the lobby selling yummy pastries. The harbor views were unimpressive; I oversaw a merchant marine ship docked outside. The sun comes through these big windows you can't open and makes the rooms hot, especially since the sun is out till midnight and then it doesn't get dark at this time of year (June 20). The problem here is that there are other hotels in the city such as the Borg or the Radisson but if you are in town, you have 50 party animals whooping it up all night below your window. The other choice is the Tower Suites on the other side of town near the Hilton. That one is connected to a very good gym and spa. We were afraid it would be inconvenient and that it was an apartment hotel instead of a normal hotel (ie: we ordered room service for Jeremy when he didn't want to go out to dinner and the hotel restaurant was closed that night); if I were going again, I'd probably take the Tower Suites. Either hotel would have cost roughly the same. During our evening in town we walked around and window-shopped on the main shopping streets (there are two). The big church you cannot miss noticing is at the end of one of them. From the church to the hotel is about a 12 minute walk. You can go up an elevator to the top of the church during the day till about 6-7 at night. Even though the sun is out at night, shops and attractions still close in the evenings except for restaurants and bars. We saw Fly Over Iceland, a "Soaring" type of attraction that gives you pretty views of the country. We skipped Perla which looked like some kind of museum and fake ice cave. There is not much to buy here but there are some cool stores, such as one that sold photographs including one that Jeremy loved "Pussies Beware" which I am told is one of the most popular photos sold in the country. Another attraction is the Penis Museum about 2 blocks from our hotel which you can see in 10 minutes but it's a hoot. They even had a poster about Maimonides' prescriptions for penis-related problems. And they have a café with all sorts of penis-like items. Kids love this place! So far we've been here 2 days; one was all rain and the other had half a day of sun. When the sun comes out, you see lots of nice colors.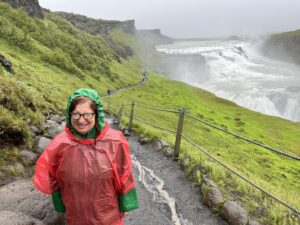 Having had our day in Reykjavik (you don't need to be here more than 1 night really), we started our tour of what is known as the Golden Circle. It's a ring-road tour around Iceland and it goes 1,000 miles. We did the first 100 miles and that portion of it has lots of beautiful attractions tourists come to see. Unfortunately, it rained so hard that afternoon that we got rain-soaked enough to have to change our clothes twice in the span of a few hours. We all caught cold after that. We were told that our bad luck was unusual but what you should know is that you have to plan for lousy weather and make sure to have one or even two changes of clothes with you. Umbrellas don't work here as it is too windy.
I could tell you the names of the places we went to, but they are all these Icelandic names that all look the same and frankly I didn't know the names of the places we went to even whilst we were there. You don't really want to do this without a guide so I will just tell you the things we saw and forget about trying to look up what they were called because if you do the Golden Circle Tour you will see all of it anyway. Fortunately, photos taken with phones tell you where the picture was taken due to the GPS which works perfectly well in Iceland. We started at this Thingvellir national park with a 20 minute walk along a canyon signifying the continental plates of Europe and North America which led to a water fall. Then we continued to the Kerid crater which is not normally on the tour and it was cool. You stand above it and it has a lot of bluish water in a big pool and you can walk around and look at it from above or down from within the crater. Then to this famous Fridheimar tomato farm with a bunch of greenhouses where you have a tomato-themed lunch. The food is great; we tried virtually the whole menu including salad, soup, burrata, pizza and ravioli. Even the desserts were tomato themed such as tomato apple pie and tomato ice cream. It's a bit of a gimmick at that point; you don't taste any tomato. You need reservations here or else show up around 3:30 and hope for a table when they close at 4. This place is a stop for virtually every tourist going on the tour. After a late lunch (we arrived close to 4pm), we went to another waterfall which is very wide and ferocious and supposed to be one of the largest in the country. It's called Gullfoss. We somehow saw it between tons of wind and rain. Then to the Haukadalur geyser which comes up for a few seconds every 10 minutes or so. That was not much to write about. Then a rather long drive to our hotel called Skalakot which is a nice B&B with 14 rooms on 3 floors near the town of Vik, about 100 miles east of Reykjavik along the southeast coast. The hotel is underneath a volcano that erupted about 10 years ago; there are hundreds of small seismic activities daily in the country and you just hope that nothing happens on the days you are there that you would notice. They were nice enough to dry up our clothes and shoes. They have a dining room that serves a good dinner and breakfast (there's no place really to go elsewhere) and they have a stable with pretty Icelandic horses (if you want to ride them, pre-book to avoid disappointment). They also have a sauna and jacuzzi on the property and some spa services, but no gym (nearest one is half hour away). This is a place for an overnight or two as a base for touring the area. They did not have connecting rooms but we had two rooms on the highest floor across the hall from each other and that worked well.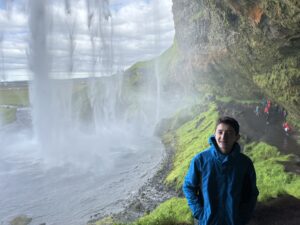 Wednesday morning we started out at 9:30 for a short ride to a glacier tour by Arcanum Adventure Tours of Vik, Iceland.  The Myrdalsjokull glacier is Iceland's fourth largest. You get on this bus with huge tires and it goes up a mountain to a glacier. Then you get on a snowmobile and drive about 30 minutes to some lookout point. If you put your helmet visor down, you don't see much. If you lift the visor, you see stuff but the freezing rain smacks in your face. The whole exercise is about 2.5 hours. Go check it out while the glaciers still exist. Take two pairs of gloves from the stuff they give you and remember to activate the hand warmer feature on the snowmobile. You have to have a drivers license to drive but they didn't check for one either here or with the 4×4's later on. Then we had lunch at this nice little café near the town of Vik in a valley called Veitingahus Sudur-Vik. There is a pretty church there and a nice view across the valley to the sea. Drove to see a cave near a beach (doesn't seem to have a name; but our guide knew of it) and then to a black-sanded beach known as Reynisfjara with big stone columns and big waves (too strong for surfing). Then to an overlook over the beach where we hoped to see puffins (too much wind we were told). Saw a rock formation (Reynisdrangar) that looks like what you see on the Windows desktop screen. Then to another pretty waterfall seen from the bottom (Seljalandsfoss). (Some of the letters in these words, by the way, are English approximates because there is no English equivalent.) Then to another waterfall we had to walk along a path to see but we wound up behind the waterfall (Kvernufoss). A bit more danger but fun; we got back to Skalakot by 6. You go to the spa next door, have a long dinner and walk around and notice that the TV doesn't work (but nothing in English anyway) and before long it's bedtime.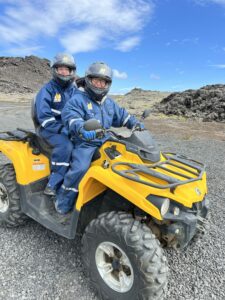 Our last day we started off seeing another waterfall Skogafoss from behind (it's cool seeing all the water gushing down in front of you). I might have mixed up the names of the waterfalls but go see all 3; they are all within a few minutes of each other within 10 minutes drive of Skalakot. Then a long ride back to the Peninsula area close to Reykjavik to a town called Grindavik (4X4 Adventures Iceland) where we did the 2 hour 4×4 tour riding around lava fields and along the coast. It's a rough ride but it gets better as you get used to the vehicle and it's a good thing to do sandwiched between the 2 hour drive back to Reykjavik and sitting on an airplane.  Then it was a 20 minute ride to the airport. Get food at the airport even if you are in business class (there were good things to buy at least if you like smoked salmon and chia seed pudding). We arrived 2 hours before the flight and it took a while to get through the airport; security was very Germanic checking every last item and measuring our nail scissors. We had to do the tax free thing and the airport gate area was a zoo with people in lines going to 4 different flights departing at the same time. It's an efficient airport but it's larger than you think and there are multiple steps involved in leaving. There was nothing we could eat on the plane and it is a 6 hour flight back to New York. Our kids had more legroom in a premium economy seat than we did in business class. Icelandair is not my favorite airline. They did not treat us too well when they cancelled the original flight we had booked and we had to rebook on a different flight. I spent hours on the phone calling their Icelandic calling center because their other calling center in southeast Asia was so dumb it was pathetic; their website was not useful for solving problems and people kept giving us wrong information, even supervisors at the airport check-in counter.  I'd stick to the American carriers if you fly to Iceland. Bring pharmaceuticals with you because going to a pharmacy here is a federal project; they might close after 1pm on a weekday. One surprising fact: Some fruits and vegetables are grown here and they are really good. Finally, you've seen several volcanoes and lava fields, you get the idea. 5 days in Iceland was enough to see the southern part of the country.
Our guide was really good: his name is Willy. Don't be fooled by the fact that he is in his 60's; the kids said he had GOAT status (Greatest of All Time). He had less attitude than the younger guides we saw.   His email address is vilhjalmur@embracingiceland.is and his phone number is 354.858.5410.  The agency we used that hired him was called Cool Travel Iceland and is headed up by a guy named Bjorn. You could book day tours through toursbylocals.com but I recommend arranging a full itinerary package through a local tour agency to make sure you have backup in case a freelancer has a problem. Cool Travel Iceland's website is cooltraveliceland.com.
Ireland Travel Notes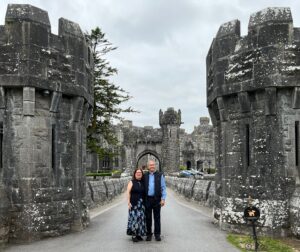 United Airlines has improved over the past few years and it has become a decent alternative. They are reachable with Customer Service and their Polaris class out of Newark is not bad. There is a nice lounge there and the food on board has improved. I still prefer the 1:2:1 seating of other airlines to this 2:2:2 configuration but it's not bad. Don't count on any print materials in the airport lounges anymore. Also, United doesn't let you pre-order meals so you might well not get your first choice. They put 2 fish entrees on board for 16 people and they go to their high-status flyers first even if you tell them that you badly want a fish meal. They are not allowed to tell their high status flyers that someone else asked for that choice. United uses Israeli technology to forecast turbulence in the air and to warn passengers and crew; it's a cool system and so far they are the only airline using it, although other airlines are buying it too.
It's 6 hours to Shannon, Ireland, a city which, except for its airport, would not be in the top 5 of Irish cities. The airport is great though with something like 10 arrivals per day, so we were out of that airport in 5 minutes with our carry-on bags. A 2 minute walk from the terminal is the Park Inn Radisson hotel which is a perfect place to crash after an overnight flight. Except for the lack of air conditioning (which matters in July) it was fine. Rather than arrive early at the hotel to find out the room is not ready or pay an extra night to reserve a room for early arrival (which is wasted if you have a long-delayed flight), we've been crashing in the mornings at airport hotels. Dayuse.com is a website with day room rates around the globe with flexible cancellation. This is a great find because there are steep discounts here. Reserving a room overnight on a regular website is useless because what do you do if you want the room from 10am to 2pm when the check-out time is at noon? The dayuse site assumes you want the rooms roughly from 9-5 and has rates that make sense for that window of time.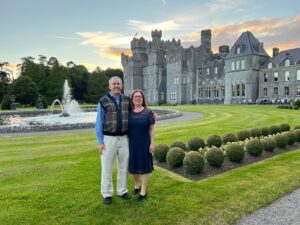 Instead of transferring 90 minutes to our overnight location, we went the leisurely route for 6 hours with a car and guide. Driving in Ireland is pretty difficult with lots of 2 lane roads and one-ways.  ToursbyLocals.com was a good source of guides. Ours was Martina from Shannon and we went along the coastal route to the Cliffs of Moher which is supposed to be a beautiful site. We were unlucky with the area around it completely fogged in so we have no idea what it looks like other than the posters we've seen. Other than this snafu, the rest of the week we had generally partly cloudy weather throughout Ireland for the week. We stopped in Galway, Ireland's third largest town and walked around the city center. You could skip it. Almost everything closes at 6 by the way (stores owned by immigrants stay open later). We went to the Brown Thomas department store and Karen found dresses at half their normal price there.  From Galway it is 45 minutes drive to Ashford Castle and the Lodge at Ashford Castle.
The Lodge is next door on this large property and about 10 minutes walk to the castle. You can use a bicycle but it is not flat terrain. The Lodge is also an excellent property and its restaurant is as good as anything else on property for dinner and breakfast. Get a table with a nice view of the harbor. They are building a large spa, gym and pool next to the Lodge. It's a good place to go with kids or to spend a night or two in addition to the castle which would get tiring after 2 nights. Our bathroom was a bit small; I burned my butt coming out of the shower on the towel warmer. All these hotels give you huge duvets and the air conditioning systems don't work well; I asked if Irish sleep like this and they said No Way, so why should I? I asked for bed sheets. By the way, did you know that if you are a houseguest in Sweden you are expected to bring your own bedsheets? I just saw that and figured I'd pass it along.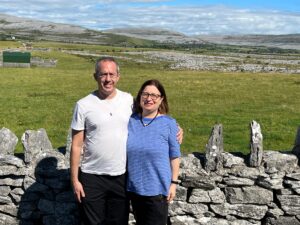 We spent a day touring the surrounding Connemara region with pretty views (like lower Scotland), the town of Clifden (really good bakery there called Walsh's) and Kylemore Abbey, a pretty castle with restored rooms which has an interesting backstory – it was an abbey for nuns. Transferred to the Castle which is one of Ireland's finest in search of a Downton Abbey experience. We had high expectations but this place delivered with beautiful rooms such as a cinema and billiards room, grounds with endless gardens and walking paths in the woods, facilities and food. They built a beautiful spa, gym and small wave pool with views out over the gardens and a lake with mountains behind it. There is a real Dungeon where you can eat dinner. Or the lovely dining room. Afterward there is live entertainment in the lounge, usually involving Irish music. We had a stateroom in the castle which would have been my teenage kids' humanities teachers' worst nightmare. Imagine waking up in a bed looking at very tall walls filled with portraits of Dead White People staring down at you. I recommend 2 nights here because you spend the first night just looking around at everything and the second night you feel like you are living there a little bit. It's also a bit dark at night and during the day you can walk through the rooms and see them in the light, which you can't do if you are checking out at noon and arriving late in the day.
The new euphemism is "bookable experience." That means that using the gym or pool requires reservations. It's still a covid world and the facilities are actually rather small. The hotel has a resident historian who gives a great history tour for an hour so that you can learn about the history of the property going back to 1288 and the Guinness family which previously owned the castle. The new owners put $100 million into its restoration and they did a great job including this really cool tunnel underneath the castle that they now use as a wine cellar and tasting area– except for the showers which are still pretty lame, but I think that's an environmental conspiracy thing. Also, if you are going to a castle in Ireland, why would you want to sit at a seat in the gorgeous dining room looking out the window at a car park? There is a footpath that takes you 8 minutes to the village of Cong which is cute to walk around and features a duck crossing at the end of the street. There are lots of souvenirs here with sheep having funny expressions, probably mostly made in China. We took a 3 hour cruise to this little island in the lake (Inchagoill)  that had lots of day trippers and overnight campers mulling about. The island has a little cemetery with a marker with Latin script on it from the 5th century showing Christianity existing there at the time.  Dinner was lovely but there are many more choices of starches than vegetables – Ireland is big on potatoes and goes easy on the greens.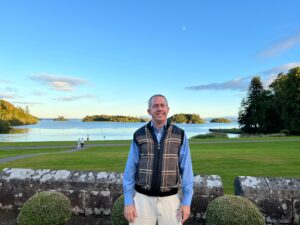 Train tickets from Galway station to Dublin were cheap at about 15 Euros each and the 2.5 hour trip is fine. Trains here run well and you get to meet the Irish peasants aboard since you are not likely to see them on private tours or in castles. I would also say that we were still among the younger people we saw in the lounge at night in the castle. Dublin's Euston station is the main station for trains coming from Galway and then it was a 15 minute taxi ride to the Merrion Hotel, a property with an entrance so unassuming that you could walk right past the front door. Dublin is not the most fascinating place I've ever visited but it is a European capitol that costs less than others with reasonable taxis, food and lodging. The hotel is across the street from the parliament. Other good hotels in town include the Westbury and Shelbourne but the Merrion is the most sophisticated of the 3 and has the best food and all the facilities you'd want with good places for lunch and airplane takeaway such as Voila round the corner on Baggott Street. The Shelbourne is nearby along St. Stephens Park and the Westbury is in the center of town off Grafton Street, the main pedestrian drag. Grafton Street is no great attraction and the streets along the river running off Grafton are somewhat seedy at night. It's a 10 minute walk to the Merrion but you are in a better part of town and it is more secure having the parliament building across the street rather than a city park which closes at sunset due to too much drug use in the parks at night. Not much to buy here; Marks and Spencers has a store but it's pretty limited and Brown Thomas and Dunnes department stores did not have much to buy. We did not make it to Arnotts. Kilkenny Shop has Irish crafts but we didn't find anything we wanted. The Irish Times is a good newspaper and the Irish punch above their weight in print journalism for a country of 5 million people.
Dublin Tales is a one-man company by Alexander Vard who gives 3-4 hour tours about Jewish Dublin. It's not a huge endeavor but there is history here and you see some homes and buildings where this small community did its thing for the last 150 years. The basic idea is that the Catholics and Protestants were so busy hating each other that nobody really bothered with the Jews. The lower classes did not feel that Jews were taking away their jobs and Jews found their way into parliament representing all 3 major parties. There is a Jewish museum but it is open only 2 days a week and I am told it is just words on a wall in 2 small rooms. We weren't there on the proper days so we missed it.
We did another 4 hour city tour and that's about as much as you need to see city sites. The biggie is the Book of Kells at Trinity College which is right in the center of town. You see a book with beautiful illustrations from around the 5th century made by monks. Only problem is that they turned it to a page without any illustrations on it the day we visited so we pretty much thought that was really lame. They are going to close the exhibition down for some time beginning October 2023 but it's not that big a deal really even though they charge 18 Euro to see it. Dublin Castle is something you walk past and see from the outside but within its grounds is a sleeper attraction which was really good – the Chester Beatty Library with cool manuscripts from as much as 1,500 years ago from the Middle East and Asia. According to a film shown there, he was an engineer who made a fortune mining in America, was an advisor to Winston Churchill during the war, and eventually moved to Ireland. Even better, it's free and it has a great Silk Road café where you can sit in the gardens and eat lunch. Another good lunch place is Pyg Café in the Powerscourt building in central Dublin; their pizzas looked really good and the place is a beautiful interior courtyard of a restored building. We skipped St. Patrick's Cathedral with its 16 Euro entry fee and went next door to the Marsh Library which was a interesting small attraction where you can smell all the old books on the shelves from floor to ceiling.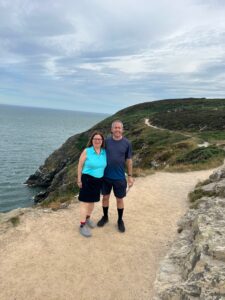 A 40 minute taxi ride gets you to Howth , a seaside escape from Dublin with some pretty nice homes. This is a good late-afternoon activity before dinner. There is a cliff walk near the harbor – you walk about 10 minutes to get to the start of the cliff walk. The entire route takes a few hours but we walked about 20-30 minutes and turned back having felt we got the idea. There is a rock formation called the Ireland Eye that is out there to see in the sea. There are some fish and chips places near the harbor, none with sea views, and the DART public transit station is right there and for 5 dollars we both returned to town on a 35 minute ride. The Pearse station is a few minutes walk from the hotel. Food is sort of boring here – every place has the same 3 desserts and right now chocolate fondant cake is at the top of the list. Our final dinner was better than that at a French brasserie called Pearl in an underground bunker with really cool seating areas next door to the Merrion. In this Michelin listed restaurant, you could get a very nice dessert for 10 euro. Also they had this nice side dish with mashed potatoes and cabbage which they said was an Irish item.
Everything here closes by 9pm even parks (even if sunset is at 10) except for pubs. The two parks near the hotel was St. Stephens and Merrion Square. In Merrion Square there is a memorial to Oscar Wildes with funny quotes and a humorous statue. Something we might see if we ever returned here would be the Little Dublin Museum with a film and various knick-knacks. I'm told by the guide that if you don't know what you're looking at, you sort of miss the point though.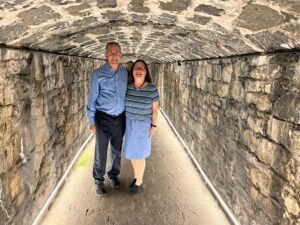 Taxi to the airport is about 25 minutes and $25. Despite the horror stories we've been hearing about Dublin airport, there were no lines when we checked in or at security or the VAT line or at the gate, at least if you are in the Fast Track going business class. It was definitely better than Keflavik airport in Iceland a few weeks earlier. However, you would be nuts to check bags there or anywhere in Europe these days – my teenage daughter will have to learn to live with a carryon only and recycle outfits and live on 2 pair of shoes for our 2-week European vacation in August which will feature several connecting flights within Europe. You can preclear US Customs at Dublin airport and the lounge is in the preclearance area. Having Global Entry is really useful at this terminal for customs. You would think that Dublin is a lot closer to the US because they use smaller and older planes for this somewhat backwater route, but Dublin is only 300 miles closer to the US than London (it's just that you can't drive between the two cities due to water, but you can take a ferry), so the flight time is about the same. Flights are full in both directions and there are lots of flights.
All in all, Ireland has improved greatly since my last visit to Dublin in 2002 (I visited the country a few years later but for less than 24 hours and went to a specific place outside Dublin). Immigration has brought improved food. The attraction of this country is more the green countryside than the city of Dublin. It's a good place for 2 adults to lolly around for a week – there were kids at the castle but they were very well behaved ones who seemed happy walking around in suits.  For Karen and I, on our first week-long vacation without kids in 17 years, it was a nice break. But with teenage kids, I'd choose Iceland in a heartbeat.
Additional photos from these trips are to be found on the GlobalThoughts posting dated 25 July 2022.