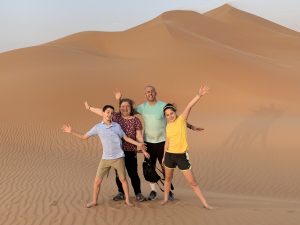 We took a 12 day trip during the February mid-winter school break to see areas that get really hot during the summer and to avoid peak travel periods. This trip covered the UAE, Jordan, and Rome as a stopover.
Here's a thumbnail observation about the modern Arab world today – it used to be that you'd see people fingering worry beads all the time. Now they're mostly replaced by ear bud cords with cellphones.
I was able to secure 4 one-way flights with frequent flyer points. You can do this with Amex points for airlines such as Etihad and Emirates (and Delta too). This was really helpful and saved us a ton of money. Emirates business class is a beautiful service, and it is just a total class act above the rest, from the lounge all the way through the chauffer service to your destination upon arrival. (A friend of mine says that Qatar is the best of all of them.) Dubai airport is overcrowded, and even with a VIP arrival service it took us 20 minutes to get through the one lane they had for VIP's with passport officers drinking coffee and chatting up their colleagues. Definitely order the Marhaba arrival service via the internet for your arrival. I saw a guy with a skullcap boarding the flight and asked what the heck was he doing, and he said he was a manager with the airline and had been living in Dubai for 13 years. He said there are 200 Jews living in Dubai, there is an unofficial synagogue in a villa in Jumeirah with rotating rabbis from Chabad and New York University, and that they are trying to create a manufacturing plant in the UAE for kosher foods, and that you could presently get kosher food in most large hotels there if you ask for it. Who knew? [In fact, just today (13 March) there is a published article about a new kosher caterer setting up shop in the UAE.] During the flight, we found out that the Airbus 380 is going out of commission because Airbus is not going to produce any more of them. It is a lovely plane but evidently not so efficient to fly.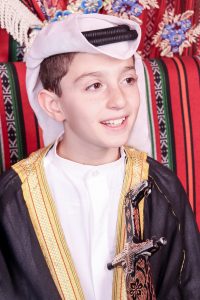 We spent the first night at the Emirates Tower hotel in center city Dubai. I had fond memories of the 24 hour lounge stuffed with food and alas there was absolutely no food when we arrived at 9pm and the lounge itself closes at 11, and there was virtually nothing in our hotel room either except for a few pieces of chocolate and a few apples. We headed out to Dubai Garden Glow, a whole park lit up at night with all kinds of lights. It was a great attraction. Our kids were hungry and were happy to see someone selling potatoes on a stick just like the local street fairs back in NY. This attraction is run by the municipality and it was fun up until it closed at 11 when all the lights suddenly went out while we were still inside the park. Elizabeth freaked out and of course we did find the exit and there are always taxis standing by just about anywhere here. Breakfast buffet at this hotel is excellent and the kids loved the juice bar. There is an excellent gym in the shopping arcade that guests can use. The ruler of Dubai has his office in that tower and there are all sorts of exhibits about innovation in the lobby. All the hotels we went to in the UAE have the same toilet paper which is pretty tough.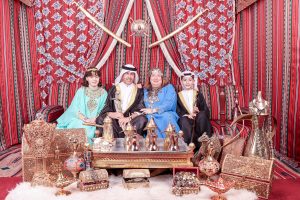 Our first stop was the Burj Khalifa tower which is supposed to be the tallest building in the world. You must buy the VIP tickets to avoid spending several hours in lines here even though it is ridiculously expensive at something like $125 a person, regardless of age. Even with the timed ticket the visit will still take 90 minutes at least. They charge insane amounts if they take your picture at the top and they are not even good. The best picture to take is either yourself or with the green screen behind you just after the security check. The Virtual Reality attraction on the observation deck was a good one and worth the extra $10 ticket (you'd think it would have been included in the price of the VIP ticket).
For most of the attractions for this trip we bought timed tickets in advance through the internet, which saved us time standing in lines and insured that we would be admitted when we got there. This was important; we managed to stay within 15 minutes of our schedule for the entire 12-day trip so careful and realistic planning is essential. In today's world, you have all these Western, Chinese and Indian tourists all competing for the same visiting slots and the tourist destinations are simply more crowded than they ever were. These attractions are all run very professionally mainly by expatriates used to dealing with English speaking tourists and the websites and call centers they operate are excellent.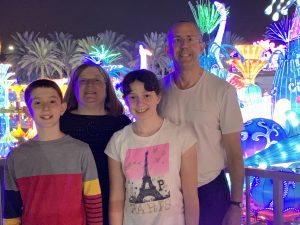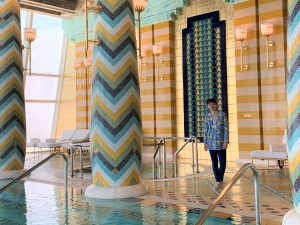 We then headed over to the helipad next to the Atlantis hotel on Palm Island (yup, a carbon copy of the one in the Bahamas), for a 15-minute tour of Dubai by helicopter with Alpha Tours, which has an excellent safety record and which was responsive to work with. Dubai is a great city to enjoy from the air. Then we transferred to the Burj al Arab hotel. If you plan far in advance, you can prepay hotel bills all over this region and get 30-40% discounts; it is cheaper to buy travel insurance than to pay the higher rate if you cancel. I've also noticed that rates go up the closer to the time of travel and the hotels do sell out at peak season (and winter turns out here to be high season). Guests of Jumeirah-chain hotels get free admission to Wild Wadi water park and in the late afternoon it is not so crowded. The park can be reached with a golf cart about 5 minutes from the hotel.The park was not very large but the rides themselves were excellent and some were better than those we enjoy in the US. The hotel has a nice spa with large windows overlooking the city and the décor of this hotel is loud and colorful, but still tasteful in its own way, at least in my opinion. They wanted to make a statement with this iconic hotel and you either love or hate it. The rooms are oversized with a real walk-in closet, huge spiral staircase and oversized bathrooms, although the extravagance of earlier visits is gone – they no longer put all sorts of exotic treats in your room, but they do put large bottles of toiletries in the bath. Someone brought over a Thomas the Train display with treats for the kids but there was next to nothing in the room for adults until I asked them to bring over some cake and fruit – the honey cake they served would make a delicious Rosh Hashana treat by the way. This hotel has wow factor in its form but they don't give you nearly as much as they used to for your money and Dubai is more or less becoming pretty similar to other destinations in terms of what you get for your money, although overall I think you get more for your money here than elsewhere. You still pay a lot here but you still get something for it. Abu Dhabi is trying more to impress and catch up to Dubai so your buck goes even further in that town. Dinner in the seafood restaurant which used to have a submarine ride up and down to the lobby; they replaced the submarine with a revenue-producing bar. The restaurant is unusual for having huge aquariums. The food was also good and my friend treated our family to dinner. His wife baked some of the best Nutella cookies ever and they lasted a full 5 days as promised. The hotel is lit up at night and it is worthwhile to go to the top floor restaurant and take pictures if you are there in the morning when the doors are open but nobody is there. The breakfast buffet is quite nice and the hotel has a beautiful indoor pool overlooking the city. The gym is quite good but not extravagant. There is a pool terrace (which is billed as one of the most exclusive spots in the region) but the pool was not heated and the area was closed the day we were there due to high winds, and you might care in February because the ocean water was also surprisingly cool. Daily temperatures are in the 70's at this time of year. The hotel does not have a beach but they can drive you in a golf cart to the sister hotel which does have a beach about 3 minutes away. There are a bunch of hotels next to each other all owned by the Jumeirah company and the Wild Wadi parks is in that area.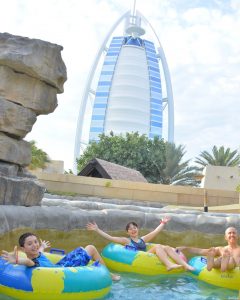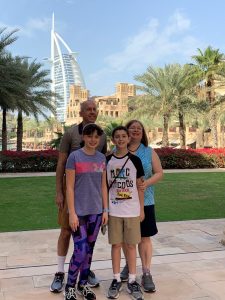 One of those hotels is Medinat Jumeirah, where we went to visit. They have a lake you can ride around in, but you really don't need to. It's sort of Dubai meets Disney hotel; kids might like it but it's not very sophisticated and it's rather large and spread out. There is a souq of souvenir stores and the 9 foot Africans who used to guard the huge front doors of the Al Qasr hotel have gone back to Africa. Alas, a lot of the spectacles that I had promised to show to the wife and kids no longer are there!
A friend of mine took us to a beachy area near the Dubai Marina district to show off one of his company's new restaurants and they are building a London-eye type of ferris wheel in that area as a highlight. There is also this whole coffee house that goes up and down like an amusement ride every half hour or so so you can have your coffee overlooking the whole beach. Everywhere you go, everything is new – brand new car parks, roads, lights, buildings, a driverless metro and tram – it's all done really well. Some of the buildings they built 25 years ago weren't built so well when they were first figuring out how to build in that area and they are now being torn down and replaced. Remember that 40-50 years ago there was no UAE and you can see pictures of kids who had no schools to go to, and in Abu Dhabi there was not even one single bridge. Now the city teems with all kinds of skyscrapers, attractions and infrastructure. It's a real miracle and credit is constantly given to Sheikh Zayed, the country's founding ruler who is viewed as a beneficent person who united tribes, had a vision for the future, and gave back benefits to his country's citizens. The country has also been smart to tolerate foreigners of all sorts and bring in talented people (even Orthodox Jews it seems), hoping to build a better country for it. Trump and many Americans could learn something from the Emiratis. Zayed's picture is everywhere you look but it's not all adulation– a business must post his picture or risk being closed down. His image was even stamped in our passport upon departure. In Jordan, we didn't see constant images of the king. Zayed doesn't smile; he looks rather stern and evidently that's the kind of image people want to see in this area. He doesn't need your vote, after all. He is sort of like a falcon bird, being very alert and still. Falcons are popular here; you might see one sitting in a first class seat on an airplane riding next to its owner. Falcons have passports too.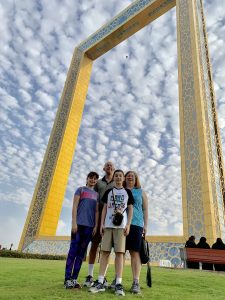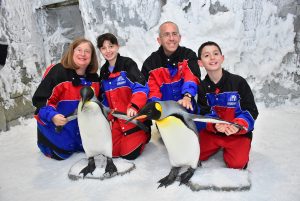 Our next attraction is the Dubai Frame, a huge structure meant to frame the city with a museum inside telling you something about the history of Dubai and some cool stuff up top. Next we went to the Mall of the Emirates to Ski Dubai, an attraction with indoor skiing/boarding and all sorts of rides such as chair lift, bobsled run, zip line, giant ball that you get inside of and roll down a hill. They provide coat, pants, and mittens. Bringing or getting a winter hat is not a bad idea. There is also the penguin experience where you get to pet, kiss and get close to penguins. Supposedly this is the only one of its kind in the world. You should buy tickets in advance for this to avoid disappointment; hopefully by the time you do this the website will have been fixed because I had a miserable time securing those tickets. Expect to be extorted a king's ransom for the photos they take of you and the penguins. After this, we went to the Dubai Fountains near the Dubai Mall. They put all sorts of lights and laser images on the side of the Burj Khalifa which is next to the mall. (It was originally named the Burj Dubai but the sheikh of Dubai ran out of money and the sheikh of Abu Dhabi bailed them out and of course put his name on the building.) You can take a boat ride on the lake and watch the fountain show; it is not the greatest fountain show I've ever seen but it is a good one. It was funny to see the Serafina Italian restaurant that lives across the street from us having a branch right there along the lakeside. Almost every brand we see within a few blocks of our apartment in New York can be found here. You can't escape anything anymore. We also had boardwalk tickets which were superfluous and which we didn't use as we ran out of time but couldn't return. We took cute pictures in costume in the mall and Jeremy makes an excellent prince, as you can see. The Dubai Mall has tons of stores from Europe such as Marks and Spencer, Debenhams, Hamleys Toys, Galleries Lafayette, Delifrance, Pachi's Chocolate, and others from back home such as Children's Place (selling the exact same shirts I bought in NY a week earlier at the same price), Gymboree, right down to the International House of Pancakes.
We visited the Etihad Museum, which is a new museum dedicated to the modern political history of the UAE and which is primarily a tribute to its rulers. You could see this in about 15 minutes but it's worth a stop. They charge admission but it should be free as there was hardly anyone there. This is one site you can buy your tickets at the door instead of online. Jumeirah Mosque is worth a drive by. Fort Mahidi is an interesting site with the Dubai Museum showing the old history of the city. We then went on an abra boat ride for about 10 minutes down the Dubai creek to the gold and spice souk where we walked around a bit. There is nothing really to see here but it is on the tourist path. We then proceeded on a 3 hour drive to our next destination – Qasr al Sarab. The roads were great, the gas stations have beautiful convenience markets selling upscale brands from Europe. There are a lot of things to like here if you like design such as nice fonts, use of space and art. Dubai was a marathon for us and we could have used an extra day or two here. There was a good article of 40 things you could do as an adult to act like a kid and that could easily take up a week of your time and it all looks like fun such as a huge zip line over the marina area (not for kids). The only thing I didn't get to do on this trip that I wanted to do was to ride the new metro, but I'll get it next time and I was impressed that there are lots of fun things for adults to do here, although this trip was geared toward impressing the kids and introducing them to a completely new part of the world. I like the Emirates because I feel that this area is the gold standard today for the upscale tourist and because it shows what you can do to build something from scratch if you have money and the competence to do it right. People in the UAE believe that things are run well here and are considered the gold standard for the provision of governmental services in the Arab world. A friend of mine noticed though that Qatar invests in its people, the UAE invests in infrastructure. There is a difference; in Qatar people are going to school and women are running hospitals. In the UAE, they build the school but the kids are too lazy to show up. Women are more like chattel here as in Saudi Arabia.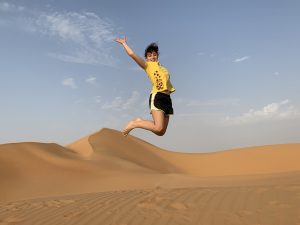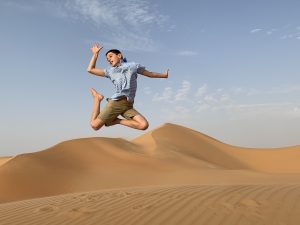 Qasr al Sarab, a good 3 hours drive from Dubai, won't take up lots of room in this journal but of the 7 hotels and resorts we stayed at, this was everyone's favorite. The hotel is built like a fort against a stunning desert background. The area is called the Empty Quarter desert. Star Wars 7 was filmed here. I never mention names of hotel staff but this hotel had an activity guide named Taj who was really great and took us on a 4-wheel drive ride in the desert with the car going topsy turvy and sand going all over the car. We climbed and walked along dunes in the desert; if your glasses fall off, you'll lose them in 2 seconds. Tons of sand in your shoes. The kids had a great time doing rolly-pollys in the dunes which are higher than you'd think. Going on a snowboard is not as much fun on these dunes because they don't move fast like they do on ice. The desert walk was a great activity. The next morning we went on camel rides in the desert. You can do either 1 or 3 hour versions of these activities and we did the 1 hour versions. This is a place to visit during the winter months when the temperatures are pleasant.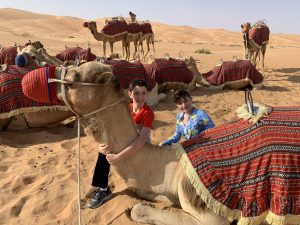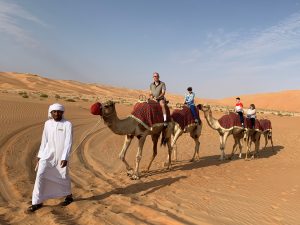 At night we had dinner under the stars (this program does not run every night of the week or when the weather is bad so plan your visit accordingly) on rugs with tables and sofa cushions and they made fish for us because we couldn't eat the other mains but the salads and mezzes they served could have been the whole meal. They had bedouin type tents and a black and white movie showing and the dunes were in the background. Someone came over with a camel and falcon to show them up close. Arabic deserts have tons of sugar and honey and diabetes is getting quite popular in the region, but mostly from the western chains that have invaded and the fast food they are increasingly eating. The hotel has a staff of about 300 people – only one, a manager in the accounting department, is Arab. The hotel has a spa but it is only treatment rooms. The pool is massive and well heated. The gym is superb. Breakfast buffet was massive and had lots of European breads and pastries. The villas were lovely and ours had a plunge pool with a beautiful desert background. The Bereisheet hotel in Mitzpe Ramon Israel has nothing on this place, by the way. I had gone out of my way to check it out a few years ago. Archery and more 4-wheel drive activities would be on the agenda if we had a second day; there are day trips to nearby areas from here such as a desert fort and oasis. More than 2 nights here might be boring. Some people stay for a week. In the evening, go to the restaurant 2 levels above the lobby for a great view of the property. From here it was on to Abu Dhabi, about 2 ½ hours away even with a fast driver – don't believe the brochure that says it is 90 minutes away. We were using Waze which somehow knows where every police radar machine is even in the UAE and drivers want to know when to stop driving at 100 MPH because the penalty for speeding is significant here. We didn't tell anyone it was Israeli technology but everyone liked the app better than the Google maps program they all use.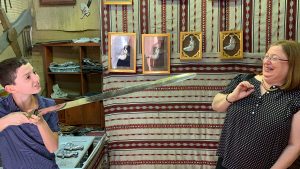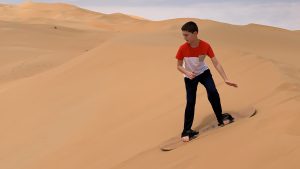 Our first stop in Abu Dhabi was Ferrari World, an indoor amusement park that is immaculate and classy. They have two really great roller coasters – one that is billed as the world's fastest at roughly 165 mph and another one that has some mean drops and loops. There is also a simulator that kids love and that our kids used 3 times. That's the one thing you have to sign up for once you arrive and it's not so easy to get time when it's busy. We were there on a Monday evening and it was dead quiet and we could just do whatever we wanted. Also of interest is the Driver/Passenger Experience which is an extra timed ticket and which you should book in advance, but allows you to get in a Ferrari with a race car driver and you go down some obstacle courses and the local highway and pass people and drive a bit nuts and get a feel for the power of the car. They give you photo and video souvenirs. It would have been better if they had built out a test track instead of using local roads but it was cool overall and it's cool to drive in a car right into the inside of a building and out again. They have a mix of thrill rides plus other rides like a Soaring-type ride you see at Epcot that is all about flying over Italy. We spent 3 hours here using a fast-pass that we didn't need, but if you had lines you'd have needed more time and even 3 hours was just doing thrill rides and little else. The park generally closes at 8pm during the week. The theme park is in a shopping mall where parents can go while their kids are in the park. Next door is the world's biggest climbing wall which looked like fun. Everything here has to the biggest and baddest – the biggest leaning tower in the world, tallest building, fastest rollercoaster – the sheikhs of the emirates are outdoing each other to have the biggest and baddest anythings.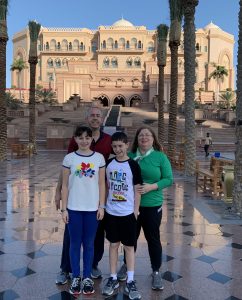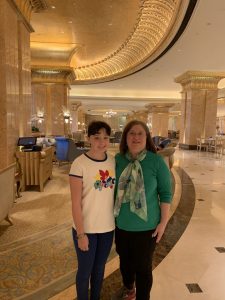 We drove half an hour to our hotel, the Emirates Palace, which might be the largest hotel in the world. It is one kilometer from end to end and you have to walk a lot here, although once you get used to it, it's not so bad because you probably never have to actually walk across the entire hotel to get to what you want (they put a lot of things in the middle and several amenities are repeated across the property). They can also take you places with a golf cart. A scene from Sex in the City was filmed here. You have grand delicious buffets which fill up rooms but somehow, beyond the salads and cold items, have few hot dishes we and especially our kids can eat (although they made us food we could eat such as plain fish and pasta because we don't eat shellfish, poultry and meat — the latter two unless they are kosher) and you need to eat dinner early enough or feel really messed up at night, and the hotel is very ornate with gold plating throughout and extravagant halls and decorations. It is also on a beach. The spa had only treatment rooms. There were beautiful pools but most guests never use them. The problem here is that people have massive weddings and conferences, and guests get shafted around the various venues as they are taken over. When we visited, an international defense industry expo was taking place and the hotel was overrun by military personnel from all over the world. We told Jeremy that he'd better behave, or else. Jeremy happened to see one general looking into his phone while being surrounded by his entourage looking very official– he was actually playing candy crush. The vending machines with gold bars are gone – too much gawking but you can get gold-leafed coffee in the lobby lounge for quite a penny. We saw tons of people wearing all sorts of tribal and national dress – we have no idea what to make of it and to tell who from whom, but it is all very exotic and Elizabeth felt creeped out from it. We saw a good number of women wearing super expensive jewelry sitting around occupying themselves in the hotel lobby. I hardly saw anyone in the gyms. I wouldn't want to stay here more than once but it is worth a stay and the hotel itself was stylish and well run by the Kempinski chain. The hotel is next door to the presidential palace which you can see from outside and the Sheikh Zayed memorial, all lit up at night in a really cool way, is within walking distance. There are tons of lights which make up the shape of his face if you look at them carefully. There are several beautiful skyscrapers nearby framing the skyline. About 20 minutes drive away is the Grand Mosque which is also lit up at night – a visit to this city should include a drive-around night tour which we didn't have the foresight to plan. There are plenty of resorts here including one in particular I didn't see but which looks beautiful – Zaya at Nurai Island in Abu Dhabi. I'd want to check that out on a return visit.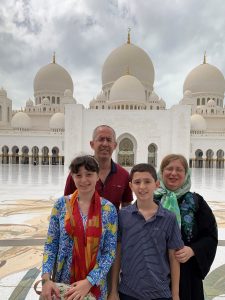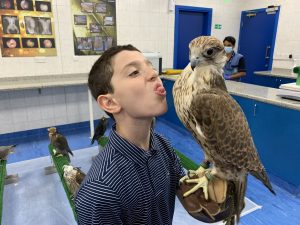 For Abu Dhabi we had one full day to see the city. You can book guides with services such as toursbylocals.com but they are expensive and for less money we booked through the hotel concierge who hooked us up with an excellent guide named Georgette. For better or worse, you also know that the guide will either show up or that they will arrange for a replacement. (I should mention that the Burj Al Arab-provided guide in Dubai was not as good as we had hoped.) We started at the Heritage Village which is sort of like a mini Colonial Williamsburg with booths of artisans showing you how they made traditional crafts and you could buy things there as well. There is also a museum about the history of the emirates and it is impressive to see how little was there just 40-50 years ago. We spent about an hour here. Then off to the Grand Mosque which is one of the world's largest and most expensive mosques ever built at an amount that bears no relationship to reality. They reportedly require 40 pounds of gold each year just to maintain the spheres at the top of the towers. The prayer hall can seat over 40,000 people. The carpet is the world's largest made by 12,000 children and then sewn together. The whole thing is really very pretty. There is lots of high-tech security; Karen and Elizabeth had to wear scarves and cover up but they looked lovely in their abayas. Expect to walk around a lot here even with all these escalators. Lots of lovely photos to be taken here. There are guided tours here; we just did it on our own with our guide; expect to spend about 90 minutes here. Then to a falcon hospital for a tour to see how falcons are cared for. The tour was about 2 hours and maybe an hour too long, but it is well worth showing up here and seeing the operating rooms and watching the birds sit patiently in the waiting room and get all their spa treatments such as pedicure, massage and feather fixups – this is not a joke. As I mentioned, falcons are probably treated better than children or wives. This place has a good café for lunch. We continued to the Louvre museum which recently opened and which is a sort of potpourri of art but the real reason to see it is the beautiful rooms and the site itself. The structure is lit up at night and it is all very grand. This district is going to house something like 5-7 big museums and is designed to be a cultural center to draw tourists. The Louvre is closed on Mondays and is best visited around sunset so that you can see it by day and night. We spent about an hour here. You could spend two. It is about a half hour ride to the airport; Etihad is the airline of the Abu Dhabi emirate. Even though the Dubai and Abu Dhabi airports are roughly 90 minutes apart, each emirate feels the need to have their own huge airline. It is probably a waste that is in need of a merger except that it is thoroughly duplicative and only one can really survive and a merger would throw lots of people out of jobs. The taxi to the airport costs one-tenth the amount of a hotel-provided car. The business class cabin on Etihad was beautifully decorated. It is a 3 hour ride to Amman and we had a female (British, I think) pilot to boot, which I didn't expect in these parts.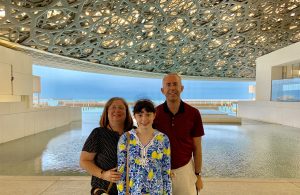 One business opportunity I think exists in the UAE is special education for kids. If your kid doesn't fit in the cookie cutter, there are no special schools – just tutors. People are ashamed of their kids when they are different and they might resist such schools, but then many kids go on to very productive lives but for the fact that they were not educated in a way that was meaningful to them, so there might be good industry to deal with the ADHD's, dyslexics, etc. of the UAE and the region. People certainly have the money to pay for it. In the expat community, there is not as much money. The country put in a VAT tax this year, and as soon as the school year finished, it appears that many expatriate families left the country. The UAE is not doing a great job of convincing expatriates that they should stay here as taxes and fees go up and as people get nervous that what they do on social media will get them arrested. The real estate market is down 25% here over the past year and it is one of the worst performing markets in the world. People I know are generally leaving the whole region – Saudi Arabia also put in a VAT and consumer spending is way down. Problem is that these moves are said to be necessary reforms so you have to look at the long term and ask if the benefits of the tax are outweighed by the migration and lowered spending overall. I can't speak to that. I do think though that the UAE is a tremendously impressive country and that it is a beacon to the world in its own little way. Please don't come back and tell me that I am naïve about the corruption, backwardness and the fact that it is a police state; I know that. But there are many such states and most of them are failures; the UAE is not a failed state. It has its faults but it is also a huge success story albeit with plenty of oil money behind it — on the other hand, Venezuela also has huge oil reserves and went bankrupt and hungry. The local ruler has put out books about positive attitudes and philosophies and seems to have cultivated a good-guy image in his country, even if stories about what he did to one of the princesses that we read about in the West cuts against that image (and I suspect that inside his country hardly anyone cares). The UAE and Saudi Arabia are in a feud with Qatar and the UAE has deleted Qatar from its AirShow and its in-flight magazine map. Just like Israel, although I suspect that the Emiratis have a better relationship these days with the Israelis than with the Qataris. Seems like a silly feud to be carrying on while the Iranians are laughing at all of them across the Gulf. Tons of money being wasted as the local rulers feud, but the UAE and the Saudis have gripes that the Qataris are a force for instability in this region and they don't appreciate it.
The Khaleej Times newspaper is a sop to the royalty but the Nation newspaper is a really good paper with a lot to read. The TV hosts on their national channels dress immaculately and it just seems that everything they put out in this country looks immaculate and is well planned. This year has been declared the year of tolerance and the rulers are reaching out to various religions (the Pope recently visited) and others and trying to become world players. Signs for the disabled refer to People of Determination, which is a new term I haven't seen elsewhere. I'm a fan and recommend that tourists put the UAE on their list of places to visit! Compartmentalize your politics and just enjoy the place for what it is as a tourist.
JORDAN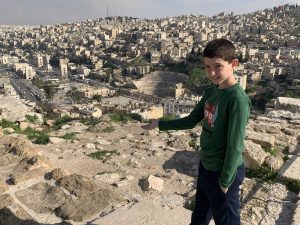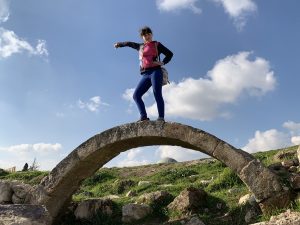 Abercrombie and Kent is a multinational travel company with offices in Jordan and it is a good idea to have them arrange land travel here. You can job this out piecemeal to hotel concierges and services such as toursbylocals.com but it will cost more and you are hoping that every piece of the puzzle will fall into place and that people will show up. Having one company take responsibility for all of it is worthwhile. A&K provided VIP arrival service at the airport and got us exempted from visas. The visas alone would cost several hundred dollars and the VIP arrival service at this airport normally costs $1,000 for a family of 4, which is 10x what it should cost. Our guide Naj has 24 years of experience and was excellent (najeh al-dahir; mobile 962.77777.0098 najehq@hotmail.com). The new airport is open less than 5 years and is a big improvement. On departure, business class has its own entrance and security checkpoints. It's about a half hour drive to city center (on the highway we saw these kids jumping out of cars and horsing around in the middle of a highway celebrating the end of their university studies!) and we started with a 2 hour city tour featuring the Jordan Museum, a new museum showing some things about the country (but not its political history – such a museum doesn't appear to exist) and an innovative temporary exhibit about the history of innovation in the Arab world through the centuries (such as the various sciences of a thousand years ago). We then went to the nearby Roman amphitheater and to the Citadel which have archeological ruins and some displays of local dress and ways of life. The Citadel is the #1 tourist site in Amman and it features gross bathrooms, a museum that has a big sign at the entrance saying that explanations are forbidden, and one little café that ran out of hot food by 3pm but the za'atar pizza was pretty good while it lasted. The royal court has its offices across the street and you'd think they'd take an interest in making sure that a top tourist attraction gave off the right reputation for the kingdom, especially when everywhere you look they are building hotel rooms which is about the only thing I've seen being built here the past 25 years.
From here it is about 3 ½ hours to Petra on some pretty lousy roads although they are in the middle of renovation of the main road which hopefully will be good when finished. There are a few ripoff shops along the way, the classic tourist traps. Our hotel is the Movenpick Resort at Petra, right across the street from the entrance to the national park. The buffet was OK and as usual they made us up some grilled fish. The suite we had was nicely decorated but there was no air conditioning during the winter so it was quite warm inside and the shower was broken – and this was one of the hotel's better rooms. This hotel has no competition in the 5-star category for 100 miles around so it can do what it wants and you should expect barebones facilities. On selected evenings of the week (best to find out in advance) there is a Petra by Night tour of about 2 hours where you walk inside on your own down a long canyon (figure a 30 minute walk with some cobblestone areas) to a sitting area just outside the Treasury façade, which is the highlight of Petra. You see a really boring show that features flute playing, some chanting and some story telling. They serve you some tea and maybe some fruit. It was as boring as the Japanese cultural program we saw in Kyoto, which was really awful. But at the end they light up the Treasury with all kinds of colored lights in addition to the several thousand candles laid out and it is spectacular. It's a great walk with all sorts of sounds of wild animals and the eery glow of the moon and the canyon rocks overhead with lots of stars. It is a completely different experience than what you see during the day.
We brought our own guide from Amman that we had arranged through A&K. The company rents an apartment in Petra for the drivers and guides because they come here a lot. The driver knew where to slow down for every pothole along the highway. We didn't want to have to take any Ahmed that the visitors center at the entrance would throw at us, and the concierge at the Movenpick hotel was unable to arrange for a guide because they have it arranged that only the park's visitor center arranges guides onsite. I tried to contact the visitors center in advance of our trip and they never responded to an email or picked up a phone. Calling Jordan from outside is awful; the phone lines are terrible. It is all rather silly, which is why using a service such as A&K is the way to go here. Park tickets are rather pricey. It is the nation's #1 site and they know they can charge tourists anything they want.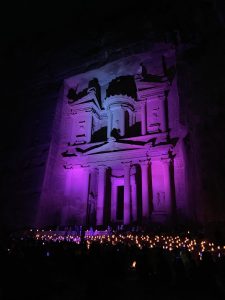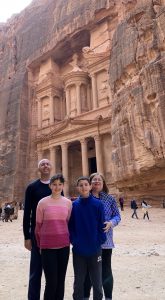 Everyone wants to be the first person in the park so there is no real value in starting early. Seeing sunset in the park doesn't happen; they close the park by that time (in the winter last entry is at 4 and you have to be out by 5). The next morning we headed out to the park around 9:30 for a bit over 3 hours and first we took a ten minute horse ride, then walked along the canyon to the treasury about half hour, then walked more toward other areas of the park as far as a church site with mosaics and up a few castles with also cool ceilings in the rock, took a donkey ride back to the treasury and finally a horse and carriage ride back to the entrance. We didn't go as far as the monastery and we are told it takes about 2 hours each way to climb it. My wife was sick of riding on animals by the end of all this Arabian travel. Jeremy jumped off a donkey in the middle and started climbing up a mountain and his sister ran after him. Our guide had returned to the entrance figuring we were OK on our donkeys.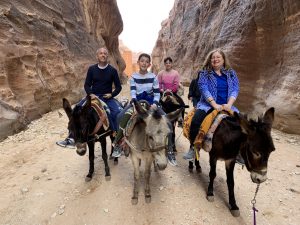 My donkey bumped into a group of women on the road looking into their cellphones and they seemed perturbed – I reminded them that I was just riding a donkey and that a donkey is a donkey and perhaps they ought to be more alert. The carriages go down a road filled with pedestrians at a very aggressive clip and you really have to watch where you are walking, not to mention all that horse poop. Riding the carriage is also rough; my kids were scared it was going to tip over. The driver said that 20% of the riders throw up. You have to wonder what it was like in the olden days walking along and crossing a street with all those horse carriages galloping around. This is an attraction best seen in winter months with temperatures in the 50's and 60's (and 40's at night) so you can walk and climb without sweating; we were lucky there was no rain or snow – both can happen and will shut down the park. That's a risk but summer is really hot here. Not much to buy here from the souvenir stores that borrow from Indiana Jones. Hibiscus juice is in season; you can get a decent falafel at one of the stands near the entrance (but watch to be sure you get a fresh one).
We left about 2pm to Amman for the 3 hour drive back and viewed some of the nicer neighborhoods in the city on the way to the Four Seasons Hotel. I like that hotel – it has everything you want from an indoor pool, spa and beautiful gym, nice shops in the arcade, great food and nice rooms. The lobby lounge was full to capacity (couldn't find a seat in it and I'd bet that half the people there were spies) and they had a wedding going on, which brought me back full circle to my first visit there 25 years ago when I sat in the lobby of the Intercontinental Hotel and someone invited me to watch the wedding going on there. They are building a Ritz Carlton across the street and there is also a Fairmont hotel on that circle. I don't know what they are doing with all these hotels. The climate was pleasant here as well with temperatures in the 50s and 60's.
A cute thing I showed the kids is that in predominantly moslem countries you can find an indication of the direction of prayer in a hotel room by opening up a desk or bedside drawer. Elizabeth thought that could be useful for Orthodox Jews who could use the compass toward Mecca to try and figure out how to pray eastward toward Jerusalem. Pictures of the Jordanian royal family posted in public places feature the crown prince who is presently in his mid-20's but the pictures are about a decade old and make him look like a teenager taking his Bar Mitzvah picture. A friend told me that if you are an Islamic leader in Jordan and make an incendiary speech and someone goes out and does something bad like an act of terrorism, not only will you be punished, but your parents and children are also given criminal records and their lives are basically ruined. Some wisdom from an op-ed in the Jordanian Times newspaper: "The real secret to dealing with Trump: Throw Trump a fish and he will go away." Royal Jordanian runs a very good business class service – it's a good idea on most airlines to order a mix of vegetarian meals in case the regular menus are not adequate. It's a 3 ½ hour flight to Rome.
Here is a great example how not to promote a tourist site: The RJ in-flight magazine touts Kuwait City as "the ideal destination for family fun." Among the sites are a ferry to Failaka.  "Boat rides are ideal for family or group activities. As such book a ferry to Failaka Island. Once a prominent neighborhood, the island is now a vast land of dilapidated houses and deserted roads after the Gulf War."
The welcome message in the magazine by the President & CEO of Royal Jordanian notes "we implemented a number of programs and projects for the passengers who, I am confident, are aware of the innovation and touch of modernity." As you can see, it is this kind of older generation out-of-itness that runs Jordan for the past generation or two and explains why nothing really happens there, and why anyone under 50 with any marketable talent is leaving. Recall a few minutes ago how I told you that at the most important tourist site in Amman there is a sign at the entrance that "explanations are forbidden." They are so caught up in trying to outlaw tourist guides from entering the site but they haven't geared up to explain things themselves.
I first visited Jordan in 1994, which is 25 years ago. With the exception of one person who consults to international aid agencies doing projects in that country, every person I've met has left the country. Those who went to the Gulf have also left that region as well. They've all wound up in the US, Canada and Europe. Back then I thought they had great careers ahead of them; they had tons of responsibility in their jobs. We all didn't know then that they would have no real opportunity to exercise that responsibility. I recall meeting about 25 years ago with an elderly minister of telecommunications who told me that he had 7 applications for licenses in front of him, couldn't make any sense of it all, and was therefore approving none of them.
ROME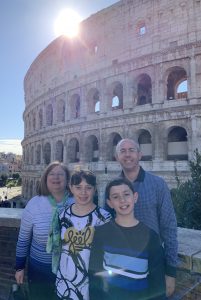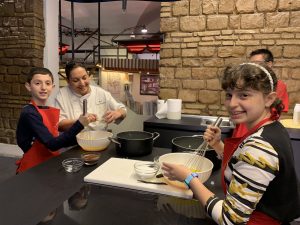 Rome is a convenient stopover as there is a nonstop from Amman as well as NY, and it is a chance to reduce the time zone jump from 9 to 6 hours, lessening the impact at home. This is the kids' third trip to Rome so we tried to cover areas that are not so obvious. We also wanted to recuperate from the hectic pace of the previous week, although my version of cooling down is not the same as Karen's. She wanted to just meander the streets of Rome and I wanted to see and do stuff, just not everything like in Dubai and Abu Dhabi where I felt this was not the kind of place we would visit often and wanted to make sure we saw everything the first time. Also, the kids only have so much vacation time in February so we had to use the time very carefully.
The Rinascente department store was very disappointing for children. The new flagship store on Via Tritone doesn't have a kids department; the store on Piazza Fiume has a smaller department than before. Prices are also pretty high here for adults. We did better at Coin / OVS next to the Termini train station and there is one on Via Tritone. I did well at Marco Polo on Via Nazionale which has been a steady source of men's clothes for me for a quarter century. My old favorite Jacques Simenon closed as the owners retired. Their unique label has alas disappeared. The Hotel Eden appeals to fashionistas. Last time we visited the sister Hassler hotel and this time I wanted to see the Eden which had been extensively renovated. I've never found a hotel in Rome that I really like and I still haven't. There was a great deal to be had at the Waldorf Astoria Cavalieri which is a few miles out of town, but I really didn't want to stay at a hotel the size of a hospital a 15-minute drive from anywhere but if you book far in advance at the Waldorf you can get a great deal on a family room which is essentially 2 connecting rooms. We were staying the weekend and I wanted to be in walking distance of things in the city. At the Eden, we had two connecting rooms one floor above lobby level and there was no view – the top floors are supposed to have great city views; the gym was barely large enough to fit 2 people; the spa was closed in early morning and evening. The rooms were among the worst designed hotel rooms I've ever seen – I couldn't figure out in 3 days how to use the telephone to answer a call or hang up; turn the lights on and off, and to change the TV channel or volume. Dinner in the brasserie was overpriced, loud with a DJ playing techno, and the food was not very good. Someone in the hotel's Michelin starred restaurant told us their food came out cold. On the other hand, the bathrooms were gorgeous and people picked up phones on the first ring. Breakfast was magnificent with great city views from the high floor and Karen got several recipes. The royal family of Abu Dhabi took 50 rooms. The hotel is on a one-way street and you have to wait several minutes for taxis and ride around in a circle to get to the hotel. So I would say that this is a hotel to visit for breakfast but not to stay in unless you are into bathrooms and seeing other fashionistas in the lobby.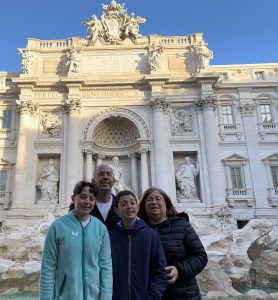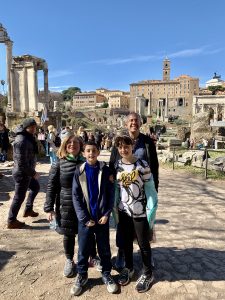 We went on a tour of the Vatican that was geared toward Jews, emphasizing the Old Testament and Jewish aspects of the art in the Sistine Chapel. The tour I arranged was also kid-friendly using Nancy Aiello Tours of Rome. There are cheaper services but they have been consistently good with child-friendly guides. Inside the Sistine chapel, my kids thought the guy over the loudspeaker singing in a slow monotone the word "Silencio" was really corny. It was unusually windy the day we visited. This is a good wintertime tour; there is no air conditioning in the summer and it gets stifling hot in there with tons of tourists. You can book an early morning private tour. Interestingly, neither Rome nor the Vatican wish to invest in their tourist sites and it's only when a philanthropist steps up and donates cash to renovate (such as with the Coliseum) that it happens. They charge admission fees for all these things and you'd think they'd do the necessaries. The place we chose for lunch (Casina Valadier near the Villa Medici) literally blew away due to the high winds; when we arrived the staff were just standing there with looks of horror on their faces. We went to nearby Chiro Pizza which is a good standby place for us near the Spanish steps near Via Condotti.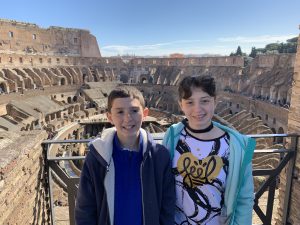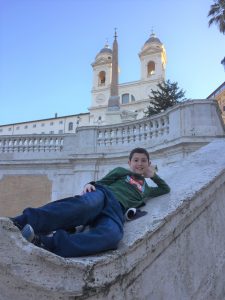 We went on a special private tour of the Coliseum to see the Underground the Belvedere levels (the latter is a high mezzanine level). This was interesting because you get an inside view of how the place really worked and where the gladiators hung out before and after the competitions. We arranged it through the concierge of the Hotel Eden. Most of the other tours of the Coliseum do not have access to these two levels. A relatively new museum called Palazzo Valentino is just off the Piazza Venezia and was on our list of things to see since the last trip when we passed by it. This is worthwhile; you see an ancient palace on top of an older house. They show you the archeology beneath your feet and use computer imagery projected onto the site to show you what things would have looked like. I didn't realize that so much color was in use and that furniture and furnishings were as advanced 1,000 years ago as was the case. There is also a video about the colonnade outside the museum which people pass all the time but don't really notice. The colonnade is actually a very long mural depicting a bunch of battles and historical happenings. It is a great masterpiece of collaboration and coordination and is brought to life in the video. The English tour is at certain hours and must be booked in advance over the internet and will take about 90 minutes. We used the Rome metro which works well and 1.50 Euro buys you 90 minutes of rides. We had an excellent dinner at Emma's which is near Piazza Lago de Torre Argentina about 10 minutes walk from the Pantheon. It is modern Italian and the food was innovative and top notch. We returned the next day for lunch for their thin-crust pizzas. We visited the Pantheon at 4pm on a Sunday and the gelateria with 150 flavors up the street from there but walked out because there were 3 people behind the counter with at least 50 people waiting and no real orderly queue. You have to go there at off-hours. We went to a gelato making class arranged through our hotel that was more fun than tasty; it's not a big trick to make gelato so we also made cookies and semifreddo to round out the 2-hour class. You can look up Fabioulous Cooking Day in Rome. The lady giving the course was fun and the kids had a great time horsing around in the kitchen and tasting everything. The venue we used was once the home of an architect and the design of the place was really cool and is also used for small dinner parties. The chef who runs the program has a restaurant called That's Amore just off Via Tritone on the way to the Trevi Fountain (the turnoff is just at the end of the tunnel that comes up to Via Tritone). We attempted to go to a kosher restaurant for dinner called Taverna de Getto but it is no longer kosher (even though its website still says that it is) but there are plenty of other restaurants on that small street and we went to one of them for an OK dinner. Everybody wants to eat an artichoke here and they had about 15 versions of them on the menu. On the day of departure, we took a quick walk to the Spanish steps and the Trevi fountain. Karen and Jeremy had earlier found that if you walk there on a Saturday morning about 7:30 before the tourists start up, it's deserted and you have the places all to yourself. On departure, Delta uses the Alitalia lounge which offers Nutella-filled pancakes and cream donuts. Delta used an old 767 for this trip and you can really feel the difference between the new and the older planes. We were lucky to have about 12 days without rain. Next time I'd want to visit the indoor galleria just off Via Corso and try to find a hotel that I liked. Rome looks mostly the same after 25 years of visiting; I'd also need to reserve a day just for walking around without too much purpose. With kids you need to have purpose and of course you want to show them things. Also on our list for next time is Frigidiarium, a gelateria near Piazza Navone recommended by our instructor.
My daughter was given this big jar of home-made slime in Dubai and took it on the plane in Abu Dhabi, Amman and Rome — never got stopped by airport security.
Well, that's it….Hope this travelogue inspires you to go out and visit some of these places!