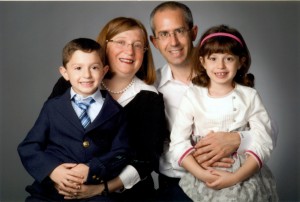 My son wanted a playdate with a kid in the neighborhood that he remembered from day camp last summer. It's been a year and we made a few inquiries and hadn't heard back from the parent. Karen was thinking that the parents just weren't interested in us. Jeremy kept asking about him and our kids don't have a lot of playdates so I tried again and this time the mom replied. Her kid has leukemia since early this year and isn't doing playdates right now. I lead with this to remind us that people make judgments without knowing the facts, and also to remind us that yesterday's playdate can be today's cancer victim. Seize the day and enjoy life.
We took some pictures of the kids in a photo studio. Some more of them appear at the end of this posting.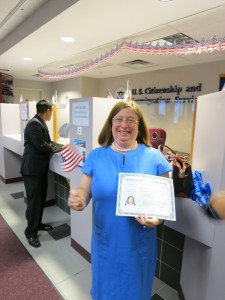 On August 1, Karen was sworn in as a US citizen. She had green card status before we got engaged. In our district of Manhattan, they have swearing in ceremonies for about 150 people each week (sometimes 300). People from 37 countries were represented; Karen was the only one from Australia. When they called the Dominican Republic, about half the room stood up. When they played the National Anthem, nobody could sing a word of it. But they also played Lee Greenwood's "I'm Proud to be an American" and people did a pretty good job of waving their little flags and singing along, especially since the person at the microphone warned the audience that if they didn't sing along, they'd have to listen to her singing along! Besides, she said they were looking to discover the newest American Idol.  It is a nice moment where everyone in the room who works for the government gets to be in a celebratory mood along with the rest of the audience.
"Dear Tooth Fiary, My name is Jeremy. I am nearly six. My tooth fell out today on the way from camp (Ed. on the bus so it's not at home). Can you please still leave me some money. You can look in my mouth while I sleep to see where it came from. Jeremy." The note worked — he got $3.
Our kids are having a party on the bus for the last day of summer camp. They asked me for candy. I suggested Reeses Pieces or Kit Kats. They said no nuts allowed. What about Hershey bars plain chocolate? Some kid has a dairy allergy. So we settled on plain lollypops. Kids in 2013 in Manhattan.
I know that people are big on children having self-esteem but this is ridiculous — my son got a "Super Star" certificate from day camp today — "He is a superstar — he was very excited about making ice cream…. He enjoyed eating the ice cream." The problem with all this emphasis on self-esteem is that when kids turn around 12 they realize they are not superstars after having been told so all their lives till then. At that point they are very disappointed with themselves. I personally am supportive but I let my kids know that you only get trophies if you earn them, not just for showing up.
The Jewish Sabbath can be long in the summer — you have to use your imagination when there is no TV or video games to play (and the latter doesn't exist in our house) and shabbat doesn't end till after sundown. We gave the kids a big cardboard box and they made a rocket ship out of it and visited the solar system.
"Busy, Busy World" is an Australian children's story book written in the 1960's full of stereo-typed stories about people of different countries.  It is out of print now but we have one from Karen's childhood which we read to our kids, and it was interesting that the story about Edinburgh, Scotland contained a drawing of the view you see from Prince Street, the main shopping street. The view today is virtually the same, and I noticed the details in the drawing after having just returned from Scotland during the past month. Beyond considering how the author/illustrator must have really researched all the places he drew, it's interesting how, in a world of change, certain things remain unchanged. One thing has changed though — now it costs $400 on Ebay to buy a copy of this book.
Karen and I were eating at a restaurant and we saw someone's son from the neighborhood out on a date. We stayed away, because we knew it would be so uncool for him if we identified ourselves as his parent's friends. It's only a bit over 10 years since we were dating. We felt sooo old..
We are supposed to attend the Chicago Air Show in mid-August and we've been really bummed that, because of the US budget sequestration, the Thunderbirds and Blue Angels from the US military have cancelled their appearances at the show. I haven't heard of who they are intending to replace them with, but the Egyptian air force made a good show of the flyovers at Tahrir Square last month, and someone should check if maybe they are available.
People in fast food restaurants who see information about caloric content in food tend to order more crap food than those who don't see the information. It seems that people want to see healthy choices on the menu, and then reject them. McDonalds does 1/6 of its advertising on its salads, but only 2-3% of its sales and none of its growth comes from those sales. One reason you may see all of this healthy advertising is that the restaurant owners know something you don't — healthy options sell, but healthy food doesn't.
In another direction, one byproduct of the fact that today's younger generation is less interested in getting drivers licenses and driving cars is probably less oil consumption and cleaner air.
The most far-reaching event this month might be Jeff Bezos's purchase of the Washington Post newspaper. Normally you'd expect disdain from journalists as to the founder of Amazon buying it, but with print journalism in such decline, the industry is looking for new blood and is open to new ideas. People think he is an innovator and is not looking for quick profits. He just might breathe new life into an industry that is fighting to remain relevant, especially with the younger generation not into buying print newspaper subscriptions.
It's a bit farcical that while Egypt was sitting in a 48 hour ultimatum last month and Syria is boiling, US Secretary of State Kerry was running back and forth between Abbas and Bibi as if nothing else is going on in the Middle East (and you can be sure that nothing will come of it). It is a sign of the times that 5 of 6 Israeli newspapers didn't even put on their front page news about Kerry's shuttle diplomacy but instead led with Egypt on July 2nd. The NY Times has made note of this. The fact is that the US can either lead with lots of financial assistance to Egypt to help get the economy on its feet, but the Gulf countries are already doing that, and we know it is money down the drain. Egypt is trapped in a bad position — the army wants to control the country but not to actually run it. Nobody seems able to run it. Morsi, the country's past president, couldn't even close with the IMF on a loan to the country for over a year because he couldn't face the people with the austerity measures that were needed to satisfy the loan and was just taking the  money he had to give subsidies and jobs to Moslem Brotherhood supporters. The rest of the world, including the US, is not worried that Egypt's problems will spill over its borders because the army is in control. So nobody really cares and Kerry keeps shuttling between Israel and Jordan as if Egypt doesn't exist. It is a useful sideshow — the US looks like it is trying to do good in the Middle East but avoiding the real issues of the day.
Morsi's downfall hurts Hamas. Right now Hamas has only two friends — Qatar and Turkey, and they are careful to limit their donations to civilian projects. Because Hamas is backing the rebels in Syria, it has split with Syria and Iran who were its biggest patrons. The rest of the Palestinian authority just might think it is worthwhile to cut a deal with Kerry if (a) they think it will give them supremacy in the Palestinian world and (b) the militant side won't kill them for it. I tend to think that (b) is true and that (a) is elusive because the fortunes of one side or the other in the Palestinian world tend to go up and down in cycles every few years. The Israelis will probably want to just stay shy of all this "opportunity" and keep to their overall strategy. The Israelis play these cycles — they made the deal with Shalit to strengthen Hamas a few years ago and to put Abbas in his place for going to the UN. Now they will pretend to talk to Abbas just enough to keep Kerry and the Europeans off their back.
A lighter side of Israel: By the time you read this, they have had the Jerusalem Water Fight of 2013 held August 9.  Thousands of people descend upon a park in the city with their water weapons and shoot at each other. They did this last year in Tel Aviv and it seems to have become a hit. Take a look at the You Tube trailer for the Jerusalem activity. http://www.youtube.com/watch?v=DP2fZ697NTE
Stratfor just released its third quarter forecast. Israel isn't even mentioned. Last quarter it was the same deal. Evidently they don't feel that there will be any action on the Israel-Iran or Israel-Palestinian tracks, and they feel that Israel today is a very stable place with no expectation of any change. Interesting how in the past the world around it was considered comatose and all the action was in its little corner of the region. A recent poll of people in several Arab countries (Tunisia, Egypt and Yemen) says that corruption has only increased over the past few years. There is very little expectation that anything will get better for the average person even though there been all this shakeup.
The new Israeli ambassador to the US has another important qualification — he has been on the globalthoughts.com mailing list for years.  Nice to see an old friend continue to do well. You can be sure Ron Dermer will be giving hell to the Americans during his tenure and that there will be very frank discussions between him and US administration and Jewish communal officials. The other side of it is that you are getting an ambassador with very close relations to the Israeli prime minister, and that counts for a lot in diplomacy.
Now onto the election of chief rabbi in Israel. It emerges that only 4 out of the 10 candidates for chief rabbi ever passed the written exam to be a rabbi. The other 6 either took the much easier oral exam or simply got exempted — all 4 sons of former chief rabbis never took the written exam. The position has really become a farce and I would be particularly happy if they simply eliminated the entire office of the chief rabbinate.
The Israelis have been uncharacteristically disciplined keeping mum about Iran but that doesn't mean they've forgotten about them. Quite the opposite. The Israeli air force has had numerous training runs in other countries' airspace. Netanyahu has been dropping hints that the Iranians are getting closer to the red line and that he will not let them go over it, and that the Israelis time clock runs different than that of the Americans. The Israelis have been very keen about hitting Syria when they feel their red lines have been crossed. So too will they do the same with Iran. Based on what I can see, I would imagine the Iranians would run up against the Israelis' red line by the end of this year so if Netanyahu is at his word it is only a matter of time in months and not in years. Netanyahu said on CBS's Face the Nation that they have gone from 110 kilos of what they need 7-8 months ago to 190 kilos now, and they need 250 kilos, and he said that the movement has been accelerating. So you figure it out. Netanyahu focuses on enriched uranium but it should also be noted the Iranians are working on their plutonium which is an alternate path to the bomb. The head of the US joint chiefs of staff is in Israel this week and the head of the air force was there last week and they are not all there for the end of Ramadan. I don't know how comprehensive an air strike the Israelis can deliver to Iran and what will be the consequences of a strike, but I have no doubt that they can reach their air space effectively. Consider that Saudi Arabia has missiles pointed at Iran and Israel; the latter is clearly an attempt to not look like they are only targeting Iran. The Israelis are not concerned about the Saudis targeting them. Everyone in the region knows the score — the Iranians are the threat.
What really counts — Boston Globe newspaper votes Tel Aviv as #2 place in the world for startup tech companies, after Silicon Valley.
I can't be sure but here is some interesting scuttlebutt from regional sources on what happened in Qatar and Egypt last month.  Qatar's military is very close to Saudi Arabia and wasn't happy to have the country so involved in places like Egypt, Syria and Libya supporting the Moslem Brotherhood and contrary to Saudi interests. The recent abdication of the Qatari  emir in favor of his son was probably meant to avoid a coup and was part of a deal to get rid of the prime minister who was really running the country (as part of the deal he will be free from prosecution for all the wealth he managed to obtain in doing his job including some very expensive properties abroad), and the new head of state will probably be inclined to do what the military wants, even though there were press reports of his ties to the Moslem Brotherhood. Since the abdication, he has been mum on public statements. The emir's mother was known to be very much against the prime minister and she was part of engineering this arrangement. In fact, over the past  few weeks, the Saudis and the UAE have agreed to put tons of money into Egypt and even got the Salafist Islamic party to support the coup — they are extreme Islamists but more partial to the Saudis than the Brotherhood whom the Saudis hate. You might want to know that the general of Egypt's army had once been an attache to Saudi Arabia. And you might have noticed that right after the coup, Al Jazeera's reporters were arrested in Egypt and their coverage of Egypt's coup was pretty negative (the Qatari-sponsored TV network that supports "democracy" everywhere in the Arab world except in Qatar). And it just so happens that this is happening after the Qatari royals were neutralized and have presumably agreed not to stand in the way by trying to square off against Saudi for influence. How this will play out in Syria will be very interesting because the Saudis and Qataris have been playing out on opposite sides of the Syrian rebel forces, each funding the factions that they prefer.
Emirates airlines is making a brilliant move with their new NY-Milan flights with the first class suites. All the fashion glitterati will want to book these. American Airlines and Alitalia just can't touch this.
Just to note for the record, a month ago I said that Obama would do as little as possible to help the Syrian rebels, despite whatever he said about Syria crossing red lines and the US upping military support. We now know that this was correct; the US is not planning to do squat for the Syrians. Whatever military support the US is going to be giving them is not scheduled to arrive before 2014.
Comes a report that says that not too long from now the US will be producing as much oil as the Saudis. Hmm..Comes another report that says that New York City might have lots of very rich people in it, but it remains one of the top cities in the US where someone who is in one economic strata can rise to another strata. Other cities such as Atlanta offer less opportunity. So the Big Apple is living up to its reputation as a place where you can make it happen there.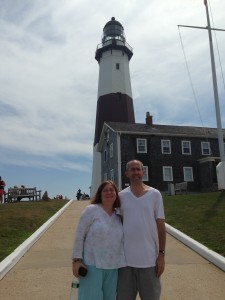 Karen and I went on a nice little 48 hour jaunt away from the kids to a good hideaway called Gurney's Inn. It's in Montauk, New York, at the eastern tip of Long Island. You can get there with the Long Island Railroad, a bit less than 3 hours ride plus a 10 minute hotel courtesy shuttle. It is the only full service resort with a beach I've seen within 3 hours of NY City. It has a full spa, good food, and decent rooms with good ocean views. Nice beach and gym — only thing missing is an outdoor pool (there is an indoor saltwater pool). The hotel feels like a step back in time; the square butters and miniature prune and apricot danish pastries hark back to hotels I visited when I was a kid. The Montauk Yacht Club is another choice but it has no beach and it is not worth the 3 hour trip. The main sight in the area is the Montauk Lighthouse which is worth climbing to the top and visiting. Another site to see is Camp Hero with its WW II bunkers still intact, but save that for a cloudy day when it is not too hot. There is a farmer's market in the town center which has great corn and tomatoes during the summer. Montauk and Miami Beach have lots in common; both were initially developed by Carl Fischer as tourist resorts. Miami Beach succeeded but his efforts in Montauk fell victim to the 1929 depression and never recovered.
We are off this coming week for our summer holiday; going to Chicago, Washington DC, and resorts in southwest Virginia and upstate New York. After a short return after Labor Day, we will be going to Israel for 2 weeks for the Jewish holidays with my parents. So there may not be any GlobalThoughts till mid October.
Here are some more of the studio shots of the kids. Jeremy just turned 6 yesterday.