Our daughter Elizabeth has finally reached the age of 12 and we celebrated her coming of age in a religious ceremony known as the Bat Mitzvah. We didn't want to do the disco party, especially since we hear about kids sitting around looking at their cellphones while some high-priced DJ spins records in an expensively decorated room (the DJ is upward of $7,000 a night in the suburbs we hear). We decided to do something different. We went to Israel and Greece to do some fun things in honor of the occasion and then had a house party after we returned. I think that the most exciting thing she enjoyed was the Tie-Die birthday cake from Baked by Melissa's that I brought home the first night of Chanukah. It's a really colorful cake and it actually tastes better than you expect.
Nassau, Bahamas – I flew down for a night at the new Bahamar resort which finally opened after years of construction and a delay in bankruptcy. Just a ten minute ride from the airport with temperatures reliably in the 70's or 80's during the winter, I expect this to give Atlantis a run for its money if they open the big water park they say they will open in a few years. The Hyatt and SLS Hotels have opened; the Hyatt has 1,800 rooms and the SLS is smaller but more shishi and a bit more hip than I am or care to be. I prefer a table and chairs to a square futon on my terrace. Rosewood has a hotel opening in another two months or so and that is more my speed although all 3 hotels are right on top of each other and I wonder if the Rosewood will give its guests quiet and privacy. The life guards confirm that everyone has a phone at the pool. Everyone is taking pictures and constantly looking at their phones. Nobody chills out anymore. It is really silly. Kids will like jumping off the rocks into the pool kinda like a high diving board, and looking at the aquariums you can see from the sides of the pool. All the hotels have access to the kids pools at the Hyatt. In the evenings, there is not much else to do other than gamble; families are not yet really the desired guests at Bahamar. Only drawback is that the ocean is cold; if you want ocean this time of year, fly an extra hour south to Cayman.
This new tax reform promises to be a disaster for many Americans, especially people who are employees and those who live in high tax states such as New York. Everyone's real estate around New York City just lost almost 10% of its value overnight. The Democrats don't seem to be much of an opposition. Schumer and Pelosi ought to put every business on notice that this tax bill will be repealed in 2018 when the Democrats take back Congress. This would force Republicans to work with Democrats on a bill that has bipartisan support instead of ramming it down their throats in a party-line vote. The Democrats made the same mistake with Obamacare which is why the Republicans were dying to repeal it. Every important piece of legislation over half a century had bipartisan support and it is poor public policy to cram important things down in a Congress subject to reelection every 2 years. I am concerned in 2 years there will be even more taxes because nobody will vouch for this tax plan that it will raise enough revenues to cover what will result in higher budget deficits. The only reason Republicans are with Trump is as a shield against voters who would punish them if they opposed him, and now that bloom is off the rose since Trump has backed 3 losers in a row for Congress. In 1974, Republicans turned against Nixon and I expect these Republicans will too because Trump is ruining the Republican party. They currently stand for everything they opposed for the last generation, and a whole generation of people are learning not to trust Republicans. So far few people know what is actually in the new law; most people have no idea whether or not they will benefit and will not know till they see the effects of it into next year.
If you recall, last year I singled out Michael Flynn from Trump's administration as particularly odious given his Russian ties and having taken quite a bit of money from them especially for a person not used to seeing these amounts of money. This month he put in a guilty plea for lying about his Russian ties to the FBI. He's the first major administration official to cop a plea and he will probably help reel in other senior members to the FBI.
For years national security advisors of both Democratic and Republican administrations felt that it was important that the US had access to air bases in Egypt. That was the main reason the US gave Egypt so much foreign aid. Now comes word that the Russians are going to have access to Egyptian bases. The US is ceding real assets in the Middle East. The Israelis and Jordanians think the US is reckless; the Saudis are fine with it because their future king is being given a free hand to do his own reckless things in the region as long as he appears to support Trump.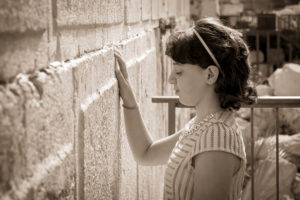 I've read two articles this week about the ill effects of telephones and social media on teenagers, including rise of depression, suicidal tendencies, loneliness and time-wasting. I am very strict in terms of not giving kids access to this stuff. Some people think we're idiots but not every technology needs to be used just because it exists.
One thing that is fascinating to me these days is the increasing probability that jet airplanes will become more like cars with hybrid engines that don't rely totally on fossil fuels but that also use electricity. This will hugely impact the environment because airplanes are some of the biggest producers of carbon dioxide on the planet. It just shows how problems get solved where you don't expect it.
According to a friend visiting from Jordan: the King has not succeeded with all his economic plans and has made many mistakes. He fears that the upper middle class and elites might turn against the government and are tired of the king just replacing the prime minister every time this happens every few years. Saudi Arabia's King has undone the familial codes that governed the country and so far he has proved to be reckless. Turkey will change and the Kurds can cause a lot of trouble there; political Islam right now is not making a good name for itself in the Arab world.  Trump might succeed where others failed because he doesn't care what happens with Israel/Palestine; he just wants to make a deal and the Palestinians are ready for almost any deal that allows them to save face because they see they can't win any other way. If Trump takes Israel's side over Jerusalem, the Arabs in Jordan will become opposed to US foreign policy in the region.
Something to be concerned about – the US keeps talking about social security and medicare benefits, as if the debate is to cut them or keep them as is. What's being lost in the debate is that the needs of the country are changing as people live long after 65 and the real expense is in the last months of life when things such as hospice care are needed. Basically, people live longer but get sicker longer at the end and lots of money gets spent at that point. A generation ago, people got sicker younger and died quickly. The current system doesn't address hospice care and catastrophic events at the end of life, when the most money gets spent and where the quality of care for many is not up to par. The benefits system needs to adjust to the needs of a changing population if people are to die in dignity and not see their savings and kids wiped out both financially and emotionally from the experience. This is a subject that a candidate in the next election cycle would do well to talk about candidly.
I went to a burger restaurant and the owner was telling me that he failed miserably when he tried to open the same restaurant in "5 Towns" near New York City. It is a very wealthy suburb with people who like to show off. He said that ladies wearing $100,000 worth of accessories wouldn't pay $15 to serve their kids higher quality burgers than they could get down the street for a few dollars less. "The kids don't know the difference, so why should we pay you more?" they said to him. But the adults ate there after 8pm at night. Interesting to me — unless they could show off what they were spending money on, it had no value to them. I myself like to make sure my kids eat well, and I don't care that it costs me more to get them good food.
Israel & Greece Trip Notes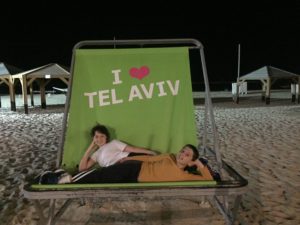 Upon arrival at the airport, our greeter said we should have gone to Greece instead. That's what you get from a VIP arrival service in Israel! We overnighted at the Sheraton Tel Aviv which is perfectly located on the beach with fresh air and al fresco cafes, which is what you want after a long flight. The hotel was fine with all the facilities you need. They have a lounge but kids under 18 not allowed because they have open bar; they will give you coupons for breakfast for the kids and you to eat downstairs if you ask for it. Weather here in November is perfect; we had mostly sun with 70's in Tel Aviv; 60's and 70's in Jerusalem and about 80 degrees in the desert. We had one or two days with some rain but it didn't interfere with any activity. Yotveta Ba'ir café on the beach has closed after being a staple for a generation. The Tel Aviv beach promenade is a very pleasant place to be. We started with Independence Hall Museum, featuring a one hour tour including a film and a visit to the room where statehood was proclaimed and a re-enactment of the scene. Children's Museum in Holon is about half an hour drive from the city and has a tour for blind sensory experience and another tour for deaf. You need to book these tours several months ahead. Indeed, we have found that popular Israeli tourist sites that involve tours require reservations several months ahead. The "slow season" of November is not quite so slow anymore. This country has lots of tourists these days. We took the blind tour and it is about an hour of walking around various rooms in complete darkness ending up in a cafeteria where you purchase snacks with coins in your pocket and then try to eat them. The kids loved it. An hour's drive later we arrived in Jerusalem. Dinner at Black Burger – popular among many, but I thought it was awful. I stand by my home-made burgers. Later we had dessert at the Waffle Factory in Emek Refaim; the kids had this place at the top of their bucket list and it was rather good. They have real food there too. Afterward we strolled to the Old Railroad Station which has been redone as an outdoor mall open day and night.
We stayed at the King David Hotel for 4 nights; the hotel could use investment in its gym and spa. The Ritz Carlton has set the standard for the country with theirs. The food is good here and it is the one dining room in the world where the staff seem to recognize me and noticed that I hadn't been around for a few years. I've tried all the 5 star hotels in central Jerusalem and still think the King David is the most charming of them all. I visited the new Herbert Samuels hotel in Zion Square (it works OK if you want to be right in dead center of town, but otherwise I don't see why you want to be there; small rooms but there is an indoor pool). Some sites we saw in town were Shrine of the Book and Holy Land model at the Israel Museum; the Museum of Music (great site no matter which religion you are); Marzipan bakery at the Mahane Yehudah market to get finger licking rugelach pastries right out of the oven; the Arab Shuq for T-shirts and wooden camels. We attended services at the Great Synagogue and the current cantor and choir remain excellent. The choir director can hardly walk after being there over 30 years. On Saturday afternoon my wife and kids took a walking tour to the Old City and saw stuff like David's Tomb at Mount Zion. I got sick that day and stayed home. Saturday night Elizabeth celebrated her 12th birthday party at a girls' orphanage in Jerusalem. There was a band and buffet and the girls really had a great time. They had never had a live band come to the orphanage before and the dessert table was a real eye popper for the girls.  We didn't want to do a disco in NY with a bunch of fake friends from school and thought this would be a better teaching moment. It made me very happy to see all those girls so happy. The band was called Hakelim and they were really cool and included Scottish bagpipes for a distinctive sound. All for quite less than the cost of a DJ in New York.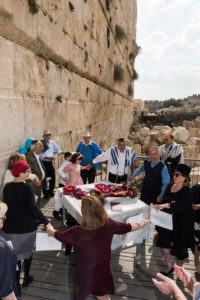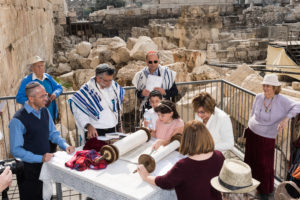 The next morning we had a ceremony at Robinson's Arch next to the Western Wall. This is a place designated for egalitarian ceremonies, meaning a place where men and women can be together instead of separated by a partition. Elizabeth read from the Torah scroll, we said some Psalms and made some speeches and the professional photographer Yehoshua Halevy took excellent photos. After our ceremony we went to the Kotel Tunnel Tour which is of tunnels running under the ancient city temple walls, but we were late. After searching in vain for our group and not getting any assistance finding them, we left. Later that afternoon, we joined my parents who have a foundation that provides home appliances to needy people in Jerusalem. We spent several hours visiting homes and finding out which appliances they required.
We arrived at the Ritz Carlton Herzliya for our last 2 nights. We had a nice view of the marina and coastal areas. The hotel has nice facilities including gym, spa and pool. It is above the Herzliya marina shopping mall but the mall itself is dying. I was told it was sold and that they are cleaning out the tenants so they can renovate it. So we will see later what really happens here. You can get wash and fold laundry at the mall and they will deliver to the hotel. The hotel concierge can help with this. We had dinner at Papagaillo's Brazilian steakhouse in the mall with some friends who moved to Israel a few years ago. They bring you lots of pieces of meat. The kids loved it; I was not so impressed with the quality of the meat. The hotel's Herbert Samuel restaurant has some of the best prepared kosher meat and non-dairy desserts in the world; the breakfast buffet is probably the most elegant in the country and they use really good ingredients here. They get farm-fresh eggs and have a great bakery. We noticed you can't find the old crinkly toilet paper anymore in this country no matter where I looked; it's even softer here than in Switzerland.
Off to more activities. Elizabeth wanted to repeat Dig for a Day which she had done several years prior. You go down in a cave and dig for stuff. Afterward, you go crawling around in caves (spelunking), and that is even more fun. Watch out if you're obese cause the holes you crawl through are tight. The Ramat Aviv shopping mall in north tel aviv is beautiful and we had a nice lunch there at an Italian-style sandwich shop near the center of the mall. The nearby Museum of the Palmach has a good one hour multimedia presentation and tells you a lot about the history of the 1940's and the people who served in the Palmach militia. I had been there about 10 years prior and I recall the museum differently than what I saw at this time. We had some chill time and saw kids surfing on the beach. Our final attraction was the Ayalon Institute and Bullet Factory in Rehovot about an hour away from Herzliya. This attraction is a favorite of many; it tells the story of a secret underground bullet factory that supplied much of the ammunition for the war of independence. The emerging state had plenty of weapons; what it needed was ammunition and getting that into the country was nearly impossible under the British. It is a story of derring do, cleverness and sacrifice on the part of many teenagers.
GPS really works well here and it is a good thing to help navigate the often crowded roads. No matter how many new roads they build, the cars fill them up. We left through the old Terminal 1 building at Ben Gurion airport which is a pity since the new building is so much nicer; they still use the old terminal for charters and cheap airlines such as bankrupt Alitalia which we flew to Athens, about a 2 hour flight. Israel offers clean bathrooms, a country that is always changing and full of new stuff, and there are some good attractions to visit, although shopping for souvenirs is sparse because the shops all sell the same 10 items. All in all, we are happy to visit for a short while and even happier when we leave.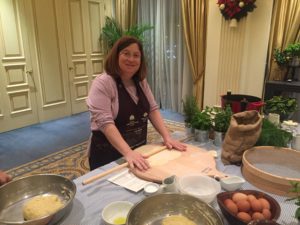 ATHENS – Welcome Service is the same price as a taxi but they drive you nuts with email advertisements and trying to sell you things the minute you arrive. The airport road was deserted in both directions when we came and left, albeit at off hours. The airport itself was pretty dirty and dingy even though it is a relatively new airport. The bathrooms were gross and the lounge was dreary like Eastern Europe although it had good food. The Grande Bretagne Hotel is a Greek Treasure with lovely rooms, good food, nice views of the Acropolis from the rooftop restaurant and selected rooms, a good spa with indoor pool and gym.  The outdoor pool was closed for the winter. The hotel is in dead center of town on the main square near to subways, parliament, Attica Department Store and pedestrian shopping streets. Everest sandwich shop on the square has good pizza and sandwiches. There is a Marks and Spencers on the main shopping street. Nearby Plaka is a good street for souvenirs but we found little to buy. The hotel arranged a master cooking class for us with their staff and showed us how to make spinach pie and baklava. They decorated a ballroom really nice for us with fresh flowers, fruits and nuts and all of us got to wear aprons and make stuff to eat with Greek music playing. The weather was good here; we were lucky with no rain. Temperatures were generally in the 60s and 70s, great for exploring the outdoors.
We went with a guide to see the National Archeological Museum and toured it for about an hour and a half. It's worth seeing but go with a guide or else it's just a bunch of rocks and statues. You don't need a car and driver to do this tour. We stopped by the Jewish Museum of Athens to get a sense of Jewish history in Greece, most of it pretty unhappy. Black Friday is now celebrated all over Europe and in Israel, and people were shopping in force that day. We visited the Acropolis and Parthenon with a guide that specialized in tours for kids through Viator or Athens Insider Experiences. Our guide Vera was excellent. After visiting the Acropolis in the morning we went to nearby Acropolis Museum which is also worth a visit and has a good café (the one in the lobby is often skipped over but it has the same food and much less crowded). That museum is very new and well done. We went on the funicular to the top of a hill for a great city view. Athens looks a lot like Cairo from the top of a mountain, not a particularly pretty city. Get a round trip ticket because there is no good way to get down from the top of the mountain. If you catch a taxi when you arrive from the funicular beware of the driver who is waiting for you. He switched a bill on me and it cost me an extra $5. I visited the metro station and saw the subways and they looked pretty normal. Dinner at Papadakis restaurant about a 5 minute taxi ride from the hotel, featuring modern Greek food and definitely one of the best restaurants anywhere. Everything we had was superb and there was good fish on the menu.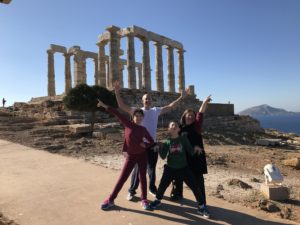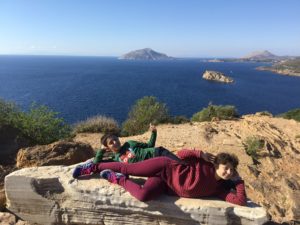 The next morning we went with driver and guide to visit the Petraeus port area and then off to Cape Sounion to visit Poseiden's Temple which is the most popular day tour from Athens within an hour's drive of the city. We liked the site and the coastal drive which had stunning sea views. We visited the suburb of Glyfada which was a nice contrast to the center of Athens; it's important to see something other than the center of Athens because it has a totally different look and feel to the suburban areas which are more tree-lined, spacious and modern. The streets of Athens are also very narrow aside from the main boulevards and it is amazing how cars get around. We walked through the national gardens behind the parliament, posed for costumed pictures with a Greek gladiator and saw the Zeus Temple and the Olympic Stadium, saw the changing of the guard ceremony at the parliament (not much to see), and headed to the airport for the 3 ½ hour flight to London on British Airways, which was a pretty cramped flight with mushy food and no personal seat entertainment on an airline that now enjoys a monopoly on the route since there is no Greek airline flying there. I liked the local halva sesame crunch and Jeremy liked the local Derby candy bars, but we didn't find much here to buy. Everyone we met was down on this country – they don't see a way out of the funk the country is in, and the place needs a new coat of paint everywhere other than the hotel. It's just 30 years of bleeding the country and vested interests taking for themselves with too many people not working and a very high unemployment rate. The government is taxing pensioners and the middle class and we kept hearing that the middle class has been wiped out. 200,000 young people have left the country in search of work; that is about 2% of the total population of 10 million but it is a hugely important chunk of it.  Our guide said she had hoped to retire at 45 as if that was what everyone expected and was very unhappy at having to still be working at age 50.  Taxis and street food are cheap here. The country is not doing well – there are 3 or 4 flights an hour out Athens airport and half of those are to Larnaca in Cyprus. Compare that to about 5x as many flights per hour out of Tel Aviv for a country with just over half the population. We are told that there is very little investment going into this country and we notice a lack of business hotels here. If it were my choice, I would ban iPads. My kids keep preferring to look at their iPads than what is going on around them as the world glides by on these trips. Fortunately, my kids did learn a lot even though they missed about 2 weeks of school and they have written really good trip journals about the history of Greece, the European Union and the historical things they saw and learned about in Israel.
We overnighted at the Sheraton Skyline hotel at London's Heathrow airport. I thought it would be a flagship hotel that would be state of the art. No way. It was adequate but the breakfast buffet was poor, the gym was sparse, the pool is only open from 4-11pm and it took plenty of calls to get someone in to fix the connecting door between our two rooms. And the air conditioning didn't work and the TV was hard to use. But the bed was comfy and the room was quiet. There is a bus that will take you to and from the airport for almost the cost of a taxi. You can buy the tickets at the hotel or on the bus. A taxi to the airport is very expensive from the hotel and should be avoided unless you are just so nervous about waiting for a bus that makes several stops on the way (it cost 50% more to take a taxi to the airport than from the airport). We flew Virgin Atlantic; the plane was an old one and more vintage than virgin. I've noticed that you can hardly get pen and paper anymore on an airplane. You can fly Emirates nonstop to NY from Athens but we went through London because the Emirates flight is 12 hours at nighttime arriving at night, which would be a real killer with kids. Delta has a daytime nonstop but it only runs during the summer.
POLITICAL DISCUSSION NOTES ON THIS TRIP:
Mohammad says that MBS of Saudi Arabia had reportedly visited Tel Aviv a few months ago. He offered Israel money to fight Hizbullah. He brought Abbas to Saudi Arabia to read him the riot act: shape up or be replaced with Dahlan. He wants Abbas to be tougher with Hamas. He quoted Der Speigel saying that Jared Kushner on his recent trip brought the Saudis news of a plot by business people to overthrow him and that Hariri from Lebanon was involved. That is what brought about the arrest of all these people. The new head of Hamas in Gaza speaks Hebrew and seems to be pragmatic and dealing with the Israelis.
Oded: Shas will lose its seats; the Labor party head will be tossed out by his own within a year. Bibi will be re-elected. Lapid is not a serious candidate. Hamas is defeated. There are 1,600 lories going into Gaza daily with food and materials provided by Israel. The army has to run 3 states – Israel, West Bank and Gaza, plus parts of Syria. New tanks have lots of robots so casualties in the next war will be lower. Hamas will be killed by their own citizens who are hungry and poor; that's why they are dealing with Israel. The Haredim in Israel as well as Arabs are increasingly working and going into modernity. Madoff killed the Haredi sector when the investments funding them went bad. Bibi gives them money but only if they work. Trump and Bibi are birds of a feather and so they get along. Big estrangement among younger people as to Israel, both Jewish and non-Jewish. Evangelicals of young generation not so much into Israel as their parents. He says kids don't show up to class and they really don't want to know about the Holocaust. Peace process is not a big issue and neither is the Orthodox-secular divide; he says that Israelis are just on a different wavelength than Americans with little in common and Israel is not so dependent anymore. 20-30 years ago this was foreseen and the aid to Israel reflects it. Liberal American jews have few allies in a multi-cultural and racial America that has no ties to Jews, Israel or the Holocaust. BDS movement is succeeding he says – colleges are hostile to Israel. Oded says he doesn't bother to go on speaking tours anymore. Few kids attend his college and only the children of military people show up to class.
And so we end 2017. In 2018, I expect Congress to go Democratic and for Donald Trump to be in more serious trouble than he is today. I don't expect much in the world to change. The year went quickly and the way it ended was certainly not as I expected when it started. Not a bad year for me, but I'm hoping for better in 2018.