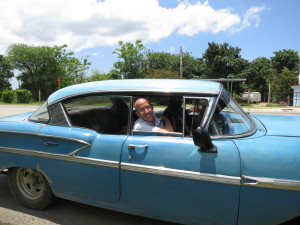 It's been a while since I've been on a real adventure like this, but I anticipate that Cuba is going to change and I wanted to see it the way it is now before the cafes in the town squares become Starbucks and the historic buildings framing those intersections become Westins. Since it's not obvious, I'm reporting at a greater level of detail. Cuba is only 100 miles from Florida but going there is sorta like being on the other side of the moon.
I flew to Havana via Air Canada in Toronto; it takes about 15 minutes to make the transfer within the airport and it is a 3 ½ hour flight from Toronto. Very nice Air Canada lounge and the business class food is rather good. There is a nice menu offering 3 choices including a fish and vege entrée, but they only have several of each offering and there is a good chance you won't get your choice unless you are in the first row. Arrival in Havana airport was surprisingly prompt and efficient but my prearranged transfer wasn't there; had to find the right counter to get the guy. Definitely go with your voucher in hand and the arrival area itself is quite chaotic and primitive. It is a 25 minute $25 ride to city center and except at rush hour at key points there is no real traffic in Cuba. The streets and roads were surprisingly well paved and marked; they have lots of intersections with timed lights with countdown displays they got from China. Contrary to what I had read, I didn't see any potholes and only saw one car broken down on one highway and very few people riding donkeys on the roads. My hotel was Melia Cohiba, a few miles from city center. It is part of a Spanish "Melia" chain. It looks like a hotel you'd find in Turkey or Cyprus. I had a suite on the concierge floor and it was adequate for me at the 3-4 star level. This hotel is one of the top-rated hotels in the city. The fruit plate on arrival was gross and I just trashed it. The furniture in the room was somewhere between bachelor's pad and old-fashioned Holiday Inn and the walls, floors and grounds of the hotel were basically quarry stone with no finish and the whole place felt drab and uninviting – no warm and fuzzy feeling about it. The bathroom was OK with normal bath amenities. TV was color and had plenty of satellite channels including Disney, BBC and CNN. You can find Coca Cola brought in from Mexico at the hotels. Wake up calls came on time with followup calls. My room was air conditioned and it was so cold I had to turn it off both nights. The pool was OK; gym in this hotel and others I saw (Parque Central which is also a highly rated hotel and which looked nice; it has new and old sections and my guide recommended the more charming and bright rooms in the older section) looked like a high school gym in a poor neighborhood from 20 years ago. The only hotel I saw with a halfway decent gym was the Hotel Nacional (rooms were dark and a bit musty and the bathtub needed work; a faded rose but not as bad as the TripAdvisor reviews I'd read). Anyway, the Cubans themselves are quite fit from daily labor. The spa was basically a sauna and a massage room and it is $50 an hour there in a good hotel. Food in the hotel restaurants is pretty Soviet – lots of menus but the quality of the food is generally poor. My rolls and cake were stale and came out of the freezer; the fish was good if it was freshly grilled. There was no mini-market to just pick up a snack. However, the breakfast in the club lounge was rather decent and the fruit is delicious – among the best mangoes anywhere on the planet. You can only drink bottled water here. Atop the hotel you get a nice view of the city from its coast to the city center. Havana is much larger than I had expected; it is a real metropolis.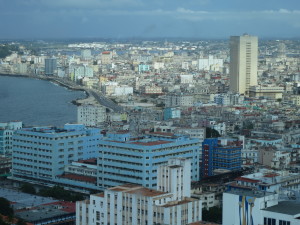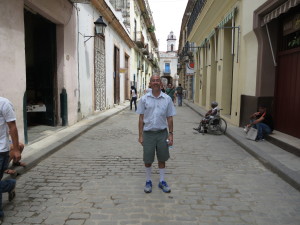 Now we get to the fun part – why visiting Cuba is somewhat like landing on the other side of the moon. Contrary to what I'd been told, you can't use ANY credit cards issued by an American bank. That means Amex, Visa, Mastercard or your ATM cards from your bank won't work. You really want to come here with a credit card issued by a Canadian or European bank and you can forget about American Express for awhile. Without a credit card you can't charge to your room at the hotel, and you can't buy Cuban money (which is the thing you can really use here) unless you have CASH. (Your hotel room was prepaid before you came so that part is not an issue.) You're dead if you are an American who runs out of cash (or gets robbed or loses it) and doesn't have a credit card you can use from somewhere other than America. The hotel is not going to advance you cash. The US interest section probably won't help you. I had to have someone lend me $20 at the airport to pay the departure tax; I had been told by my hotel concierge that I wouldn't have to pay the tax on my ticket (sold to me before departure tax was worked into the price of the ticket) and she was not correct. I assume that before long they will fix this problem and that US credit and bank cards will work there but until then, be prepared. I went through over $400 in cash in under 48 hours there which is a lot in Cuba but not really if you wanted cars and drivers and wanted to go sightseeing outside of Havana like I did. You can't book hotel rooms here from the US over the internet or otherwise, so you have to go through a travel agency in a place such as Canada or Cayman where they have to request the room for you. They are building lots of hotels now in Havana because there is a shortage of rooms; you can book 8 weeks in advance and still find no availability at a top-rated hotel. And I've been told that sometimes you might show up and find your room was given away.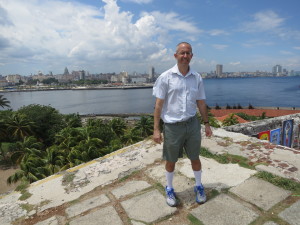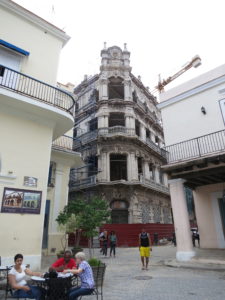 Cellphones don't work here unless they are Cuban issued. I had a cellphone that was meant to accept calls coming from abroad via a UK number and that did work but I couldn't dial out anywhere using the phone. I had to go downstairs to the lobby with the operators standing by phone booths connecting calls and taking $2.50 cash a minute for your call to the US, which was a good quality call. Calling Cuba from the US is basically impossible even from a Verizon landline – you might as well be calling someone on the moon. Some people in Cuba have new iPhones but the only thing they can do with them is make phone calls. Some people might have text or email capabilities but those are privileged elites. Even the concierge in a top hotel does not have access at her hotel desk to the internet. At a hotel business center, you cannot print anything such as a boarding pass or directions to a restaurant. As a hotel guest, you can get internet access but it is highly restricted, slow and you won't be able to connect to your US-based email account using a service such as mail2web.com, so you can't send or receive email there. You can't even email your boarding pass to the concierge to print who does have access to email and a printer but remember that she doesn't have access to the internet so she can't do very much to help you. My wife tried to email her something to print out for me but it never reached her. Some Cubans have internet access at work for work purposes and they might get a chance to go to youtube and see Conan O'Brien's show about his trip to Cuba. But mostly people here cannot get information about the outside world. There are no newspapers or magazines for sale, most people do not get the satellite TV channels and the radio is limited to 6 local stations that tell the people that the rest of the world is bad news all the time, but that Cuba is the best place in the world. When the news comes on, you hear martial music as if the world were coming to an end and the announcer comes on and says "ATTENCION, ATTENCION…."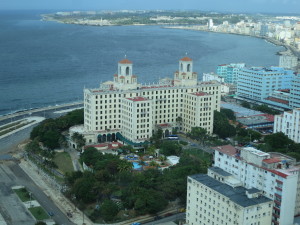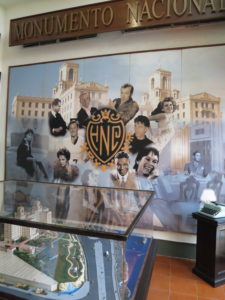 People can't buy much because their salary is about $30 a month, although they will generally tell you it is half that amount. They get rations of food, housing and stuff so that is basically their spending money but it doesn't go far. A banana here costs about 12 cents but it is a small and ugly thing (tastes good though); on the street in Manhattan I can buy a nice big yellow banana for 20 cents. I went with a guide to a market where he bought a big satchel of black beans for $2. Of course, he is getting foreign currency and has more money to spend than 99% of the population, but still $2 is a lot of money in that country and all he got for it was a bag of beans. There is not a lot of public transportation there and a lot of the cars there are old. You really do see a bunch of cars from the 1950's on the roads along with Russian Ladas and cars from Eastern Europe. It's not as if the Japanese or Koreans are not selling cars to the Cubans – they are there for taxis and for wealthy people, but the Cuban government is telling people that a new car will cost them close to $200,000, which basically means that cars are banned and the roads are clear. Of course, there are beautiful Mercedes cars for VIP's and someone told me that he knew that Castro's son had 3 Mercedes cars because he sees them drive up to the local tennis club where he plays in the afternoons. I was told that high government officials live in unmarked neighborhoods with secured perimeters because they don't want the rest of the population to know where they live. I saw some neighborhoods with beautiful looking mansions, most of which probably belong to foreign embassies who can afford to rent them.
Put this together – it's a country where everyone is so poor they have to work 3 jobs just to make ends meet (where your taxi driver is an engineer and your massage therapist is a chiropractor who can at least give you an adjustment with your massage), they can hardly communicate (basically the most they can do is to call each other on cellphones if they can afford them) or get information about the outside world, and they can't get around. Hardly anyone can afford to travel abroad or pay for education abroad. It helps ensure that nobody will revolt.
I didn't see a lot of revolutionary propaganda all over the streets. It is isolated to the airport, across from the American consular interests office, and maybe a few token signs at some tourist spots such as the Museum of the Revolution. But surprisingly, the Castros have not seen fit to create a huge personality cult and the icons of Cuba are more likely to be other people like Che Guevara or Jose Marti. It's not like in Damascus, Syria where you'd see posters of the 3 Assads everywhere wearing their sunglasses.
Each hotel has its own nightclub and the Tropicana is the most famous one, but at $95 for a top-tier ticket it is over the top, especially if you are running low on cash and are afraid to run out of it. You can see the nightclub show at the Hotel Nacional for $30 and it is probably close to the same show as well as close to the same show you would have seen 50 years ago when my Dad or grandfather sat there. Imagine yourself sitting at Disney World watching the original Tiki Birds show. The show runs 90 minutes and it's pretty kitchy and some of the music is canned and shrill and you have to sit there with tons of tourists taking pictures and video recorders (like the Chinese opera in Beijing) of a show they will probably never watch again.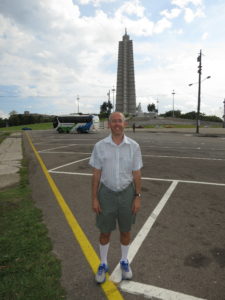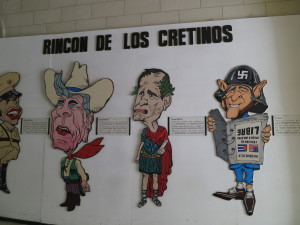 OK, now let's go sightseeing. I had one full day in Havana and did a 7 hour circuit of it. It was early May and temperatures were in the mid 80's. Most cars and buildings don't have air conditioning so ask first and dress for comfort. First to the old city center for an hour's walk including the street where Conan O'Brien did his show and everything around him was still there exactly as it appeared on the show including the animals and street beggars. I saw Hemingway's bar and people standing around getting their mojos and taking selfies. There are several old squares that are in various stages of being fixed up, with some really old buildings nearby that are falling apart. A building collapses and becomes a parking lot for motorbikes. A large building looks like it might collapse but it houses people and it shakes inside. There is an attraction in town with Camara Obscura, just like you'd find in Edinburgh, Scotland. (You see a camera zoom in around town picking up the most obscure things.) There were a few small parks in the city center; mostly a pedestrian walking area with galleries, coffee houses, souvenir shops and various types of buildings such as government, offices, hotels and historic churches. There was an old-fashioned pharmacy which was an impressive large place but all you could buy there was about 10 products showcased in a single tray. There were some shops where you could buy things such as Italian-brand spaghetti, shampoo and a hairbrush, but there was nothing like a selection to choose from – just an odd assortment of things that the government had obtained that they were prepared to sell at fairly normal prices to my mind to get foreign currency (which you had to convert into these Cuban convertible pesos in order to buy anything in that shop and I was fond of those $3 bills which is a great idea). Of course very few locals could dream of buying anything in that shop. There are no 7-11 type stores to buy candy bars and potato chips – nobody has any money to fritter away on stuff like that. There is nothing like a supermarket or a Walgreens or Boots type pharmacy here. It is like an old-style Soviet country from a generation ago and the electrical outlets and infrastructure here are imported from Russia (220 volts in a region that is otherwise 110). After walking around we drove across the bay to the other side of the city with a pretty overlook to the city center and coastline (but beware, you could easily fall 100 feet below the cliff since there is no railing or warning that you are approaching a cliff). Driving across the bay is a tunnel built by the French before the revolution and the toll booth lanes are still there even though they took out the toll booths 50 years ago. Visited the Revolutionary Museum ($8 admission fee) to see the Cuban story; as I said, it's not a shrine to Castro. Most of the exhibits are Spanish-only except for some key points they want every tourist who speaks English to understand. It's basically words and pictures on walls and very parochial; aside from the fact that you are here so you see it, it is not much to know. There is a Wall of Jerks making fun of various US presidents and an outdoor exhibition with souvenirs from wars such as cars and boats. Nearby was an important Art Museum whose top floor has lots of art from 70-100 years ago which was pretty nice. The newer stuff didn't impress me. I spent about half an hour there but many spend hours there. Down the street is the Bacardi building which has interesting architecture and the Parque Central hotel; go to the rooftop pool for a good view of the Bacardi building as well as the Capitolio building. The Capitolio looks like it would be the seat of government but it isn't; it was mostly dormant the past 50 years used as a museum and now they are fixing it up. Lunch at Sloppy Joe's Bar just down the street from the hotel. It's got a decent varied menu and you can find something to eat there; and it is a decent place to eat lunch if you want to eat somewhere other than in a hotel. You don't want street food here; you can get an ice cream sandwich off the street for a few cents but it might make you sick.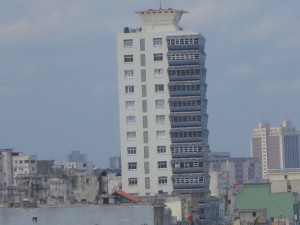 We drove to the Hotel Nacional which is an iconic property held by the government as a national treasure and it has a lot of history there and a certain charm about it with bank-teller type windows in the lobby. It has a hall of history with pictures on the wall of lots of famous people who used to go there such as the Rat Pack 60 years ago. The rooms are not as bad as I heard and it has pretty gardens there. The dinner menu in their fine dining restaurant had nothing that wasn't meat or shellfish so I didn't eat there. This hotel had a nice pool area and, as mentioned above, the best gym of the bunch. Nearby we saw a park where people go for ice cream called Coppelia (but not so good I'm told); the US consular interests section is near this hotel; and there is a synagogue called Adas on the corner of a large avenue which I briefly visited and I was told that about 100 people show up for services on a Shabbat. There was no particular security going on around it. Havana is a pretty tame city that is considered safe for tourists and that does not have a history of violent anti-Semitic behavior. There are 3 Jewish houses of worship in the city, but this is the main one. At the airport departure lounge, I saw some Hassidic Jews from New York City who were having their holiday in Havana because it was cheap and interesting and they had visited the various synagogues in the city. I don't think the Cuban government is particularly hostile to Judaism there. I was told that Jews living there don't make trouble for Cuba and Cuba doesn't make trouble for them. I mentioned tourist safety – generally people think it is safe for tourists to walk around but occasionally I heard of someone getting robbed and every time I stepped outside my hotel at night I was propositioned to go to a sex place. I saw some pretty neat looking taxis from the 1950's that had been all jazzed up that looked like they would be fun to take a ride in but I didn't feel safe leaving my hotel at night in a country where you could literally disappear and nobody would have any idea where you wound up. Perhaps if I had stayed in a hotel in the middle of the city instead of along the water a few miles away I would have felt more apt to walk around the neighborhood, but even then the sidewalks have deep holes in them and you wouldn't want to walk around alone and find yourself 10 feet underneath the sidewalk spending the night with a broken leg. You do see lots of police people stationed at various points and I was told that they are there because if not, all these poor Cubans would run around robbing each other. As it is, people all have bars on their homes. I don't think there's much to steal; it looks like people's prized possessions at home are their color TV's. But then again, I'm not that poor to be coveting somebody's bag of black beans worth roughly 10% of someone's monthly salary.
Nearby there was this Focsa Tower and it has a La Torre Restaurant on its 32nd floor with a great panoramic view of the city. You can just go there during the day and have a look around. We drove through the Miramar neighborhood; it is one of the fashionable areas of the city with embassies and old homes in various states of repair. Signs warn cars not to drive too slowly in this area of town. There is a very large cemetery in Havana and in it are lots of above-ground memorial plots, very much like La Recoleta in Buenos Aires, Argentina. We visited Revolutionary Square which is a big open area with some icons around it, and where people show their patriotism.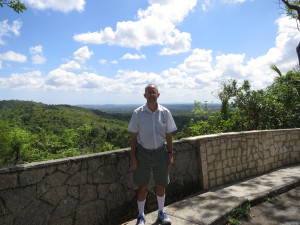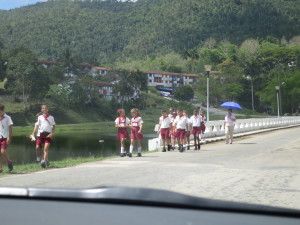 After my tour I went to the pool and spa at my hotel, ate some dinner, tried in vain to check in for my next day's flight, and went to the Hotel Nacional for the 10:00 show. The next day I spent about 4 hours going outside of Havana to see something of Cuba's countryside. I had a guide/driver and we drove just more than an hour to see a coffee plantation that was near a eco-city that had a pretty lake, river for bathing, zip lines and a coffee house amid a commune "Las Terrazas" in an ecological reserve. It was a pleasant diversion and you get a sense of the mountains and landscape of the country that looks a lot like Puerto Rico. The roads were decent and the tourist site was well kept. You could go along the whole zip line for $35 which is a fraction of what you'd pay in Puerto Rico, and it was a really cool zip line that went on pretty far over lakes and rivers. I didn't have time to do it but it looked fun. Here's a great story: As I approached the airport road at the end of this half-day trip, I complained to my guide that my one wish as a Cuban tourist had not been fulfilled: I wanted to be driven in one of those old 1950's cars and time and opportunity had just run out and not worked in my favor. He saw an old car going down the road and we started chasing it, around an intersection and finally honking it and pulling up alongside it on the highway. It was an elderly man driving it and he wasn't noticing us. Finally he stopped and my guide negotiated with him that I would pay him $5, my taxi would follow in the background, and he would drive me in his 58 year old American model car for a few minutes that was so beaten up it was a great genuine moment of tourist adventure. So we did this and then finally I got to the airport with the moral of the story being that if you really want something bad enough, you just might get it.
At the airport, everything was complicated including the airport tax and someone being nice enough to lend me $20. In New York, I would of course have utterly ignored such a person as being a con artist. Officials in the airport offered to change my money just before passport control, and I ignored them wanting to be sure there would be no trouble. When I finally got past passport control, there is this one waiting lounge (there are several terminals at this airport and this was a small one, my flight being to the nearby Cayman Islands) and I was told to go to the VIP Lounge upstairs but it was closed. So I had them open it up and it turned out that I was the only person supposed to be in the lounge. The food was several days old but they got some new food for me, such as a cheese sandwich and a piece of cake. The toilets in the lounge had no seats. There was a huge thunderstorm for an hour and the entire lounge flooded, the lights in the terminal went out briefly and the whole roof was feeling the rain. Finally the airport reopened for traffic and we got out of there on a nearly one hour flight to Cayman, only to find out that my connecting flight was 4 hours delayed. Cayman airport is small and you can deplane, clear customs (even in transit you have to do this), check back in and get to the gate within 15 minutes. Cayman Airways has only a few jets and if something goes wrong with one of them, you have to wait till you get another one to take you there. But you could do a lot worse than spend 4 hours in Cayman – I got right in a taxi and went 15 minutes over to the Ritz Carlton for dinner. After I had walked up to the ATM and paid the guy back his $20 as he exited customs.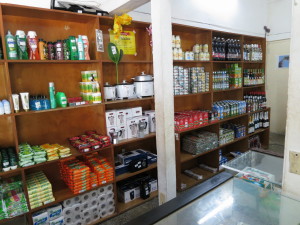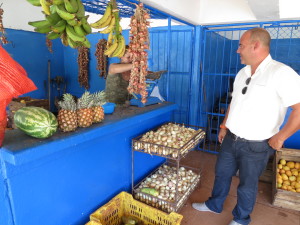 The place did not look to the eye as much as a police state as I thought, having been in other places. Yes, you have the neighborhood "watch committee" offices where citizens inform on each other. There are police booths on lots of corners and I was told that there are fewer police on foot because there is a tremendous CCTV network covering the city center. As I said earlier, I didn't see tons of revolutionary propaganda; I was told that Raul Castro has toned it down over the past decade while allowing small incremental changes and scaring people as to the prospect of larger changes. People I spoke to said they wanted to see change in the country but they wanted it slowly; they don't want to see their country sold off or "privatized" to a few lucky people. I was told that a nice house in a good neighborhood could be bought for $60,000, which is a ton of money there. Someday a Cuban from Miami will walk in and offer someone $300,000 for his house and that person will think he won the lottery, except that the house might be flipped for $2 million. There is plenty of wasted real estate along the water in Havana being used for next to nothing, such as a baseball field or just empty land and plenty of crappy properties with shacks on them just a block from the waterfront. The hotels in Havana are not waterfront and there are no beaches in the city. Some Cuban exiles have made a lot of money from this embargo and some Cubans are very cynical about this. One guy lived in Germany for 5 years as a student and worker but returned to Cuba because the rest of his family was there and he didn't want to leave them behind. I found Cubans to be very industrious and clever; I have seen Miami grow from a backwater town to the Gateway to Latin America very much due to the Cuban exile influence during the past 50 years. Today lots of movers and shakers in Miami, from the symphony and opera to politics, are the children of Cuban exiles.
During my trip I didn't see a lot of Americans; most who come here have Cuban relatives or were born in Cuba. They tend to come on charters direct from the mainland. To go on those flights you need a license from the US Government which is bureaucratic. Or you can fly to Cuba via a third country and just enter as a tourist on a wink and nod and get your landing card upon arrival. I did it that way via Canada and the Cayman Islands. Air Canada and Cayman Airways are both fine airlines. Most of the people on the Air Canada flight were European and most people on the Cayman flight were Cuban and were heading either to Miami or New York. Most tourists I saw in the hotels were coming from everywhere such as Latin America, Europe and perhaps Russia.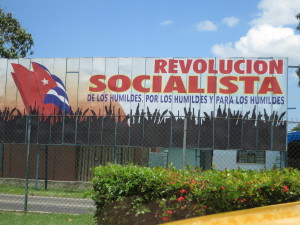 Cuba has a lot of tourist potential and there is nothing else in the Caribbean region like it. It is a big place with 11 million people, several cities including one large one, real museums and tourist attractions, lots of history, great beaches, and interesting day trips away from the capital. Given the opportunity, I'm sure the Cubans will do a lot with their country and it is sad that 50 years were wasted on a revolution that promised prosperity and success to lowly people and delivered poverty and backwardness designed solely to keep those revolutionaries in power. A poster I saw said "Socialist revolution for the downtrodden." Clearly, what was done in Cuba was not designed to raise the level of society but to keep them down because you see what's there and you know that a benevolent ruler would have realized that the dream just wasn't working for the people. The governing body lives well and hides behind walls; it is a small country and they cannot say they don't know how the people live. That said, I have always thought the US embargo was counterproductive and basically kept Castro in power all these years so that he could blame everything, such as the lack of cars, on America. The truth was that the embargo has nothing to do with it; cars come from everywhere today but Cuba wants to charge people $200,000 for them and tell them that it's the US's fault. US policy on Cuba, particularly from its exiles in Florida and its Republicans in Congress, needs less stubbornness and more realistic understanding of cause and effect.
My father used to say that the day Cuba opens up, the Bahamas will go bankrupt. And why not? There's no place to go in Nassau. Hotels will be built, there are nice beaches, there will be good food (at least right now there is if you know where to find it), and they will build tourist infrastructure with more signs in English.
Just a 45 minute flight to the Cayman Islands takes you to a land which is the richest in the Caribbean region with cellphones, email, credit cards, business centers, ATM's and plenty of good food, albeit at higher prices. But you get what you pay for. The suite in the Melia Cohiba concierge floor is about $250 a night; it is about 6x that amount at an equivalent hotel in the Caymans. Here is a guide to what things cost in Cuba: Guide with his own car for 8 hours is about $75. If you drive outside the city, it's about $120 because gas is about $5 a gallon. Dinner at a hotel is about $20; lunch at a tourist restaurant is about $10. A museum is $5-10. A nightclub floor show is $30-100 a ticket depending on the venue. An hour spa treatment is $50. Phone call to the US from the lobby of a hotel is $2.50 a minute. Taxi transfer from center city to the Havana airport is $25 and a taxi ride of a few miles within the city at night is about $5. Airport tax is about $25 (but it might have been included in your air ticket). I went through roughly $400 for incidentals (hotel was prepaid) in less than 48 hours.
All told, Cuba was not as depressing as I expected and most of what I read in the NY Times Travel section and other so-called authoritative sources turned out to be inaccurate. I thought that MasterCard was going to work after you read articles about how they signed agreements to make it work in Cuba. I expected to see highways lined with vehicles breaking down, and I thought I would see lots of scared people living sad lives. It's not like Poland in 1988 where all the lights were turned out inside buildings during the day to conserve energy or driving around in Moscow in 1992 where cars were swerving to avoid huge potholes and turning off their engines at every traffic light to save petrol. Still, it's not the Western world and you definitely know you're somewhere else. But I always wanted to see what was there, and I know that Moscow changed in a huge way between 1992 and 1997. When change comes, it comes really fast. All those old cars will wind up off the road; lots of the historical structures that are there will be torn down and the whole atmosphere will become less Cuban and more cosmopolitan just like everywhere else with its McDonalds and Marriotts. What makes Cuba not like North Korea is that the people are not being tortured and starved, and Cubans are a happy lot of people who like their music and salsa and have lots of great musicians per capita all over the island. It's a pleasant place to be if you are a tourist who doesn't have to deal with the drudgery of daily life and if you don't look too hard past the tourist areas and don't think too much beyond sun and fun. It's still an adventure to go there; it's not all that user friendly especially for an American, but it's certainly tolerable for a few days and the odds are that you won't get sick or come back hurt. Just be sure to take enough cash there for the time being and consider getting a credit card from a foreign bank. I would also bring some snacks from the airport abroad so that if you get hungry in the hotel you have something to eat without having to go to a restaurant. There are very few souvenirs to buy there so you don't need to budget a lot for that. I also would not get overly stressed about worrying that you will be arrested and jailed for 5 years like the American Mr. Gross was until this past year; unless you are clearly doing something wrong such as importing prohibited equipment, trying to make a political statement or dealing with the political opposition or just being naughty with drugs or whatever, the odds are that the ordinary well behaved tourist is welcome there with his currency and that the government wants you to come there and spend it, be safe while you are there, and go home happy. That said, I would advise staying in Central Havana at a top rated hotel and be sensible if you leave it at night and leave some money and your passport in your hotel safe just to be sure while you are in the country. And drink the bottled water. Happy Travels.