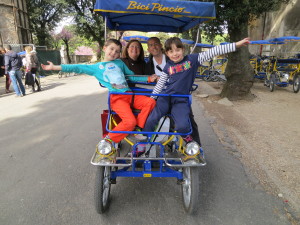 My son went to Gladiator School in Rome during our visit to Italy last month. He tends to talk a lot and his gladiator instructor who very much looked the part and wanted to simulate ancient Rome was having none of it. "Shut up Slave – talk too much – I kill you." We were curious to see how his teachers might enjoy using this technique in the classroom.
My daughter decided she didn't want to buy a candy snack from the store on the corner like my son did because she noticed there was a layer of dust on the wrapping and she figured it must have sat on the shelf for a long time. I guess this is what they mean when they talk about people's eyes opening up as they grow older.
An important thought I heard – history is what somebody else records, memories are what you remember. Do you live your life to be history or do you live to make memories? Personally, I prefer the latter.
Here's a great joke I heard in synagogue from the Rabbi's sermon this past weekend. A Swiss guy is driving around in a car in Switzerland and gets lost. His bad luck is to have run into two American tourists. First he tries speaking to them in German and they don't understand him. Then he tries French, with the same result. Then he tries Italian and Spanish. Finally he drives off exasperated. One American turns to the other and says "You see, I told you we ought to learn a foreign language." The other American says "What's the point? That guy spoke 4 languages and it didn't help him."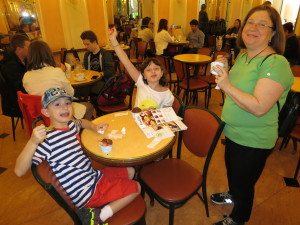 This past month I went to Rome with wife and kids for Passover and Easter week, and I just returned from Cuba. Notes follow here about Rome after the other items, and the Cuba travel notes are posted separately on the website. In terms of Cuba, I wanted to see the place the way it is before it changes too much, which we all know it will. It was mostly what I expected, but it was a real adventure the likes of which I haven't had in a while and I'm sure you'll enjoy reading my journal about this trip to a country that is less than 100 miles away from Florida but sorta like being on the other side of the moon.
You gotta hand it to the Saudi king and emir of Bahrain – Bibi Netanyahu was running around Washington in March begging people to meet with him. The Saudi king is similarly pissed at Obama's Iran policy and he says "I'm staying home for your stupid summit of Gulf leaders and I'm not coming."
The more I read about Hillary Clinton the more I just cannot stomach having this person run for president. There is so much corruption and payola there between her husband, the charitable foundation the family runs and herself when she was a senator or secretary of state. Peggy Noonan in the Wall Street Journal has it right – people are so used to looking at the Clintons as crooks after 25 years that they sorta have this criminal immunity about them. No matter how bad it looks or is, people just expect it from them and don't seem to even process the information as news but as "expected." We have to move beyond the idea that 2 families have an oligopoly on the presidency of the United States and so far I see virtually no excitement about Jeb Bush coming from any Republicans other than some donors, and I forecast that Hillary Clinton's campaign will hit a brick wall from ordinary Americans who will have watched Saturday Night Live parody her as some kind of a robot running for president.
One reason you can't count on the Russians as part of a deal with Iran is the several times over the past several years that they announce they are and then are not selling the S300 missile to Iran. Last year they said they wouldn't sell it; now they are selling it again. The Israelis have been quiet about this. I suspect that either the Russians have promised the Israelis the codes so that they can negate the system's defenses or the Israelis will be supplying arms to the Ukrainians so that they both make money on the deal. My understanding is that the Iranians have already paid for this system and the Russians owe them penalties for non-performance of the contract.
Yossi Melman, an intelligence expert writing in the Jerusalem Report, opines that Israel's strategic situation has never been better. They've stopped handing out gas masks in fear of Syria and are watching that country's military degrade. They strike at will against Syrian targets. They appear to be coming up with solutions to counter the rockets being lined up against them in Lebanon. Iraq doesn't have an army that can even fight among itself and Egypt's army is calling in Israeli drones to execute air strikes against Sinai militants. Hamas in Gaza probably gets along better with Israel than Egypt today. ISIS makes headlines but they are small fry. Iran may or may not be a real threat, but when you separate the rest of its military from its nuclear program, there just isn't much there. The Israelis have to decide how many billions they want to spend worrying about Iran and whether or not Iran is really all that interested in Israel. The Gulf Arabs fear that Iran is much more interested in making trouble for them and the Israelis have to decide if this is a problem that is good or bad for them. It's a rather cynical view of things, but it is probably the calculation that an Israeli leader has to be making these days. Especially if my gut is right and the Russians are playing both sides when it comes to Israel and Iran.
Think of it – the founders of Google, Facebook and Twitter are Jews. When history is written about events such as the Arab Spring, there will be that guy in Tunis who put himself on fire but there will also be these social media creations that spread the images and allowed the people to organize all over the world. Can you imagine the world today without these 3 companies?
The Economist's Lexington column opines about how young people in America are not just refusing to vote which is not news; in unprecedented percentages they don't even want to talk about politics and they don't want to think about running for elected office. The writer wonders what will happen in a democracy if people grow up and don't want to participate. Children of Democrats are 3x more likely to be interested in politics than Republicans who encourage kids to go into business. Less than 10% of high school and college students surveyed thought they would want to run for office and 75% of young people do not discuss politics with their parents (in the 1970's 75% of young people said they did). Personally, I made the decision 20 years ago that I thought politics was all about a bunch of losers raising money all the time with very little actual interest in public policy for the common good, and I decided that I would avoid it. I haven't had any reason to regret my decision. It stands to measure that a country of 300 million people can't find anyone qualified to be President willing to run for the office. Perhaps if people didn't spend over 2 years running for the office and we didn't have a Congress that was all about people raising money all the time and answering to the most vocal givers who tended to be from the most radical fringes, politics would be more interesting. I'd rather make money and I find it very easy to ignore all the politics. I can easily not watch TV and not read the articles in print that I want to ignore. I probably don't watch the evening newscasts more than once or twice a year at this point and I don't feel any more ignorant because of it; in fact, I am happier not seeing all the depressing drug commercials.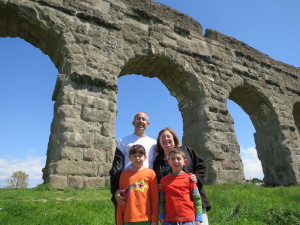 We went to Italy for Passover and spent a week on a program at a hotel where all the food is provided. It was as good as it gets for Passover; the pastry chef was brought in from the King David Hotel in Jerusalem so we ate nicely but still a week in Italy with no pizza or pasta or gelato. It is a big tease but we came to Rome a day early to get in our Roman feast before the holiday. Jeremy had been up the night before dreaming of gelato. By the end of the week though he was desperate enough to have tried new foods such as zucchini, veal, and chicken and fish dishes with sauces. The hotel was in Fiuggi, an hour's drive from Rome or the airport. The Palazzo della Fonte is a grand dame spa resort in the town with pretty views of the countryside, the old town up the mountain, and it was a pleasant week socializing with about 350 people who came from all over the world to celebrate the holiday together including a 70 year old lady from Manchester who, upon being widowed, had recently moved to Geneva because she said she wanted to meet people and didn't want to move to London. The cutest scene was one afternoon when they had the tea room open and they brought out some ice cream, whereupon 6 little girls in matching pink dresses with flowers in their hair all came down the grand circular staircase with that gleam in their eye fancying the ice cream below.
We used the hotel as a base in Fiuggi and took day trips into Rome. Among the interesting things we did during the week was the gladiator school (can book this in advance through Viator.com); lunch on the 7th floor terrace of the Hotel Hassler overlooking the city of Rome – use the phone on the terrace to call for room service); a private tour of the San Clemente catacombs and a visit to Aqueduct Park on the edge of town which is pretty to walk around; a private tour of the catacombs of Saint Sebastian on the Via Appia; the Time Elevator attraction (a 3D movie for half an hour); a walk in the Jewish ghetto area; there is a playground in the zoo of the Villa Borghese but it is not worth the 45 Euro admission and neither is it worth it to see the zoo; but if you go to the edge of the park near the Spanish Steps you can rent these 4 seat bicycles with motorized pedals and it is fun to ride around a bit in them. In Fiuggi, there is a bus from the central station that runs to the old town and it is a 8 km ride to the nearby lake that is pretty to see near the city.
The officiating rabbi at the Passover program told lots of jokes. Here is his best one: Guy comes to his rabbi and says "My wife is driving me crazy. I can't take it at home." Rabbi: "You have to leave the house." Guy: But I have children and all my things are there. Rabbi: Then you have to make up with her. Guy: But I can't take her. She's nuts. I can't live with her. Rabbi: Then you should break up with her. Guy: But I love her. I don't what I would do without her, but I can't stand her. Rabbi: Then you must convert to Christianity. Guy: Why should I do that? How will that help? Rabbi: It won't help you, but at least you will then be running to the priest to make him nuts and not me.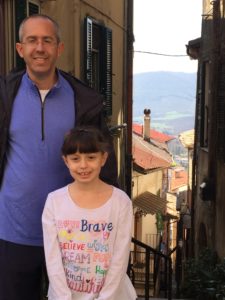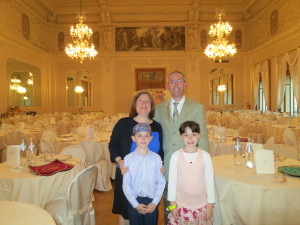 As mentioned above, we went for the Holy Week to Rome and spent a few days in the city and about a week an hour outside the city, at the Palazzo della Fonte in the town of Fiuggi. That town is famous for its hard water used to cure kidney stones and for its generally pleasant countryside feeling just outside the city. The hotel is best in town but it is a grand dame property that lacks spit and polish and could use some modernization; I had to flush the bathroom toilets 3x on average over the span of a minute to get them to flush, for example. It was a nice place to spend a quiet weekend either before or after a visit to Rome and the city is about an hour from the international airport. If you go into the city for daytrips, you really need to use a private taxi and expect to pay about 165 Euros each way. There are a few things you can do in the area such as an amusement park and a pretty lake and a small ancient area of Fiuggi atop a mountain where you can have a nice stroll, but nothing compelling to make anyone go there. For our next Rome trip, we need a better recommendation of where to buy children's clothing, both formal and casual. "Prenatal" was excellent casual for kids up to age 8 at wacky low prices (we found a store on Via Nazionale) and we filled up a whole bag for roughly $150, and "Dan" had beautiful shirts for boys and men (a block away from the Hotel Hassler at the top of the Spanish steps just off via Sistina toward Piazza Barberini), but most of the shirts at Dan were very expensive and for the oligarch or prince. We were told that Via Crescenzio or parallel street Via Cola de Rienzo to the west of Piazza Navone is supposed to be a good shopping street for locals. We didn't have a chance to check it out this trip. La Renascente at piazza Fiume is the department store and it is a good place to go, but it only has outfits and not enough to stock a wardrobe. For instance, you can't get plain dress shirts or pajamas there. Petit Bateau has a store near the Spanish Steps and we did well there for pajamas and some casual wear.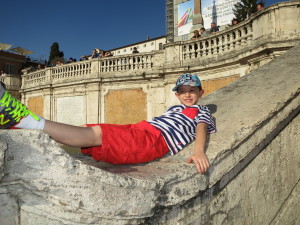 One thing we liked about Rome was that we have an extensive list of things we want to do on our next trip, even though we spent roughly 5 days in town on this trip. Things on our to do next time list include: Emma Pizza (much more than a pizza place though) near Piazza Navone; a grand restaurant (don't know what it's called with a grand view of the city and a good menu near the Spanish steps about 8 minutes walk toward the Villa Borghese gardens entrance just past the Villa Medici; Palazzo Valentini (a museum with 3D renditions of old homes) right near Piazza Venezia; Tivoli Gardens & Villa D'Este; Ostia; the arch of Titus and the Vatican with a Jewish guide which is supposed to be interesting – check out RomeforJews.com for tours; Chiro Pizza near the Spanish steps was a good restaurant for pizza and pasta and had good antipasta bar and desserts; Taverna De Getto is a fine dining restaurant in the Jewish ghetto area that has good reviews.   An Italian guy I met on a flight suggested his favorite restaurant in Rome is "Settimio all'Arancio, via dell'Arancio 50, Roma.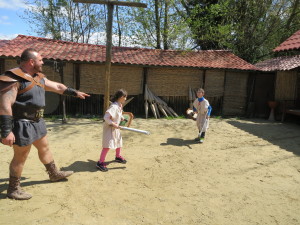 "Viator" is a valuable website where you can book things such as the Gladiator Tour in advance of your trip or even on the fly during your trip. They also sell timed entry tickets to things such as the Rome Time Elevator, which is a 3D type movie showing the history of Rome which is a good thing to take kids to. They also sell various walking tours such as of the Roman Forum underground areas. Once you get on their list and they know you're in town, they start sending you all kinds of tempting last minute offers. Another service we used that was helpful was Nancy Aiello Tours. We had two private guided tours which was a very useful thing to do with kids; it allows you to change things up as conditions warrant and ensures that someone will focus on making the time interesting to your kid so that they are attentive and educated. One tour was to the catacombs near Via Appia and then to Aqueduct Park on the edge of Rome which was a beautiful place to walk around if the sun is out with bright colors and vivid images great for family photographs. Another tour was organized via "Imago Artist" through our hotel concierge to several sites in central Rome that involved going underground to view several layers of antiquities and to see how the city was built on top of the city and so forth through the centuries. One site was San Clemente Basilica. Each tour was about 3 hours and it was about right. Even if we had organized 4 hours, we pretty much stopped after 3 hours because that was the kids' limit. The Gladiator school is on the Via Appia (an old bumpy road just outside Central Rome) and it is a hoot for 2 hours; the first hour the kids are shown through a small museum and told about the life of gladiators; then they do some warmups and are taught a few points about fighting and stage a few mock fights with fake swords and shields. Virtually everyone there was an English speaking tourist with kids.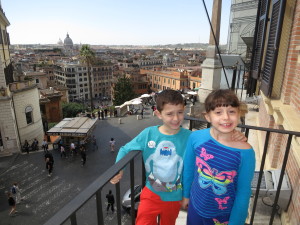 A very good hotel in Rome is the Hassler, which is a fairly small independent hotel run by a Swiss family with a lot of history behind it; it is just beyond the top of the Spanish Steps and some of its rooms have balconies with views over the steps and beyond over the city with the Vatican in the background. Two deluxe interconnecting newly renovated rooms with balconies on the 2nd floor can be had at a reasonable price by booking ahead and, with the Amex platinum amenities thrown in, it is a good deal all around. Some hotels are cheaper on the rates but then you have to pay for stuff and so it can be pennywise and dollar foolish. On the hotel's 7th floor, there is a nice terrace and you can order lunch or dinner there and odds are your meal will be private with a great panoramic city view. The hotel's 6th floor restaurant is Michelin starred and the dining experience there was excellent with probably the best sunset view in town. The service and the food were really of the highest quality and what we had was generally more interesting than usual. The hotel's gym and spa on the 3rd floor is OK, the concierges are pretty knowledgeable but were not particularly helpful when it came to advice for shopping for kids clothing, and breakfast was very good. It is a good location and has some real charm to it. If you want a hotel with a great gym, pool and all the rest, this is probably not the best place to be. Another good hotel we have enjoyed through the last decade is the Grand Hotel de la Minerva at the piazza Minerva, which is in a different part of town about 20 minutes walk away from here, and which also offers good value. That hotel's junior suites are basically full suites but I don't know if it would work now that our kids are several years older than they were when they were last there. 2 kids sharing a sofa will work at the Minerva; if they want to be in two double beds, that might not work. I'm at the point where I want my kids in beds so that everyone sleeps through the night, especially if you want people energetic and in a good mood during the day.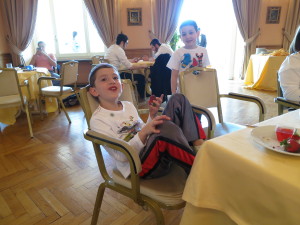 Some fun things we did on this trip were a ride on a 4 person motorized bicycle car in the Villa Borghese park near the Spanish steps (walk another 10 minutes past the top of the steps past the Villa Medici). The kids probably thought this was the highlight of the trip. My son found his favorite place on the Spanish Steps and we would come back to that spot every day for him to check the box. A disappointment was the playground in the nearby Zoo that we were told was the best in town; Rome just doesn't have great playgrounds, at least we never found one. We went to this old church Santa Maria della Concezione near piazza Barberini, where these friars hundreds of years ago made all sorts of decorations using skulls and bones of people. It is something weird to see and I thought our kids would love this Halloween-type place but our kids were not amused. The Family Guide to Rome by DK: Eyewitness Travel is excellent; we enjoyed it in Paris last summer and found it equally useful in Rome. One gelateria we liked on this trip was Giolitti at Via Uffici del Vicario 40, near parliamentary square. Some of the flavors had real fruit in them and were just divine.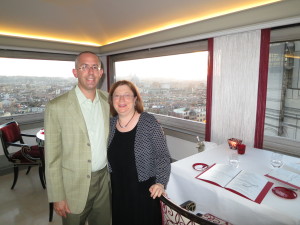 Rome is a great city with kids because there is tons of things to eat that they tend to like; my kids think that every restaurant in the world is an Italian restaurant. The city changes as kids grow; a few years ago we could go to the top of Piazza Venezia and look at the view with the big lions at the top. They had gone to the Forum and dressed up in period costumes. Now they are happy to go to the Time Elevator and walk along the Aqueduct Park or the catacombs. In a few years the Vatican will be interesting and perhaps the gardens of Villa D'Este. Gelato never gets old and Italian clothing is simply different than everything else. You can get fun colors for kids that you won't find anywhere else especially as boys clothing in many countries is so blah.  I go to Macy's or Saks in NY and can't find a simple plain pair of navy or tan cotton pants that is soft and pleasant to wear in warm weather and doesn't wrinkle a lot. I show them samples and they say they don't have that kind of quality in their stores or at Saks you can pay upward of $400 a pair and it still isn't right. In Rome, I know exactly where to go at the Rinascente — against the wall selling their housebrand Sartoria Italiana and that those pants will be about 70-80 Euro each in exactly the colors I want and that they will fit with only minor alteration. You can go an hour outside Rome and see beautiful countryside with mountains, vineyards and lakes and see history all around you. Italy looks different from all the other countries around it. Exasperating at times – you step out of your hotel or a store and 3 feet in front of you a car whizzes by. Scary at times – the Termini area of Rome is not a good place to be even during the day and some gypsy could just snap your kid off the street and be on the way to Yugoslavia in under an hour. Chaotic at times – just try crossing Piazza Venezia during the day. But somehow it works and our kids have so far come out from 3 trips to Italy unscathed, be it Rome, Venice or Florence. All 3 are valuable, but Rome is the one that most warrants repeat visits.