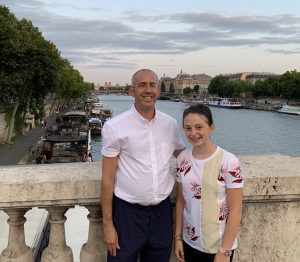 I traveled with Elizabeth for a father-daughter romp around Paris followed by dropping her off with some German relatives to spend a few days with them while I went exploring on my own. United's Dreamliner flight to Paris was the first overseas flight I actually enjoyed on that airline in a long time. Before the plane pushed back, the pilot invited all the kids into the cockpit. It's a beauty. Boeing will have good PR if they keep doing stuff like that. It's a nice plane and a nice ride plus the food was good. The business of airport transfers has really changed; go online and knock off a huge amount of what these rides used to cost. Gettransfer.com lets you set a price or put your ride up for auction and you get all kinds of bids. When you arrive, you send a text and somebody meets you a few minutes later and off you go. In Paris, I used City Airport Taxi service which I booked online.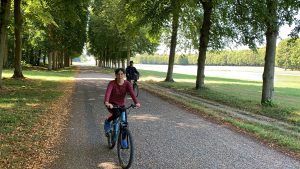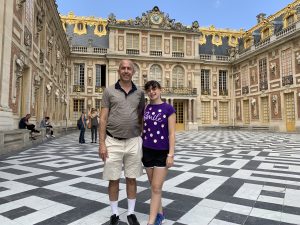 About 45 minutes drive from Charles De Gaulle airport (a bit less if you come in from Orly) is the village of Versailles and the Trianon Palace hotel which is now part of the Waldorf Astoria chain. It is adjacent to the park surrounding the palace of Versailles and about a 10 minute walk from the palace. First thing Elizabeth noticed was how quiet it was on the terrace at breakfast. This is a great place to chill for a day before starting a trip in earnest (and Elizabeth was worn haggard keeping up with me which is funny for me because I'm 53 and I'm an old fogie to them until they realize otherwise). It was Monday and Versailles Palace and gardens are closed but no matter – after a nap we took a 3-hour bicycle tour in the park around the palace grounds including the canals around the palace, and through the surrounding village. The hotel concierge arranged the tour; the main concierge Marcello is above average. A tour like that is a great way to re-energize yourself and fight off jet lag. Dinner on the hotel's veranda was very pleasant; the veranda and our room overlooked a field with grazing sheep. The castle is off in the distance and only one or two rooms in the hotel have that view, and it is not worth it. You can climb the staircase to the 5th floor and take a peek for nothing. The hotel has a beautiful indoor pool, a nice spa and gym, and the rooms were very nice. They gave us lots of treats upon arrival. Nothing to do at night; the village is about 20 minutes walk away but on your first night abroad you probably don't care.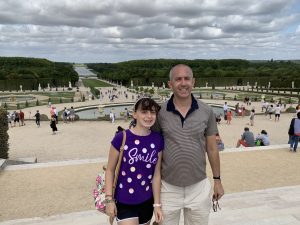 Next morning we went to the Palace, again with a guide arranged through the hotel. You don't want to try and do this on your own unless you get skip the line tickets in advance. There was something like a 3 hour line for tickets that morning that snaked for blocks. Also, you do want somebody to pick out the best parts of this rather large place and tell you what you're looking at. The gardens are huge; it is cool that they play music in them to re-enact how it was when the king was there and would have musicians playing in the gardens. Important to know: There are pricey tours on offer of the "private apartments." Avoid those for now – many of them are under renovation. An ethical guide told me that. The hotel has a shuttle bus to central paris running several times a day and that gives you a free transfer to town a few blocks from the arch de triumph. Uber works in Paris and you should have the app in hand; sometimes you can't get a taxi even while you stand at a taxi stand. Of course, the first thing Elizabeth and I did was go shopping at Au Printemp (pronounced I think L'PRONTOM), and Galleries Lafayette. Remember to get your 10% discount cards when you enter the store. Both stores now have kiosks that prepare the tax receipts that you have to get stamped in order to get the VAT refund. I find it really useless at this point because half the time at the airport there is no way to get to the inspector in a reasonable period of time, but it is there. C&A is across the street from Printemp and I think it's a great place to buy nice-looking stuff at a cheap price. Marks and Spencer closed all its Paris stores that sell clothes.
If you'd like to have a meal in a hotel that is very nice, go to the Le Bristol Paris about 10 minutes walk from Place Vendome or Place de la Concorde and eat lunch or dinner in the courtyard, which is one of the few such in the city's hotels. Or have breakfast in the Encore room which at night is a Michelin-starred restaurant. It is a beautiful room and they put all the breakfast food on your table and it is done exquisitely right down to the fruit salad cut up in an interesting design. The desserts in the lobby bar are insanely expensive but some of the best you'll ever have. I assume they probably price the items in the stratosphere to keep people from coming from the outside to crowd the eating outlets. The mangos you can get in paris are just among the best in the world. In Zurich, I bought one in a supermarket and it turned out to be a Kent mango from Mexico. You can actually buy these in the US via Amazon but most of the mangos sold in the US are cheapos and it's weird you have to go to Europe to get the really good ones. Of course nobody in America wants to pay over $6 a mango.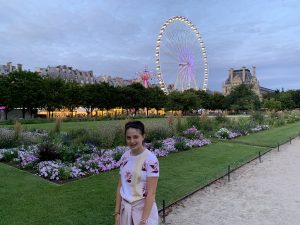 We spent a full day running around beginning at the Musee d'Orsay with a private guide which I think again is a really good idea. Paris Muse was the company and our guide was an American who had worked at the Met in New York. 2 hours was about what we needed. Go to the gift shop before leaving; you cannot enter the gift shop without getting a ticket to the museum (I did, but only after raising a ruckus). Would you want to pay 14 Euro a person just to get into the gift shop? My daughter gets embarrassed that I am pushy sometimes, but I think that learning to be assertive while still being pleasant is an important skill that people need to know to get ahead. We then went to the Bateau de Paris for a one hour boat ride down the Seine; they used to play music but now it is all in your telephone earbud via WiFi. I miss the music wafting in the air as you go down the river. We had a perfume making class that I booked via Viator. We spent half an hour mixing scents and then creating our own perfume. I created what I called Karen's Scent Number Five. (She was not impressed.) Then we went to Berthillon for ice cream; the main store is closed several days a week and for over a month during the summer but there are plenty of cafes nearby that sell their ice cream. One of them was right across the street with green awnings and was perfectly good called Pom'Cannelle. You could also get some quiche and a crepe with cheese along with your ice cream. Need I remind you that Berthillon ice cream is perhaps the best in the world. Meandering along little streets in Ile St. Louis brings you to some quirky shops.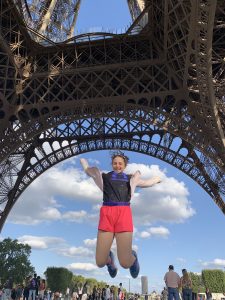 Afterward, we went with timed tickets to Eiffel Tower and you should buy tickets that go all the way up to the summit. You will spend about 90 minutes there going through the security line, then riding up and down. It was fun and the views were great. Best to go there toward the end of the day when the light is nice. Make your life easy by bringing only small bags here. In the evening after dinner, we went to the amusement park at the Tuileries Gardens and we went on the swinging chairs twice – at sunset and after dusk. That's fun – you see the Louvre pyramid and Eiffel Tower lit up and we also walked around the gardens. They've added a little ropes course, a trampoline and of course the gardens are there as you expect them to look. Elizabeth loved getting inside a big plastic bubble on the water and jumping around. Kids love these things more than probably anything else so don't overlook them even with 13 year olds in tow.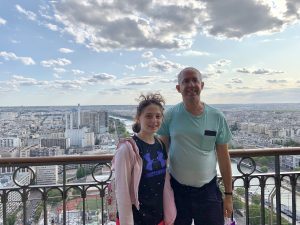 The next morning I dragged her out of bed and went to the L'Orangerie to look at the Monet Water Lilly murals. If you go to this museum or the Orsay at 9:30 in the morning, there are no lines. I wanted her to see the difference between the murals and the paintings. At the Orsay, you really only have 2 rooms of impressionist art – there are a lot of things in the museum but it spans several art genres and each of them are pretty compact. The idea of the museum is to show you the progression from what I would call stark art that left little to the imagination through the impressionists and beyond. We only used taxis on this trip because time was short; the entry fee to a Paris taxi is 2.60 Euro, which is at this point half of the fee in NY City. Most of where you'd go in Central Paris is under 10 Euro. After some taste tests, we voted the local Laduree macarons as superior to Sprungli in Zurich. I saw significantly fewer Arabs in burqas this time than my last visit to Paris 5 years ago. I didn't see homeless people sitting around in the tourist areas and I felt like I was getting a nice break from New York City where you constantly see homeless people. We managed to keep to our busy schedule without a hitch; only curveball was that a kosher restaurant we wanted to have dinner at was closed due to a recent fire.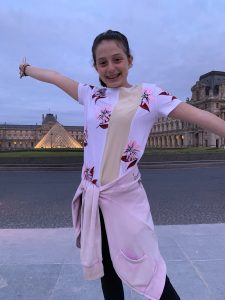 Gare Nord, the North train station is not far from the department store area of Paris and the Thalys speed train gets you to Brussels in just 80 minutes. That distance is quite close to the distance between New York City and Washington. The food in their business class is high cuisine and there is a business lounge near the station but we didn't find it. Check out the map on the website before going to the station if you want the lounge because signage in the station was not good enough. The station itself is quite nice and puts Penn Station in New York to shame. The train continues from Brussels into Germany and we got off at Aachen station just across the border just an hour past Brussels. I kept urging Elizabeth to look out the window at the beautiful countryside; she just wanted to watch videos on her iPod. I am just so happy looking out the window and seeing the pretty landscapes. I guess that is why some people like travel and some people just want to get where they're going.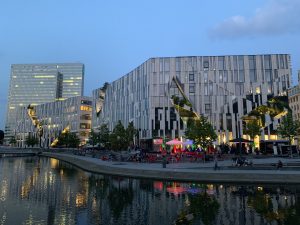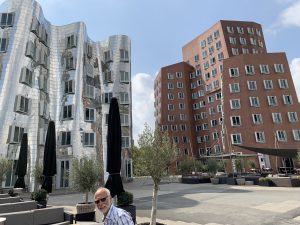 My next stop was Dusseldorf. The center of the city makes a nice spit and polish impression; some of it is just recently renovated. They run several highways and tunnels underground. One 8 story building was moved 37 meters to accommodate the building of an infrastructure project rather than destroy the historical structure. A 3 hour walking and driving tour is enough to get a good feel for the architecture, orientation and history of the city. We went through the central district and drove to the medienhafen district which is a cool area of newly built buildings along the river. There are lots of nooks and crannies in the central district with centuries of history behind them which you won't otherwise notice. The tour would be boring for kids though. The main good hotels are the Intercontinental, the Steigenberger Park and the Briedenbacher Hof. The latter two are within a block of each other and the first one is about a mile away. The Briedenbacher, owned by a Kuwaiti family, was recently renovated after a 10 year closure and it is gorgeous. It also has a somewhat decent gym and an indoor swimming pool, spa and sauna. The Steigenberger has none of that. The Intercontinental looks like it has even better facilities but I didn't know to visit it.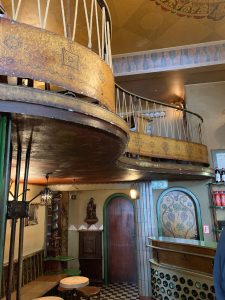 During the summer, you see more Arabs than Germans and the hotels are filled with Gulf visitors. I guess France is less popular among Arabs and Germany is getting more of them as a result. On the other hand, the hummus and babaganoush on the breakfast buffet are some of the best I've ever had. My pet peeve for this and other trips are that many hotels have no night lights in the bathrooms so it is either bright or completely dark. I'm considering traveling with my own night light. The hotels are about 10 minutes drive to the railroad station and 15 minutes to the airport. The airport works pretty well but if you have to get your VAT stamp there is no post office box to put your envelope into once you pass security, so you should do that before going into the secured area. The VAT return is a bit of a crock; there is one customs person spending 10 minutes grilling each person with their story and 10 people on line. Dusseldorf is big on beer and at night, particularly on the weekends, the streets are filled with people sitting on benches and drinking. Some of the bars are very historical and beautifully designed and worth a look even if you don't drink. I would definitely recommend spending a day here. The promenade along the river in the evenings is very pleasant and the airport is convenient to town. Prices are very reasonable for Europe.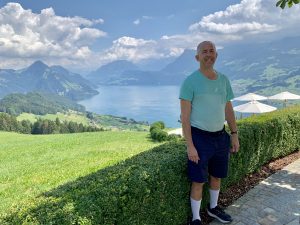 Almost an hour's flight gets you to Zurich and then an hour's drive to Villa Honegg, about half an hour from Lucerne. It definitely qualifies as a hideaway on top of a mountain with a killer infinity pool that views a lake, valley and a mountain range with snow-capped peaks. The problem is that everywhere you look here there are tourists (mainly Asians) with cameras snapping photos of every second of their holiday. One family took over 50 pictures just at breakfast – the eggs, fruit, bread, each other eating. Maybe it was the future ruler of North Korea or something with his relatives, I don't know. People walk around inside the pool dragging their phones along posing everywhere. I personally feel that if you are the type of person that would be staying here you would probably have seen other beautiful spots that you wouldn't feel the need to constantly photograph every single moment of your experience. But who knows – these days Asian tourists go to Santorini just to take pictures pre-wedding so that they can show pictures of themselves at Santorini at the wedding. The hotel is small and the small rooms are really small but a corner junior suite with a lake view and a small terrace is a good choice here. The food is of course good and not terribly expensive. Nothing to do after dinner. Breakfast you can sit outside on the terrace and eat whatever you want from the menu. There is a small spa; a bathing suit dryer would be nice to have in all the hotels I stayed at on this trip so expect to carry your bathing suit in a plastic bag from place to place.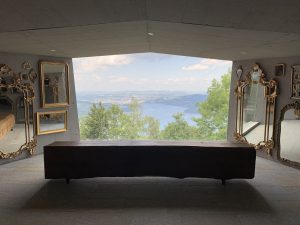 A 10 minute bike ride will get you to the Burgenstock Resort, newly renovated after quite a few years and owned by Qatar's sovereign wealth fund. (It seems that quite a few hotels took advantage of the last recession to renovate.) It is 4 hotels in one and overlooks stunning vistas and has 12 restaurants and a huge spa by Swiss standards. It is connected to Lucerne by a funicular and a boat ride, about 40 minutes away. It might have been filled with day-trippers; I just saw people walking around and not doing anything. But there are some really cool activities in the area – swissspecial.ch has some really cool stuff on offer. So if you want more action, go to the Burgenstock. If you want a one-night chill-out for adults go to the Villa Honegg. If you want a second chill-out in this area, go to the Park Hotel Vitznau an hour away along the lake, which I think is superior to either of these places and which I reviewed a few years ago. Using the internet to book car transfers in Switzerland is useful (ie: gettranser.com) as taxis are insanely priced; you can book train, bus and even boat transportation all in one transaction with sbb.ch/en. I literally stood at a rural bus stop with a kiosk that was broken and just bought my ticket all the way to the airport using the website. Back in Zurich, the shops of choice for me are Globus, Jelmoli, Manor and C&A. They are all within a block of each other. Café Sprungli never disappoints. At the Zurich railroad station, you can put your bag in a locker. Now you scan a QR code and input a code from your receipt and it costs 7 bucks for 6 hours of storage. I had to find some guy to help me figure out how to use this thing; this technology is more complicated than the old key and lock. Allow yourself some time to get stumped, panic and get someone to help figure it out. We flew back to USA from Dusseldorf via Eurowings, a poor subsidiary to Lufthansa. They fly old planes (mine was an A330) and it's run by bean counters, but the food was not bad at all. They have the monopoly on nonstops between the two cities.
While I was keeping myself occupied, my daughter spent a few days with her cousins at their beach house in Holland, sailing, eating Dutch pancakes, and walking into shops. It was a hectic week but we were lucky that we had visited the week after a sizzling heat wave and instead enjoyed temperatures mostly in the 70's.