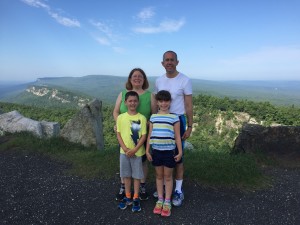 Jeremy has just turned 8 but on the street on the ever-present scaffolding he did 3 full extended chin-ups and one full pull-up. He's going to be a mighty mite down the line. I've arranged for him to have parkour lessons because he loves jumping and hurdling over everything he comes across. If you don't know what parkour is, go to youtube and put in the term and you'll see some amazing videos. It is basically outdoor gymnastics using stuff you see around you.
I learned to swim when I was about 5 and basically learned it the old fashioned way – you get thrown in the pool and told not to drown. I never really learned how to swim correctly and figured that as long as I was giving my kids all these swimming lessons, I ought to take a few of my own. It's been real fun learning how to swim all over again for the first time. And by the way, it's not so easy to pull your head out of the water to the side and breathe when you are doing a stroke.
In the Jews and everyone else category: our family had a picnic in Central Park with another family, and I arrived first and picked out a picnic table. All the tables were out in the sun and I was looking for a shady spot and there were shady spots but just not exactly where the tables were situated. So I just stood there and talked about how bummed I was. Somebody in the park who certainly was not similar to me overheard me and suggested we just pick up the tables and move them about 10 feet into the shade. Wow, that possibility had simply not occurred to me. I just assumed that picnic tables don't move or that people don't pick them up and move them.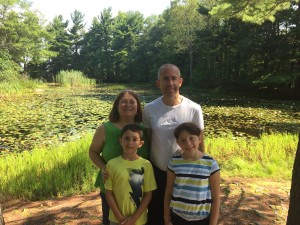 This month we went with our kids to the Mohonk Mountain House in upstate New York, about 2 hours drive away. We have been going there for close to 10 years and amazingly every time we go there as our kids grow we do different things. This time we did the paddleboats with everyone helping, swam in the lake and the kids stood on the rolling log and jumped off the diving board, we hiked as a family to the tower at the top of the mountain (and did that 45 minute walk in under 10 minutes), and our daughter even sat through half a cultural performance about the history of jazz piano music theory. We think back to what it used to be when our kid had a crawling contest with another baby on the carpet and barely could climb on a little rock and how we would be hovering over them so they wouldn't fall to the ground, and now they just jump over those rocks or dance on them.
We got this mailing from a children's magazine called Highlights and it was a Top Secret Project for Kids involving world geography. Inside was an invoice with a response card authorizing them to charge our credit card for all future mailings. There was plenty of literature in the package too. One thing was missing as I read through all of it carefully – no hint of what it would cost us to receive these mailings in the future. That of course was the Top Secret. There was a phone number though listed somewhere within the pile and I called it to find out. The jovial operator said it would cost about $20 a month and that it would be very hard to return the stuff once you opened it (in order to find out if you actually wanted it). It's amazing that this company hasn't been investigated by the attorney general for doing this to parents across the land, most of whom are probably either too uneducated to know what they are getting into and too busy to return unwanted stuff.
There was an article in the NY Times about a recent test in reading comprehension given to third graders that involved questions that the majority of adults couldn't answer correctly. I barely got some of the tricky questions right. People are telling me that students spend 2 or 3 years of their education in public schools doing nothing except getting ready to take these tests every few years. They are basically not learning anything useful during those years and an advantage of private school is that at least your kid learns useful things every year. At least in the US the teachers show up – in third world countries, many teachers don't even show up to public schools and they demand bribes in order for kids to pass courses or require them to pay to attend "extra" classes.
A few thoughts about technology: A third of people using smart phones look at their screens several hours a day beyond whatever time is spent on the phone. Two-thirds of people sleep with their phone at the side of their bed. The average person at work spends close to 30% of their work-time on email. A crowd-funding campaign came up with a Light Phone – all the phone does is make and receive phone calls. Funny but that's the cellphone that I actually have except that it is a model about ten years old. What's old is new again! And what's great is that I recently replaced it for $16 on Ebay and then stopped paying the $8 a month insurance policy I had been paying for its damage or replacement.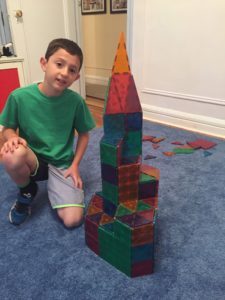 The average person spends twice as much time choosing what car to buy or which vacation to go on than choosing which investments to make for their retirement accounts. Unless a financial planner is being compensated by the investor, the only requirement is for that person to provide "suitable" investment advice. In a study, mystery shoppers were sent to financial advisors with excellent portfolios and came back with advice that led to sharply inferior portfolios. People are especially naïve about considering that "free" advice is being paid for by somebody who is making money on the back end of the investment. People tend toward funds that had the highest returns the previous year. So investment funds play high-risk investing and know that if they get one good year of returns, they will get tons of investment by people who will park their money there and then not look at their investment again for years. People have been told that index funds have lower fees; so now there are all kinds of funds being called "index funds" with fees all over the place except that most people have no clue what they're getting and what they're paying for. If you pay 1.5% of investment principal each year for 20 years, that's 30% of your principal being blown away in fees. It's especially unhappy for you if your investment goes up, you didn't sell, and it goes down and you sell at a loss. Meanwhile, you paid out all those fees on the appreciation you never cashed out on. It's amazing how much of a shtickler people are over a few thousand dollars on a car, but they will lose several hundred thousand dollars investing with their eyes closed and this is what they hope to survive on through their retirement.
Think of the irony – on the front page of the NY Times is a picture of a traffic circle in Riyadh. There is a sculpture of a human hand holding a tablet device and on the screen is a picture of the Saudi King. That's future-speak in one of the world's most backward places and this new King has been very solicitous of the religious authorities in that country. When 9-11 happened, the person who is now king said to his US interlocutor that he thought it was a Zionist conspiracy and that no Saudis could have been involved. I suppose this guy is pretty smart if he is king, but his world view is not what you would call cosmopolitan.
About 6 years ago I wrote that I voted for Jon McCain when he ran for president. At the time, I wrote that I did not believe that McCain would be a good president but I felt he deserved my vote based on his record of service to the country. In that light, I feel that Donald Trump's comments about McCain have to go in the pantheon of most Wrong things a public person has ever said about another person and to be utterly in his own bubble devoid of any understanding of the realities of war, military service and personal sacrifice.
The New York Times reported that something like 400 families in America have given nearly half of the money to all candidates running for president in 2016 and that 130 families and businesses have provided the GOP and its candidates with more than half of its money so far for the presidential campaign. For all intents and purposes, it is an aristocracy still running this country.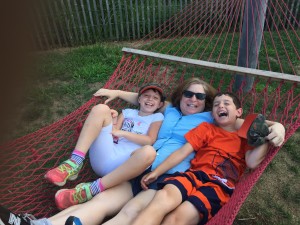 I just finished reading Michael Oren's memoirs called "Ally" about the deteriorating relationship between the US and Israel under the Obama administration. Michael Oren was Israel's ambassador to the US during the first half of Obama's presidency before Ron Dermer took over the position. I had read this glowing review by Brett Stephens in the Wall Street Journal whose column said this was one of the best and juiciest memoirs he's read, and that he's read quite a few. So I and many others ran to buy the book and Amazon listed it at the time as its #1 selling book on Middle Eastern policy. It was a tedious read and there was hardly anything in that book that was news to me or that was really in the tell-all category except for a tidbit about how Dennis Ross told Clinton not to release Pollard in 1999 when he was about to do so but rather advised him to hold on to the Pollard chip for a bigger deal. That was an interesting tidbit but Oren wasn't a personal witness to this which was about 10 years prior to his ambassadorship, meaning it is not something you read his memoirs in order to learn and the assertion may or may not be true. But I couldn't fail to notice Oren's glowing appreciation of Brett Stephens on page 93 of his book and it occurred to me that perhaps Stephens was returning the favor in his column. So basically what I learned from reading this memoir is that you should be cautious when you read a columnist write nice things about a memoir because it may just be two journalists in positions of influence scratching each other's backs.
Cars are idle 96% of the time and 30% of miles driven in urban business districts involves people looking for parking spaces. Self-driving vehicles promise to reduce accidents, eliminate a lot of the need for auto insurance, and reduce the need to build more roads. The real question is whether or not people will decide that they don't need to own a car so that they can get in one whenever they want. But the world is moving toward a place where you really can get a car when you want it, even if you don't own it. In New York City, a Columbia University study says that 9,000 driverless cars could eliminate all of the city's 13,000 taxis. 90% of cars in cities could be eliminated – people could spend less time driving in traffic and doing other more productive things while in their cars. This could be the biggest game-changer for the next generation and the funny thing is that it is happening faster than people realize.
Meanwhile, they will spend the next 6-8 years fixing up Laguardia airport and it still won't make for any fewer delays. There will still only be two runways. In addition, there will be 2 miles worth of taxiways so that the planes will just have a better time while on the ground sort of like at Disney World where you keep moving while you wait in the line. Perhaps you will be able to get a taxi or an Uber car instead of standing on a taxi line with 100 other people, which is what currently happens at Laguardia. That would be a real improvement that shouldn't cost billions of dollars. Uber has really been cutting into the NYC taxi industry; over the last 2 years, the amount of cut-in is 87%, meaning that 87% of Uber rides would have gone to taxis had Uber not been there to take them. While we're on the subject of infrastructure, there is the matter of these tunnels that connect New Jersey and New York where 750,000 commuters traverse each weekday. It will take at least 10 years to bring these tunnels to modernity and lawmakers have been the past 5 years arguing over who will pay for it. Meanwhile, hours each day are lost to traffic accidents, equipment failures and weather-related glitches which multiplied times all these people cost billions of dollars in lost productivity.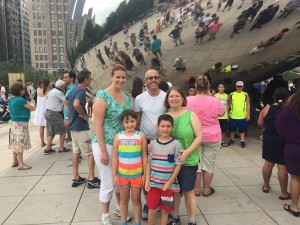 We went to Chicago this past weekend for the air show and had a great time. We had gone 2 years ago but the Blue Angels were cut with Obama's budget sequestration, so I wanted to give the kids another chance to see them fly. Delta flies hourly shuttles from Laguardia's Marine Air Terminal which is a pleasure to fly in and out of. A few important notes: Gino's East deep dish pizza takes an hour to prepare but you can call ahead and pre-order it. This is good to know especially after you have waited in line to get in the door. There is a lunch special between 11-2pm Monday-Friday where you can go to a counter, get a minipizza and salad for about $6, sit down and eat it right away. It is not the same as the pizza they make that takes an hour, but turnover is high and it is good enough, especially with kids who won't wait an hour. Chicago is like a big Disney attraction with rides, attractions and themed restaurants such as Cheesecake Factory, Rainforest Café, Ghiradelli's Ice Cream Parlours – stuff we don't have in New York City. We went on the Sea Dog Extreme Thrill Ride which is a boat ride that is a bit like a roller coaster on the water that leaves from Navy Pier (the kids have outgrown most of the rides there by now); you get soaked down to your underwear and socks but the kids love it, and we saw the Blue Angels rehearsing for the air show overhead on the lake between 2 and 3pm on Friday. Keep this in mind if you are ever in town for the weekend. Good dinners for adults are the Lobby at the Peninsula (they have a chocolate bar on the weekends that you can tack on to your dinner and all of it is the highest quality), and Café Spiaggia is some of the best modern Italian food in town – nothing boring or heavy (the restaurant has a bistro-like café and a main dining room for fine dining). We took the kids on the architectural boat tour – be sure and take a hat with sunscreen. We took a surprise visit to the Dreihaus Museum, which is a beautiful Gilded Age restored mansion just off Michigan Avenue on Erie Street. On the plane we read in USA Today about off-beat sites that were favorites of Trip Advisor fans and this was among them. We saw the air show from several vantage points: The beach (we went about 1:30 to see the last 90 minutes which is plenty and contains the best parts such as the Breitling Team from France and the Blue Angels), the top of the Hancock building observatory; the lake on the boat ride, and from our hotel room with the planes buzzing the city from all sides. We also went to Millennium Park to see the Bean and the brand new playground which is amazing for kids. They also love jumping in the fountains that shoot a canon of water at them every few minutes. The Museum of Science and Industry is still one of the best science museums in America and we went to see the Coal Mine exhibit, which is a working coal mine set up below ground with a train and elevator ride. The Hall of Mirrors was also a hit with them. We did a ton of stuff in 48 hours here and could still find lots to do as they get older. Consider taking the public transportation into town to and from the airport; the highways get backed up but we wound up making the trip by taxi for $45 in 45 minutes each way.
Alas, today is the last day of day camp and now we enter the twilight zone of summer where the kids must be entertained for the next few weeks until school starts. During June there were plenty of things you could drop your kids into for the day, and at this time of the year there is virtually nothing. So next week we are off to Jackson Hole, Wyoming and Yellowstone National Park, San Francisco and Carmel Valley, California. Next month you can look for travel notes right here at globalthoughts.com.