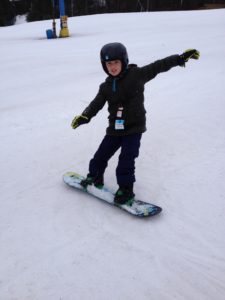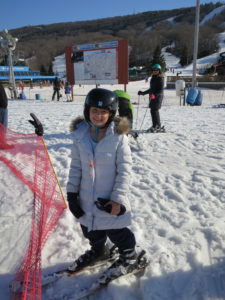 I drove my kids all the way to Pennsylvania and back for less than $9 in gas. Can you believe it?
We went to this place that just opened a year ago called Camelback which is about 2 miles from I-80 highway just past the Pennsylvania border of New Jersey about 1 ½ hours drive from NY City. It is like a paradise for kids; they have all the winter sports you want such as skiing, snowboarding, snowtubing, zip line, plus an indoor water park with crazy-ass rides (including a 60 foot free fall which Jeremy went on 10 times), and an amusement area with laser tag, ropes course, mini golf, and an arcade that looks like a casino built for kids. The arcade and water park are housed within a hotel which was perfectly adequate and affordable without that downscale feeling. My wife wisely skipped this overnight jaunt and the kids had a blast. In the summer time, they have summer sports with an outdoor water park. This place should definitely be considered even if you are visiting the US from abroad or from another region of the country and want a winter version of Disney World for the kids. Meanwhile, Jeremy keeps checking the weather reports daily hoping it will get warm enough on a Sunday so that he can open a lemonade stand and become a millionaire.
Two interesting thoughts about Saudi Arabia and Iran, that I took away from a recent lecture about relations between those two countries. 83% of Saudis now live in cities – as people migrate from desert living to cities, the country is becoming less tribal in nature and the ties that drew people to the Crown are not going to be as strong. Urban revolution could come in the next generation. A British scholar spent over 2 months at the seminaries in Qom in Iran studying Shiism and found that he never heard the words America or Israel mentioned once in all the clerical discussions he heard. The focus was on Sunnis, Syria and Saudi Arabia. From a US foreign policy perspective, one thought I gathered was that Iran and Saudi are trying to draw the US to each's side in their war against the other, or at least the Saudis fear that the Iranians are trying to do that. They have reason to be afraid – the German intelligence agency put out a report this past year calling Saudi Arabia a "threat." The Americans had a secret plan under Nixon and Ford to join with the Iranians and take over Kuwait and parts of Saudi Arabia if they felt the need to do so. But looking to the future, it would make more sense for the Americans to push both the Saudis and Iranians to try and deal with each other; about 20 years ago the two countries met in Morocco and after 4 days of negotiations ironed out a deal while Rafsanjani was president of Iran. It fell apart when Ahmadenijad took over, but it shows that the two countries can work out their differences. The Americans don't seem to have much of a consistent strategy for the region, but such a strategy ought to involve seeing if there are alternatives to having these two countries go at each other for the next generation. The Saudis are increasingly trying to assert themselves as a regional power but their foundation is increasingly shaky at home. The Iranians also want to be a regional power but the Arabs totally distrust them. The low price of oil is forcing these two countries to reform and adds to their vulnerability. But herein lies an opportunity to get them to consider cooperating. ISIS is a red herring in terms of bringing America to one side or the other of this conflict; the reason the Americans can't get their allies together about fighting ISIS is that ISIS is itself a creation of America's allies who basically created a Frankenstein that is now coming back to haunt them. So as I see it, American leadership in the region has to involve creating stability in part by getting the two regional powers, Saudi and Iran, to tone it down between them and look for areas of cooperation. The Americans have real leverage; the Saudi air force is completely controlled by the Americans. Another point of view: Iran is being humiliated by Saudi Arabia and they are having to cut the salaries to Hizbullah by half, cover their nuclear reactor with cement, and they are losing badly in Yemen. Some analysts feel that Saudi is putting their balls in the fire and actually winning this round with Iran.
Russia seems to be taking over Syria, and that's not necessarily bad.
A few facts about Turkey from a recent Economist survey: 6 of the top 10 fastest growing cities in Europe are in Turkey. Turkey is the 6th most popular tourist destination country in the world. When the new airport is finished in Istanbul, it will be the world's busiest airport able to handle 150 million passengers a year. More on Turkey below.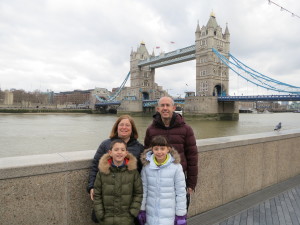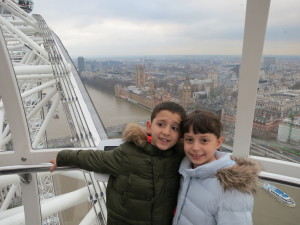 We celebrated Elizabeth's 10th birthday with a weekend of fun in London. My favorite two cities where I always know I will have a fun weekend are London and Chicago, and at this point I was hoping that my kids were old enough to be able to cross the street without getting hit by cars from the right whilst they looked left. We flew over on Thursday night and returned late Monday afternoon. Flying time easteward is 5½ hours which makes London much more worthwhile for that amount of flying than something like Los Angeles. British Airways offers full buffet dinner and breakfast at its departure and arrival lounges for its business class passengers flying between JFK and Heathrow. Those lounges are really beautiful by the way and offer tons of magazines, spa appointments and even "infinity bathtubs" where you can take a bath in your own private cabana and have the water run over the side of the tub. Quality is excellent and the seats are comfortable, although not an inch to spare for something like putting down your eyeglasses. The seats are in a Z configuration (one facing forward on the aisle and the other facing backward against the window; the window seats have aisle access and are quieter; if you are on the upper deck of a 747, do not get the front row near the bathrooms as the lights come on each time the door opens. Take the front row in the middle of the cabin which has a ton of legroom. The Heathrow Express works well as a 15-20 minute ride into central London and is a 10 minute taxi ride to Oxford Street and Mayfair areas; I got a good discount by buying the tickets online a week in advance. The Dorchester Hotel which borders Mayfair had a 3rd night free promotion through Amex and two connecting rooms had its own interior hallway so it was almost like having a two bedroom suite for a very reasonable price. Ask for rooms 240 and 241; no view but good light and a great setup for families. Negatives are that hot water takes a good 5 minutes to come on; no standing shower and the bathtubs are very hard to get in and out of; and it is a 6 minute walk to nearest tube station (Hyde Park on the Piccadilly Line). Gym, food and spa are good, nightly live entertainment in the lobby was nice, and it is a top London hotel. For some attractions such as the London Eye and Tower of London, it pays to buy the tickets through the hotel's concierge and skip the ticket buying lines. If you want to be closer to a metro station, consider the Ritz at Green Park or the Intercontinental at Hyde Park stations. I haven't stayed at either but I can at least vouch for the locations. I've stayed in London many times but have still not found a hotel that I totally enjoy. I don't think that Hyde Park is a central location because you have to either take a taxi or walk 20 minutes or walk 5-10 minutes and then get on the metro to get anywhere from there; I would like to try Claridge's Hotel which is 3 minutes from Bond Street station right near Oxford Street. A local friend of mine reacted to this posting by suggesting the Ham Yard hotel near Piccaddily Circus. We got an 11am check-in and, after a nap (I think it's better not to try and go straight away with kids and risk having them crash in late afternoon but to let them nap first and go straight to the evening) hit the ground running. We paced things carefully but had a full schedule for 3 days and kept to it. We started with the London Eye ferris wheel which takes 30 minutes to go round and which was not nearly as scary as I or my son expected. Clouds are good; sun makes glare. I suggest you not buy fast track tickets unless you know it will be crowded; it wasn't when we showed up on a mid-afternoon Friday in February. In the nearby Jubilee Gardens is a fun children's playground. Afterward, walk across the pedestrian bridge toward Charing Cross Station which gives pretty views of the Thames.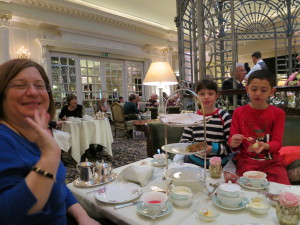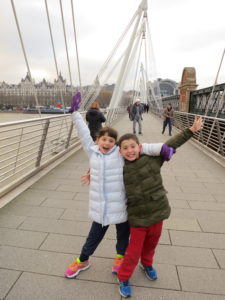 Tea at the Savoy Hotel's garden room is a real treat; the hotel renovated a decade ago and it is beautiful. We ordered tea for one adult and one child at half price; it was enough to stuff all 4 of us. Nearby is Covent Gardens (during the winter we didn't see any street performers there) and then a short ride to Hamleys Toy Store on Regent Street which enthralled the kids. They have lots of people hawking toys in the store with high energy and it is fun to shop there even though most toys you could buy elsewhere. Dinner at the hotel's Grill Room was excellent. Fun London Tours runs several walking tours, among them a 90 minute tour that meets at Piccadilly Circus and goes around the area to Buckingham Palace to see the Changing of the Guard ceremony. Definitely do this tour; it is interesting and you will actually see the ceremony as opposed to most people who go on their own and never figure out where they should wind up to see anything. Our guide was Matt Gedge phone 44.7956.601697. During the winter the ceremony is not daily; check first online and beware that rain can cause cancellation. We saw some shows: Michael Jackson's Thriller, a 2 hour review of his music, which the kids enjoyed. Also Billy Elliot which is closing soon and which I wanted my kids to see – everyone loved it. Harrods, with its Egyptian escalators, was a sight to see and we bought souvenirs there but found the kids clothes to be really pricey with nothing on sale. How's about $400 for a kid's dress? There are no VAT refunds on kids clothes in the UK, by the way (because there is no VAT on those items). The food hall had stuff that looked better than it tasted. Karen and I went to Nopi restaurant near Regent Street, which features food by Ottolenghi, author of the Jerusalem cookbook. Our expectations were high but were not disappointed; we ordered 4 desserts while we were at it. Book this a month in advance with Open Table.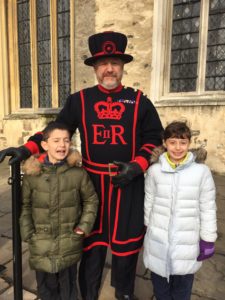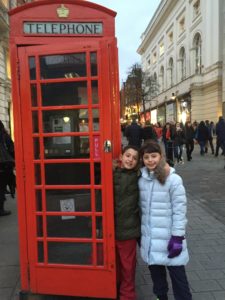 The Tower of London opens at 10am and you should get there as it opens and go straight to the Crown Jewels and then to the White Tower and then get on a walking tour with one of the "Beefeater" guides. The tours are very crowded and this is not a bad place to come with your own private guide. A walk along the exterior walls is also fun. 2 hours here is enough and just nearby is the London Bridge and you can go to the top, walk along the glass floors and look down, and walk around and see the various engine rooms. The area along the river with the war ship and the London City Hall as you walk toward the Shard is new construction and a pleasant 15 minute walk to the metro station. The architecture is stunning; one area where we walked was sent to me by Windows as a screensaver and I recognized it. At Bond Street station on Oxford Street, there is a Turkish bakery just as you reach the street called Simit Sarayi and the food there is very good. We got our shopping chi going and went to Marks and Spencers and John Lewis with the kids. Then to Reuben's Deli, the only kosher restaurant in central London, which has upstairs and downstairs sections. Upstairs is counter service with tables and downstairs is a more formal affair. Food was adequate; the menu is large and somewhat aspirational – some of it is fresh, and some of it is canned. For the metro, it pays to get the Oyster cards and prepay for as many days as you think you will ride the subways and buses; it caps out at 6.5 pounds a day no matter how much you ride in central London. A day ticket costs more. However, you must tap in and out at each station using the Oyster card or else it levies a 5 pound fine on you every time you screw up. Enough of those and you've lost your savings. Children under 12 don't have to pay to use the subways or buses. You can buy the Oyster card at any metro station vending machine. You can also pay with other contact-less payment mechanisms such as Apple Pay. The London City Museum is an excellent attraction which is also free; 2 hours there gives you an excellent understanding of the city's history. Nearby is the Banking Museum which was about the history of money which we have to save for our next trip for we ran out of time.
Our kids were impressed with the cleanliness and efficiency of the London metro and the city's streets as well as Heathrow airport and the Heathrow Express – not a piece of garbage anywhere and the streets themselves were nicely marked and freshly painted without potholes. When you exit Paddington Station and get into the taxi line, there are 15 spots at once which is not like the third-world taxi line at Kennedy airport. I've been visiting London for about 25 years and I've noticed the various improvements here and wish I could see the same in New York which is better than it was but regressing lately. Perhaps if Mayor Bloomberg wouldn't have given up his post to Mr. de Blasio he would have locked in more improvements. We didn't see more than one homeless person the whole weekend; in New York City you can't go even a block without seeing several. One thing I like about London is that everywhere you look the place looks like a fun touristic area that follows a theme – nothing is ugly or out of place, which is funny because everything looks Ye Olde but perfectly polished. We ended our visit with a stop at Trafalgar Square where Jeremy climbed statues and we saw the sun come out to bid us farewell (we had one day of rain, two days of mostly clouds and one day of bright sun). We registered our kids for Global Entry (no need to stand in the passport line) and it is quite nice coming off the plane with only a carry-on and getting out of the airport 5 minutes later. Yes, that's right – each of us carried only a small carry-on bag that was packed half full so that the shopping loot would fit in the other half of the bag. On the flight home we enjoyed the delicious birthday cake that the hotel gave us in honor of Elizabeth's birthday. Jeremy had celebrated his 7th birthday on the TGV from Evian to Paris; this one was for Lizzy.
Here is the number of a discount airline ticket travel agency out of London called Americana Vacations at 44.207.637.7853. It is from a full page advertisement in Business Traveler magazine from the UK. DK Guides just published a Family Guide to London which is very good. "Where" Magazine gives a comprehensive listing of things to see and do in London and it is worthwhile getting a copy of it either before your trip or when you arrive.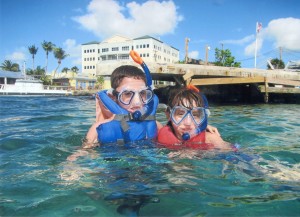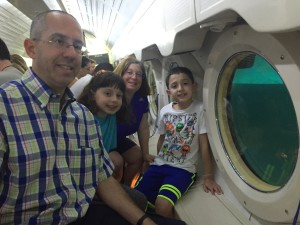 And now from a place where the sun hardly shines to a place where the sun almost always shines – the Cayman Islands with kids. It is a 3 ½ hour flight from New York and Cayman Airways is a good airline with a hot meal in economy, except that it probably doesn't win awards for on-time landings (the whole fleet is about 6 planes). The best hotels there are the Westin and the Ritz Carlton, both a few minutes walk from each other along the beach and about 10 minutes drive from the airport. The Kimpton chain is building a resort further down the beach. The Westin is adequate but you can't beat the facilities at the Ritz and even with 365 rooms the property is spread out and it doesn't feel like a crowd; the vibe is family friendly and not at all South Beachy. The problem at the Ritz is that you cannot put more than 3 people in a room. Having been to Florida, Puerto Rico and the Caribbean, the best thing about the Caymans is that the sea is warm and calm, the sun is reliable and the temperatures pleasant at this time of year, no mosquitoes at this time of year, it is safe outside the resort, and the water is beautifully blue and clear with a lovely beach. You pay more for this but you get the whole package whereas the other locations lack at least one or two elements, and everything else here such as food, spa, facilities, flight connections all work well. You can take more risks in the water because of its warmth and calmness; all of us enjoyed swimming out about 75 feet to these floating rings and having a family circle in the rings at least once a day. I tried stand-up paddleboarding and managed it pretty well. The banana boat ride (speed boat along the sea front) is fun with the kids. There was somebody with these jet packs springing up in the air in the water and it looked a bit nutty and I'd think you'd be exhausted after doing it for 15 minutes. The kids did a snorkeling trip to a shipwreck and that was the highlight of their weekend. We went on a night-time submarine ride 100 feet below the surface to look at coral reefs, which is really cool at night because you see all the colors that you can't see during the day. We went on a 3 hour boat ride to play with stingray fish at Stingray City (a spot in the open sea on a sandbar); hold starfish at a beach and snorkel to a coral reef. The Ritz Carlton has a cruise like this for their hotel guests; it costs more but it is worth the premium because it is a much smaller group and the crew is excellent. They also offer their guests a free 35 minute private catamaran sailing lesson which you can reserve in advance. The Cayman authorities are planning to build a cruise ship terminal that will destroy a lot of the area's coral reefs to make room for more duty free shopping, which is a real shame, so go and check out the natural attractions while you still can. This location gets very pricey at peak holiday periods but if you avoid them, it is significantly less. We had a lot of family fun here; more attractions and things to do than other sun and fun places we've been to – like I said, you get the whole package here. Just bring and use lots of sunscreen; the sun is really strong here.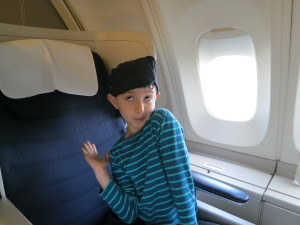 I met with someone who recently spent several hours in meetings in Egypt and Turkey, with Erdogan and Sissi, and senior members of their governments. He said that Egypt and Israel are cooperating closely in the military area and he hoped that the relationship between the US and Egypt would improve under the next US president. The Israelis have established a strategic relationship with Greece and Cyprus and the Egyptians want to join that union. Erdogan is going out of his way these days to mend fences with Jewish leaders and to improve relations with Israel. Turkey doesn't have a lot of friends these days and grudge matches over a Gaza flotilla are just not worth it anymore; interestingly, over the past 5 years, trade between Israel and Turkey went up markedly to 5 billion dollars a year which shows that the political rhetoric didn't affect business. And for the first 6 years of Erdogan's rule, the relationship between the Israeli and Turkish military was described by Israeli military officials as "perfect." Erdogan didn't strike this person as the most educated or sophisticated guy running a country, but he prepares for his meetings with note cards and gives out gifts (ie: polyester neckties with his initials sewn on the back). Sorta like Ronald Reagan did. The guy is obviously full of himself; spent a billion dollars building a palace with 2 million square feet in it. My takeaway was that if you want to understand why Egypt is as repressive as it is these days, all you need to know according to this person is that Sissi hasn't slept in the same place 2 nights in a row since he became the country's president. The population in the country does not want to see the return of the Moslem Brotherhood after seeing them run the country for a year and is giving Sissi a free pass because they want stability over all. Clearly, Egypt does not feel comfortable in its own shoes these days with domestic threats keeping it on crisis footing.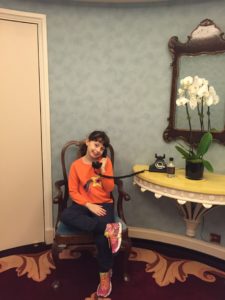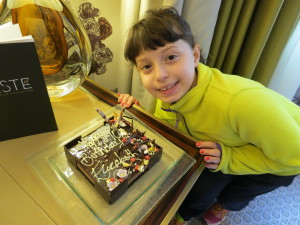 US Presidential Race: Super Tuesday has come and gone and Trump has so far failed to self-destruct, much to the chagrin of the leaders of the Republican party. I think that unless Hillary Clinton gets indicted, she will be the next president. She has solid blocs of support in her party, while the Republicans are torn and will not recover by November with candidates such as Cruz and Rubio, who are in my opinion unelectable and lack experience worthy of the office. Clinton has a big problem though, and that is that voter turnout in the Democratic primaries is down way below 4 years ago; she is winning the percentages but by a very narrow band of voters, and unless more Democrats turn out to vote in November, she could lose to a Republican candidate who gets people to show up and vote except that right now the Republicans don't even have that base covered. Only 3.3 million Republicans have actually voted for Trump so far (as of March 4) and there are 126 million people who will vote in the general election, and there are more Democrats and Independents collectively than Republicans. I think the government owes a duty to either indict Clinton now or shut up for the next 4-8 years now that Bloomberg has stayed out thinking that Hillary is in the race; it will be a disaster if she is later indicted and a Republican or some wild-card Democrat takes the office by default. I like many think that she is corrupt and dishonest, but that since the Republican-controlled Congress will be all over her with investigations if she wins and does anything amiss, she will have to play it straight while she is in the office. I assume that because Democrats control the executive branch of government, Hillary is not going to be prosecuted and anyway does anyone really care about this email thing? After reading the text of Mitt Romney's speech about Trump and Hillary, which I think is a must-read in the annals of modern American history, I must say that I like this guy a lot more and think maybe he might have been a good president, except that remember that Romney lost in part because his immigration policy called for making immigrants so miserable that they would deport themselves. Minorities make up 1/3 of the voters and you just can't win a general election on an anti-immigration platform.  I wish Bloomberg would have run. Hillary's support is shallow and Trump is a disaster for the Republicans. I personally could not bring myself to show up and vote for either of them. But all Hillary has to do is stay alive and out of trouble and she's a shoo-in unless the Republicans somehow choose someone at a brokered convention who is neither Cruz, Trump nor Rubio that could win a general election.
Can you imagine what this country is going to be subjected to during the fall campaign? From Hillary: Donald Trump disputes claims that Trump University had a D-minus rating by the Better Business Bureau, stating that it had an A rating. Then the head of the BBB gets up and says that indeed it did get an A rating, but that was after the university had stopped operating for over a year and the complaints died down. That's a true story, by the way that happened this week. I couldn't make this stuff up. From Donald: We'll hear all about his magnificent penis and no doubt insinuations about Hillary's sexuality; if you've been waiting for someone to put it out there publicly that she's a lesbian, you can bet your bottom's bottom or whatever else is down there that he will deliver the goods. Go grab your popcorn and enjoy the show! (Just keep your children away from the TV when Trump comes on.)