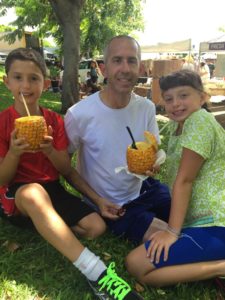 In no particular order is my updated list of Favorite Hideaways from places that I have visited over the past 15 years — about 300 properties visited during that time. To be on this list, the property has to excel in almost every way, meaning rooms, food, beautiful surroundings, activities, service, facilities, a feeling of intimacy and privacy; unique features or character.
All-Around  Warm Weather Family Resorts with Great Pool Areas, Kids Programs and Beaches (where applicable) – Four Seasons Orlando; Ritz Carlton Dorado Beach, Puerto Rico; Turnberry Resort (Aventura, Florida); Ocean Club, Nassau, Bahamas (also offers access to Atlantis water park). In this area, the Four Seasons has come up with a great kids program and a kick-ass outdoor recreation area. The beach at the Ritz Carlton Dorado is very good with a line of boulders that make it more calm for swimming, and the facilities including the spa and on-site water park are top notch. Turnberry's pool is great and the resort is an oasis in the city that is best in its class. Ocean Club is just a beautiful place where you feel that hardly anyone else is there but the beach is often rough and the children's program is for younger kids. The Kahala in Honolulu, Hawaii is an independent hotel with nice warm ocean and good facilities and away from the Waikeke crowds. There might be better properties elsewhere in Hawaii but this is the best in the Honolulu area and is great for a stopover. The Ritz Carlton in Grand Cayman is large with 350 rooms but it is spread out so you don't feel the crowd and it is the best of the bunch because it has the whole package — good food and facilities, lots of activities on and off property with an excellent children's program, easy air access, and beautiful sea. The other hotels are all lacking in one or more of the above.
Family Resorts with Great Activities Year-Round – Homestead, Hot Springs, Virginia; Blackberry Farm (near Knoxville, Tennessee – only in summer); Amangani (Jackson Hole, Wyoming); Schloss Elmau (Germany); Mohonk Lodge (New Paltz, New York); Palmetto Bluff (Bluffton, South Carolina – and you can rent a beautiful house by the day). In this category, the Homestead is great both in summer and winter with lots of activities such as downhill skiing and snowtubing, a great onsite naturalist who gives great hikes and talks, and we enjoy dinner and dancing in the main dining room and the various special activities they put on during holiday weekends; Blackberry has exceptional children's programs and great food; Amangani is a stunning property near Yellowstone; Elmau has facilities beyond compare with a family spa, cultural offerings, amazing food and all sorts of children's programs. Mohonk is a great family hideaway 2 hours drive from NY City and Palmetto Bluff is close to Savannah, Georgia and offers city apartment children the chance to live in a house, drive bicycles around a property and various activities in an interesting setting. A recent discovery is the Carmel Valley Resort in central California; it has good food, great facilities and offers a lot of family fun.
Hideaways that Adults will Especially Like – Le Toiny, St Barth's; Villa Feltrinelli (Lake Garda, Italy); Parc Vitznau (Vitznau, Switzerland); Mayflower Spa (Washington, Connecticut); Lodge at Woodloch (Woodloch, Pennsylvania); Post Ranch Inn (Big Sur, California); Glenmere Mansion, Chester, New York. Le Toiny has beautiful villas with private pools in the best part of the Caribbean region but suffers from lack of direct flights; Feltrinelli is an enchanting property in the Italian lakes region 2 hours drive from Milan; Vitznau is a provocative property in a beautiful part of Switzerland near Lucerne; Mayflower is a pleasant spa 2 hours drive from New York as is the Lodge at Woodloch. The Mayflower is more intimate; Woodloch has more to do with a daily schedule of classes, but each of them is compelling and different and offer interesting food experiences. The Post Ranch Inn is a stunning hideaway that deserves the accolades it gets. The Glenmere Mansion is a great overnight hideaway an hour's drive from New York City but it is overpriced and not much to do there or around there. For something unusual, try the Gora Kadan ryokan (Japanese style inn) in Hakone, Japan. It is a total immersion into Japanese culture at a 5-star level. The food is good and it is peaceful. My family found it to be the most memorable experience of our trip to Japan.
Top City Hotels – Beverly Hills Hotel (Los Angeles); Trump Hotel (Chicago); King George V (Paris); Cipriani (Venice, Italy); King David Hotel (Jerusalem); the Langham Hotel (London). The BHH is an oasis with bungalows in Beverly Hills; Trump has rooms with WOW factor overlooking the lake; King George V is a well-oiled machine that sets the standard for city hotels and Cipriani is a hideaway amidst Venice on a private island – 5 minutes by water taxi and a light year away. The King David is a special piece of real estate facing Jerusalem's old city with a private garden; breakfast is special there and the staff is eternal; it is my version of Cheers where the people who work there know your name. While in the neighborhood, the Sheraton in Tel Aviv is surprisingly decent with an excellent restaurant, a good club lounge, some very nice suites and a good location on the beach. A better hotel in that city has yet to open. The Langham is the best of show I've found in London; it has all the right stuff and is 3 blocks from Oxford Circus. In Rome, try the Hassler at the top of the Spanish steps. It doesn't have everything I want in a city hotel (its gym is weak), but it is special and a lunch or dinner on the private 7th floor terrace or the rooftop restaurant is a memorable experience. In Tokyo, the Four Seasons Maranouchi is like having your own residence 5 minutes walk from Tokyo station. It has everything you could want and a great staff. In Washington DC, the Willard Intercontinental is 2 blocks from the White House and has all the right facilities and very good food at a decent price. The Four Seasons in Georgetown is also excellent but the Willard has the better location and is lower priced. In Philadelphia, the Rittenhouse has the same plus an indoor pool and is located right above a square park in center city. In Las Vegas, the Delano Tower above the Mandalay Bay hotel is a top notch boutique hotel with great facilities, including an indoor beach that should be fun for the kids.  In San Francisco, the Loews hotel has killer bridge to bridge views from some rooms and very good food, facilities and location. In Miami Beach, the Grand Beach Hotel has all suites, very good facilities (except no spa — but you can walk 10 minutes to the Eden Roc) and good food. The Eden Roc fell off this list 2 years ago; it became too shishi for its own good and the level of service and facilities went down.
Four other hideaways that round out the Top 40: Fisher Island in Miami is on a private island located between South Beach and Downtown Miami. You get a golf cart to move around and it is very private. The Loews Portofino Bay Hotel in Orlando is within walking distance to Universal's theme parks and entertainment district; it has beautiful pools and the food outlets are very good; the grand deluxe rooms are large and the lounge is decent. It is a good destination even if you don't go to the theme parks. The Hotel Royal in Evian, France is a lovely resort overlooking Lake Geneva with great food and proximity to both Geneva and Lausanne. The kids program is well developed but it was a problem for our kids because they don't speak French. Finally, there is Camelback Lodge in Tannersville, Pennsylvania, just off Interstate 80 near the New Jersey border. It won't win awards for luxury, but it is not bad and it is by far my kids' favourite hideaway year round with downhill ski and snowboard runs and a good school, tubing, zip lines, massive indoor water park, indoor activity park with rock wall, laser tag, etc. and an arcade that looks like Las Vegas for kids and a good cheap buffet. Only thing missing is the dancing showgirls. Nearby Wolf Lodge has only a waterpark. This place offers 24 hours of heaven on earth for kids and parents willing to put up with it.